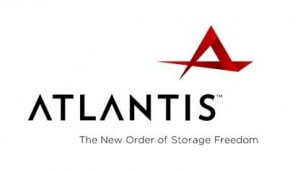 Atlantis Computing has announced that they have entered into a strategic alliance with Citrix that will combine the Citrix Workspace Suite software stack running on Citrix XenServer with Atlantis HyperScale all-flash hyperconverged appliances and Atlantis USX software-defined storage solutions.
Atlantis USX is the first SDS platform to be certified on the hardware compatibility list for Citrix XenServer 7.0.
Atlantis HyperScale includes compute, storage, networking and virtualization, reducing the infrastructure cost per desktop to as low as $125 per desktop for a virtual desktop and $82 per user for a hosted shared desktop. Customers such as Arizona Tile have simplified their Citrix XenDesktop infrastructure by replacing costly storage array upgrades with pre-integrated Atlantis HyperScale hyperconverged appliances that cut costs and improve user experience.
The solution can be deployed as a hyperconverged appliance or as software for existing infrastructure with any hardware. With a one-server minimum configuration, customers can start small and pay as they grow their user base up to tens of thousands of seats with predictable economics and consistently superior user experience.
According to Calvin Hsu, VP Product Marketing, Workspace Services at Citrix Systems, "The Citrix software stack offers compelling value, because every XenApp and XenDesktop license includes XenServer. As a result, running our secure app and desktop delivery software on top of XenServer can reduce deployment costs by $135 per desktop over other hypervisor options. Atlantis HyperScale takes that value a step further by building specialized systems specifically designed to run Citrix workloads on XenServer. Hyper-converged infrastructure makes the deployment of the Citrix stack a simple and fast process that delivers efficient performance and an unmatched user experience."
The complete Citrix Workspace Suite which includes Citrix XenDesktop and XenApp will be delivered alongside patented Atlantis infrastructure data reduction technology to increase storage capacity by up to 90 percent. The Atlantis HyperScale infrastructure also harnesses the power of Citrix NetScaler to optimize user experience from anywhere on any device. Atlantis fast cloning works with Citrix Lifecycle manager to provision thousands of desktops in minutes. Critical data services such as deduplication-aware replication enable IT organizations to implement cost-effective disaster recovery sites.