Nutanix and Cohesity Help Customers Address Ransomware and Accelerate IT Modernization
Operating and maintaining aging systems is complex, expensive, and for those responsible, can result in employee burnout. According to the U.S. Government Accountability Office, in 2020, the U.S. government invested $100 billion in information technology (IT), most of which was used to operate and maintain existing systems, including aging (aka "legacy") systems.
So-called "technical debt" incurred by sustaining previous generation solutions can also create a significant data security risk. Cybercriminals are always on the lookout to compromise unpatched, end-of-life, legacy systems via ransomware or other cybersecurity threats. For example, cybercriminals reportedly exploited a known vulnerability at a hospital in Germany, which impacted patient care and unfortunately had deadly consequences.
To address these challenges, and boost business agility, organizations everywhere are accelerating their digital transformation and adopting modern, software-based infrastructure and data management solutions.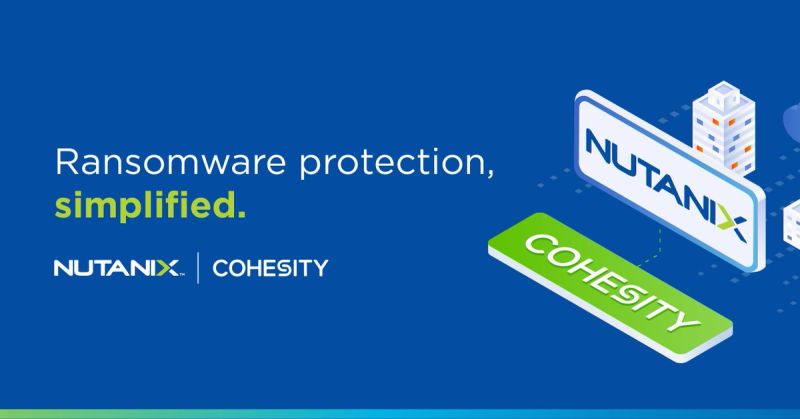 Addressing Legacy IT Challenges
Instead of relying on a patchwork of point products with multiple UIs and stacks, organizations are modernizing the management and protection of their data with Nutanix and Cohesity solutions.
Together, Nutanix and Cohesity can help customers significantly simplify primary storage as well as backup and recovery operations.
Both companies can also play a key role in helping customers reduce mass data fragmentation challenges by converging data silos across the core, edge, and cloud locations. This not only helps customers potentially reduce costs and cybersecurity exposure by reducing infrastructure and data footprint but also enables already over-stretched IT teams to spend less time managing siloed infrastructure and more time focusing on other business-critical tasks.
"We chose Nutanix as well as Cohesity because both organizations offered true partnerships and technologies that are second to none," said Charles Boicey, Co-founder and Chief Innovation Officer, Clearsense. "Both companies play a key role in ensuring our environment is future-proofed, with minimal human effort needed to keep it up and running smoothly. Additionally, Cohesity and Nutanix have automated a good bit of our workload, which enables staff to focus on other business-critical issues."
"Nutanix and Cohesity both take a unique and complementary approach to storage and backup and recovery that we find very appealing based on the needs of our organization," said Danny Yeo, Director of Computing Technology & Services, Life Sciences IT at Brigham Young University (BYU). "My main concern with any technology we acquire is that we don't need additional manpower to run it. Nutanix and Cohesity support not only fulfills that requirement but complements our overall efforts to simplify operations on-prem and in the cloud while delivering security and peace of mind through great products."
"In the modern digital economy CIOs are tasked with accelerating the speed of business through automation, protecting data and core systems from ransomware and other cyberattacks, and navigating a hybrid, multi-cloud world to reduce costs and increase efficiencies," said Kirk Law, SVP of Research & Development, Cohesity. "Legacy products simply cannot meet these challenges; to compete in today's economy requires modern solutions. That is why Nutanix and Cohesity have partnered to empower organizations to replace their multipoint legacy products running primary storage with Nutanix HCI and do the same for their backup infrastructure with Cohesity."
Integrated Solutions Strengthen Business Operations and Enhance Cyber Resilience
With their hyperscale inspired architectures, Nutanix and Cohesity have chartered a new course in how organizations manage, protect, secure, and store their ever-growing volumes of data. Both companies have collapsed decades-old technology stacks into highly scalable cloud-first platforms.
With the Cohesity–Nutanix integrated solutions — consisting of the Cohesity DataProtect backup and recovery solution, running atop the Cohesity Helios™ next-gen data management platform and backing up the Nutanix AOS™ infrastructure software, Nutanix AHV® hypervisor, and Nutanix Files™ storage — enterprise IT teams enjoy simpler, more efficient backup and disaster recovery. IT teams are also achieving app-consistent backup snapshots of Nutanix AHV environments with Cohesity DataProtect's integration with NGT (Nutanix Guest Tool). The solution can also help customers meet demanding SLAs with automated policy-based backup and flexible recovery. With DataProtect, customers can recover an entire virtual machine or vDisk to the original or an alternate location.
Nutanix Ready Validated
The Nutanix Ready designation awarded to Cohesity demonstrates DataProtect's backup and recovery capabilities interoperability with the Nutanix delivery infrastructure. All products featured as Nutanix Ready have completed verification testing, which can give customers added confidence regarding the compatibility of the solution. As part of this validation, Nutanix and Cohesity share each others APIs and software, collaborating to help our joint customers benefit from continued innovation.
"Data is fueling digital transformation and businesses need to leverage the latest technology to manage, protect and leverage their data assets," said Thomas Cornely, SVP Product Management at Nutanix. "Nutanix and Cohesity are working closely together to help customers get the most out of our solutions leveraging Nutanix for their primary data services and Cohesity for their data management infrastructure."
Key Benefits of Modern Backup and Recovery for Nutanix Infrastructure
Complementary solutions, Cohesity, and Nutanix are designed to help customers:
Reduce primary and backup TCO while increasing operational efficiency
Help future proof their investments with a highly elastic and scalable environment
Dramatically reduce their data footprint and data silos for easy operations
Provide comprehensive cyber resilience with ransomware protection, predictive detection, and rapid recovery
Unlock new business value, maximizing data reuse for development and testing, DR and analytics
Learn more about the Nutanix-Cohesity partnership and solutions at:
https://www.cohesity.com/solutions/backup-and-recovery/nutanix-ahv/
https://www.nutanix.com/partners/technology-alliances/cohesity