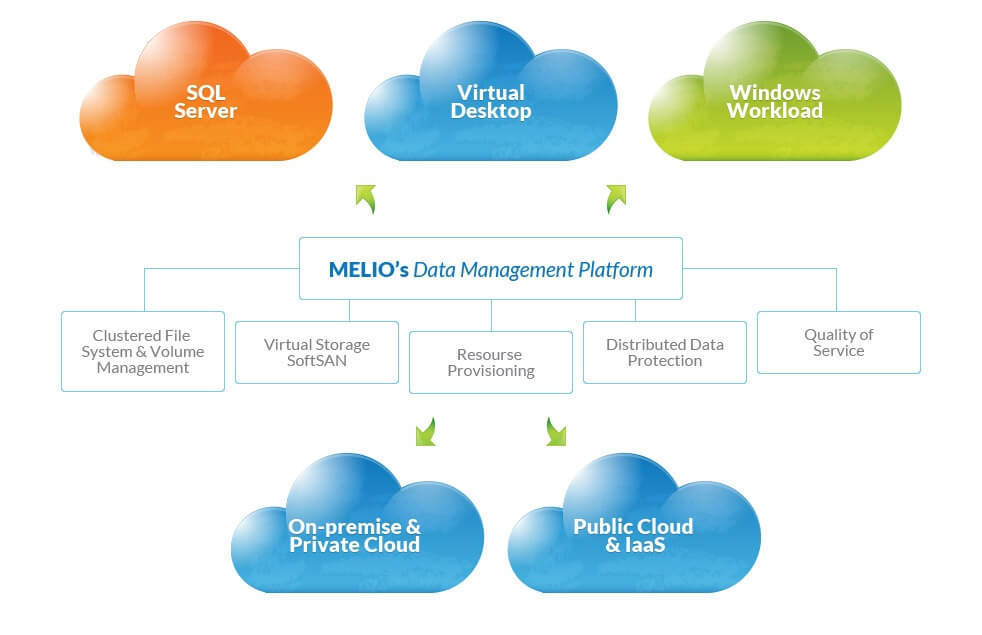 Installed in over 500 Citrix VDI deployments worldwide, it may come as no surprise that lots of Citrix XenApp and XenDesktop environments are powered by Sanbolic's industry-leading Melio data acceleration platform. In fact, Sanbolic, a long-time Citrix-Ready Partner, has been delivering incredible value to our mutual customers for many years. And while this value has historically been realized through simplified image management and maintenance along with image high availability and load-balancing in Citrix Provisioning Services-based deployments, the latest release of Sanbolic's Melio software — Melio5 — introduces new features and capabilities that dramatically extend its value proposition for XenDesktop, including the latest release, XenDesktop 7.
In addition to enabling PVS HA, Melio5 offers XenDesktop customers the following benefits:
MCS image management and availability
Taking advantage of highly available and highly scalable shared storage created with Melio, XenDesktop administrators can store their MCS image files on a single storage volume, ensuring images are available for assignment to virtual desktop machines running on any host system. In addition, dynamic volume expansion means there's always plenty of capacity to support an ever-growing image library; storage live migration allows images to be moved seamlessly between storage arrays; and cluster-wide snapshots offer a simple mechanism for backing up and recovering images at any point in time.
User profile availability
As any VDI administrator knows, user profiles are an absolute necessity in a virtual desktop environment. Fortunately, insuring profiles are available at all times is an easy job for Melio. By consolidating user profiles onto a single volume accessed concurrently by multiple file servers, XenDesktop administrators create a highly available file-serving environment that offers virtual desktop users continuous access to their profiles: if one of the file servers hosting the user profile file share goes offline unexpectedly, users can access their profiles through another file server. With no single point of failure and file servers sharing block-level access to user profiles, enhanced fault-tolerance and increased performance are achieved.
SQL database availability
With XenDesktop containing multiple databases crucial to configuring, managing and monitoring a VDI environment, it's imperative these databases be available at all times. By detecting SQL Server failures and (automatically) moving databases to one or more online SQL Servers rapidly, Melio provides a simple, cost-effective solution for ensuring database availability without the costs, constraints or complexities associated with other SQL DB HA options and more significantly, regardless of what edition of SQL Server is being used.
Enhanced VDI performance and scale
With the combined performance and scalability enhancements of Melio5 (i.e., hundreds of thousands of IOPs and up to 2048 nodes per cluster), XenDesktop customers are able to easily meet the I/O demands of VDI while maintaining optimal performance levels as they scale their infrastructures seamlessly to support thousands of virtual desktops.
XenDesktop customers can also leverage Melio's software-defined storage (SDS) capabilities to build their own high-performance storage systems using their choice of (commodity) servers and storage (i.e., SSD, flash, HDD). Such systems, which include Melio's advanced storage management features (dynamic volume expansion, software-based RAID, asynchronous replication, storage live migration, QoS, cluster-aware snapshots, user-defined data tiering, intelligent data placement that optimizes the performance-to-capacity ratio of customers' value storage resources in hybrid storage infrastructures, and much more), offer performance, scale and fault-tolerance comparable to (or greater than) higher-end external storage arrays at far less cost, helping customers maximize their ROI on VDI.
So while you may not be surprised to hear that Sanbolic has for many years been helping hundreds of Citrix customers achieve the greatest value from their VDI deployments, after reading this article, it should also come as no surprise just how much value one can achieve by deploying XenDesktop 7 with Melio5.
To learn more about how Melio5 simplifies and enhances XenDesktop VDI environments as well as other business-critical workloads such as SQL Server, file-serving and web-serving, visit www.sanbolic.com. While you're there, click the "Download Melio 5.0 Free Trial" button located on any page to obtain a free (fully-functional) evaluation copy of the Melio5 software and see what it can do for your organization.
A Guest Post by Andy Melmed, VP, Enterprise Architecture, Sanbolic, Inc.