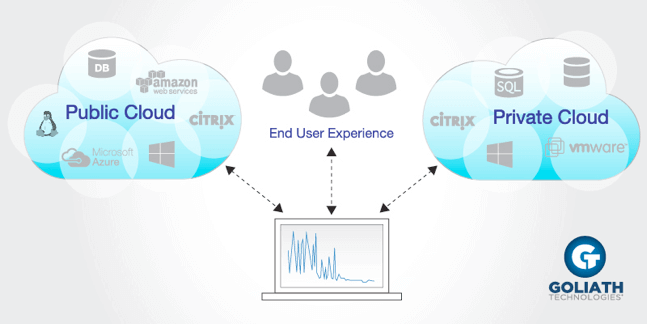 Goliath Technologies is the leading provider of proactive IT Operations solutions to anticipate, troubleshoot, resolve and prevent end user experience issues; regardless of where the IT infrastructure, applications or end users are located. They have announced new functionality to monitor and manage Amazon AWS and Azure cloud workloads, applications and overall system health.
"Hybrid IT infrastructure is common. Having a technology that can simultaneously monitor and troubleshoot performance issues with cloud workloads and on premise infrastructure is critical to any company that is transitioning to the cloud. Goliath's support for Amazon AWS and Microsoft Azure provides a full 360° view of infrastructure, applications, workloads and users regardless of where they are located.Goliath's support for Amazon AWS and Microsoft Azure provides a full 360° view of infrastructure, applications, workloads and users regardless of where they are located.
Goliath Technologies' Cloud Monitoring is comprehensive and includes support for
AWS Monitoring
,
Azure Monitoring
, Internal Clouds and any hosting or service provider. In addition, if you have not fully moved your workloads or infrastructure to the cloud, Goliath also can monitor traditional on premise IT assets as well. This capability to monitor hybrid infrastructures greatly improves the probability of a successful transition to the cloud.
Goliath Cloud Monitoring includes end to end monitoring from the remote user to the cloud hosted applications, infrastructure or desktops. The software has unique functionality that allows today's IT professional to anticipate end user experience issues before they occur. And, if they do, Goliath's software provides real-time metrics to troubleshoot the issue with corresponding analysis and reports so root cause can be documented and permanent fix actions can be implemented to resolve the problem.
"There are advantages to moving to the public cloud but IT leadership knows the associated challenges and inherent risk. Of primary concern is any disruption to the end user community they serve and consequently we see IT organizations tentative when it comes to the cloud transition," said Thomas Charlton, Chairman, and CEO of Goliath Technologies. He continued, "We have added functionality for AWS and Azure that enable IT professionals to anticipate end user experience issues regardless of where IT assets are located. We ensure that end users will have seamless access to their applications regardless of their location or device used. As one CIO said, 'we may be moving IT to the cloud but accountability is staying on premise,' and that says it all."
About Goliath Technologies
Goliath Technologies provides proactive IT operations software to address the challenges associated with managing a hybrid IT infrastructure. Organizations of all sizes are moving to the cloud in some form and our products are purpose-built to assist in that transition. We manage applications, infrastructure and users regardless of where they're located. Customers use Goliath's products system-wide to monitor, analyze, troubleshoot and report so performance issues can be resolved before end users are impacted. Because, IT infrastructure is moving. IT accountability is not. Customers include Walmart, American Airlines, Bank of America, Viacom, UHS, HCL, CSC, ADP, Verizon Wireless, Voya, and Office Depot.