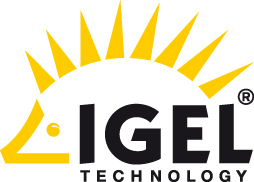 IGEL Technology today introduced its IGEL Café Wireless functionality to give thin client users the same flexibility and mobility as PC users for connecting to WLAN networks. IGEL's popular Universal Desktop Converter 2 (UDC2) solution easily converts PC's and x86-compatible notebooks into mobile thin clients which offer the same impressive range of security and management benefits as the rest of the IGEL portfolio. With IGEL Café Wireless mobile workers can also now connect those converted thin client notebooks to WLAN networks, such as hotel rooms, cafes and other offices, just like regular notebooks.
The integrated roaming function which automatically connects to pre-set wireless networks offers even greater convenience. As with IGEL thin clients, the numerous settings options can be monitored and distributed among devices in a centralized manner using the central UMS management tool. All of the networks added by users can also be administered and managed centrally. IGEL Café Wireless is part of the latest firmware update for IGEL Linux (5.03.100) and is now available free of charge.
The new WLAN function can be used in a variety of scenarios. For home office workstations, the Internet connection can be set up in advance via the home router in order to connect to company IT systems using a pre-defined VPN network. In this case, the notebook thin client is not only integrated seamlessly into the workflow but can also be used to implement a secure and cost-effective BYOD strategy.
Devices used by field staff can be set up by the administrator to allow the free configuration of available networks. On the move, the integrated WLAN Manager conveniently selects and connects to available WLAN networks. If a network is encrypted, the password data is automatically requested and saved. All networks registered on the device using this self-service process can be manged in the familiar manner via the IGEL Universal Management Suite (UMS).
All of the settings options for IGEL Café Wireless can be configured by the administrator in the usual way via the UMS. In addition to the standard network settings options, context-related WLAN settings can also be configured and managed. These settings range from the WLAN encryption method to the integration of additional wireless networks. In order to comply with existing IT guidelines, WLAN networks defined by the administrator via the UMS cannot be changed by local users. The wide range of functions and the numerous settings parameters make IGEL Café Wireless a valuable feature, which further improves the versatility of mobile thin clients. 
The integrated roaming function offers numerous advantages even in specialized areas of application. For example, logistics companies that use thin clients installed on forklift trucks can connect seamlessly to the next available wireless network access point (SSID) pre-defined in the UMS as they work across large warehouse areas. 
{loadposition content_starwind600}