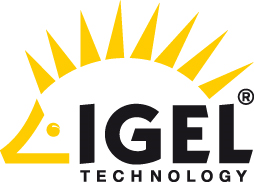 Linux tends to be a marginal player in the PC arena, but it is by far the most successful operating system on thin clients. 27 percent of the devices sold worldwide set store by the open source operating system (OS), followed by models "without OS" and those with various Microsoft Windows Embedded systems, according to the results of IDC's market analysis for 2012.
The foundation of IGEL's Linux portfolio is the LTS (Long Term Service) version of the Ubuntu distribution, which appears every two years and is maintained for a full five years. One example of IGEL's innovation is the software thin client IGEL Universal Desktop Converter 2 (UDC2), which is now the most well-known of its kind in Germany and is also extremely successful in the UK and U.S. The software is installed as the operating system (IGEL Linux) on PCs, notebooks and selected thin clients, and turns the hardware into a powerful software-based and universally deployable thin client allowing secure access to almost all centralized IT infrastructures.
Igel puts the importance of Linux down to the fact that there are no licensing costs, it is highly secure and offers substantial freedom when it comes to developing solutions. IGEL ranks third in the world among vendors of Linux-based thin clients.
Active involvement in the open source community
Unlike thin client manufacturers who ship their devices with a Linux version that has proprietary changes and is not compatible with the original Linux drivers, IGEL promotes the development and establishment of standards through its active involvement in the open source movement. IGEL feeds improvements in the open source programming code back to the community. IGEL also focuses on services such as consulting and training and passes on many features of its own Linux operating system to its customers without any license fees. These services also include extensive support of security solutions from various providers. The IGEL Universal Management Suite (UMS) remote management software comes supplied with every device. In addition, IGEL publishes free firmware updates every quarter and also offers regular firmware maintenance for up to three years after discontinuation of the related hardware.
Solution expertise for partners and customers
With the IGEL Universal Customization Builder (UCB), its latest tool based on IGEL Linux, IGEL enables its many years of integration know-how to be leveraged in an easy-to-use solution. The software tool permits customers and partners that have previously been trained by IGEL to create firmware adaptations of their own and to retain IGEL support for them. 
Future potential of Linux as a thin client OS
The fact that Linux still has a future in the thin client business is clear because of cloud computing and virtual desktop infrastructures (VDIs). Microsoft VDI is also one of a total of 15 VDI solutions supported by IGEL Linux. This support by IGEL Linux is as a result of close cooperation with Microsoft in development of a RemoteFX client. IGEL cooperates with Red Hat, among others, in the open source arena. This collaboration led last year to the world's first purely Linux-based end-to-end VDI solution. IGEL is a member of the Open Virtualization Alliance, which aims to foster the still weak level of competition in the VDI market through use of the open source hypervisor KVM.
"IGEL has been closely tied to Linux and open source from the outset," says Dr. Frank Lampe, Marketing Director at IGEL Technology. "Our solutions, based on IGEL Linux, give customers the very highest standards of security and the greatest-possible potential for savings. We feel certain that Linux will continue to play a pivotal role when it comes to deploying IT resources by means of private and public cloud environments."