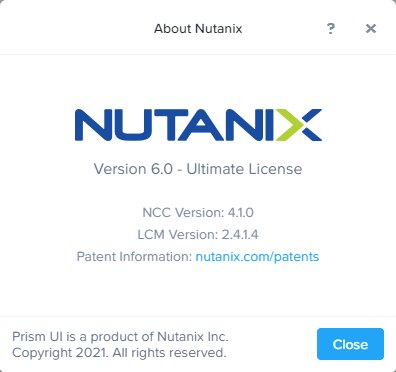 Nutanix AOS 6.0 STS (Short Term Support) just released, and with various new features and enables advanced disaster recovery capabilities for organisations of all sizes. AOS 6.0 expands workload support for leading big data and analytics applications. Also, workload acceleration and enterprise grade features, such as resiliency improvements to gain insights and control over the self-healing process and ability to reserve capacity.
Whats new in AOS 6.0:
AHV
ADS vGPU Support – Nutanix AOS 6.0 now has Acropolis Dynamic Scheduling (ADS) support for VMs with virtual GPUs (vGPUs)
P2P intra cluster VM live migration – While VM live migration is in progress if the migrate task restarts, VMs can be left in a paused state or killed in certain scenarios causing downtime, this feature overcomes these issues
Nvidia vGPU Console Support – Provide GPU support for our VM console (Also part of 5.20)
Scale out PE Lazan – This feature, cluster state capture phase is distributed among every Lazan slave to make it faster and more scalable. Each slave then sends the captured state to Lazan master making anomaly detection faster and the CPU usage to compute the cluster state is also distributed among the nodes.
PC UI using v3 APIs – An upgrade of the APIs used for VM operations for our Prism UI, while preserving the existing feature set and workflows.
AHV Switch Port ANalyzer (SPAN) or port mirroring support enabled with AOS 6.0 allowing you to mirror traffic from interfaces of the AHV hosts to the VNIC of guest VMs.
Disaster Recovery
Near-Sync Autonomous Schedules: Native near-zero always-on data loss solution for applications running on Nutanix HCI. Available with Protection Domain.
DR Dashboard: Provides global visibility into DR landscape with LEAP. Gives team one place to monitor and manage their ability to keep business operations functional in the face of disaster. Brings observability to DR for meeting/maintaining RPO SLAs, Recovery Readiness and DR Reports.
DR Traffic Encryption: Encrypt DR traffic across WAN links without the need for dedicated encryption hardware or VPN.Native SSL based encryption is now integrated with Nutanix AOS, enabling secure replication even where VPN tunnels are unavailable. Available with Protection Domain.
DR Replication Performance: DR Replication Performance: Next gen architecture for data mobility across clouds with improved performance and tight SLAs.
Instant Restore for AHV: Instantly recover the workload even though the disk data for the workload are not locally available in the underlying AOS cluster. Migrate the disk data back to (seed) the AOS cluster without interruption to the recovered workload.
Core Data Path
Option to reserve rebuild(spare) capacity for a cluster: The Reserve Rebuild Capacity feature simplifies cluster resiliency management by allowing you to reserve storage capacity required to recover and rebuild from failures. AOS calculates, reserves, and dynamically manages capacity required for self-healing after a failure.
Rebuild progress indicator and ETA: The new Rebuild progress indicator in Prism enables administrators to better manage cluster resiliency by providing additional insight into the self-healing process such as the rate of progress, expected time of completion and other details for rebuild operations.
Brownfield AES: Provides ability to convert existing pre-AES containers to AES
Support mix storage capacity for HW Swap: This feature adds support mixing storage drive capacity for drive RMA and node capacity increase use-cases.
Improve performance (e.g.: metadata re-warming) after failures/CVM restart/change of vdisk host: This feature helps mitigate potential application performance impact during certain CVM restarts or live migrations by proactively pre-filling the metadata cache.
Other new features
IPV6 Phase 2 & IPV6 support for DR
Secondary IP Support and association with floating-ips
Service to service Authentication
Expand Cluster Re-design : Ability to prepare a node now and expand later: This will prepare the nodes now but delay adding them to the cluster until a later time.
Software bundled with the AOS 6.0 release:
AHV 20201105.2076
AOS 6.0
Foundation 4.6.2
Nutanix Cluster Check (NCC) 4.1.0
Nutanix Guest Tools (NGT) 2.2