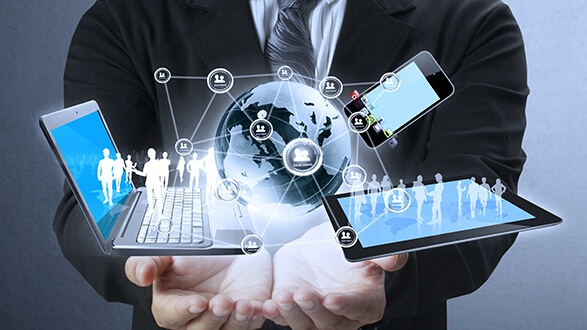 Nutanix Solutions for EUC enables productivity anytime, anywhere with well-executed EUC.
Nutanix offers solutions for Virtual Desktop Infrastructure for Citrix Virtual Apps and Virtual Desktops and VMware Horizon. As a compliment or standalone alternative, Nutanix also offer Desktop-as-a-Service powered by Citrix Cloud and Nutanix Xi Frame.

The Difference Nutanix Makes
Run virtual apps and desktops on a highly available, scalable, secure and performant platform with 1-Click simplicity, stability, and world-class support.
Centralize Management

Install new apps, manage updates, and provision users from one dashboard.

Enable BYOD

Give users access to their apps and data anywhere, from any device, on any browser.

Secure End-User Data & Files

Enable access to company data without users storing anything on local devices.
Nutanix supports the following EUC solutions:
Citrix Virtual Apps and Desktops
EUC(end-user computing) has transformed to deliver better application availability and better accessibility for employees. And innovation in the EUC space has done wonders, such as reducing operational costs, improving workforce mobility, and more.
Even so, why do so many EUC initiatives still fail? The answer lies in not fully understanding the work process in the beginning of an EUC project. But what else is responsible? And how can businesses ensure their EUC project succeed?
This quick guidebook will walk you through:

3 critical components to a successful EUC initiative

How to plan ahead and keep end-user in mind, always

Real-life scenarios of properly executed EUC projects

And more!
Many enterprises struggle to reduce the overall costs and complexity of their data centers, and from these traditional implementations.
Download the Definitive Guide to VDI on Hyperconverged Infrastructure to see how Nutanix can manifest application virtualization with streamlined management and excellent user experience. Take it one step further and leverage Nutanix Files to host User Home Directories, User Profiles and file data. This combo, speeds up both the login process and takes the user experience to the next level. One customer, had 30+ seconds login time for their average user before Nutanix. Putting their Citrix Virtual Apps(XenApp) on their Nutanix platform, instantly brought them down to 18 seconds, then after leveraging Nutanix Files, their average login time for their users went down to 8 seconds! Now that is a tremendous change for the users! Be a hero again!