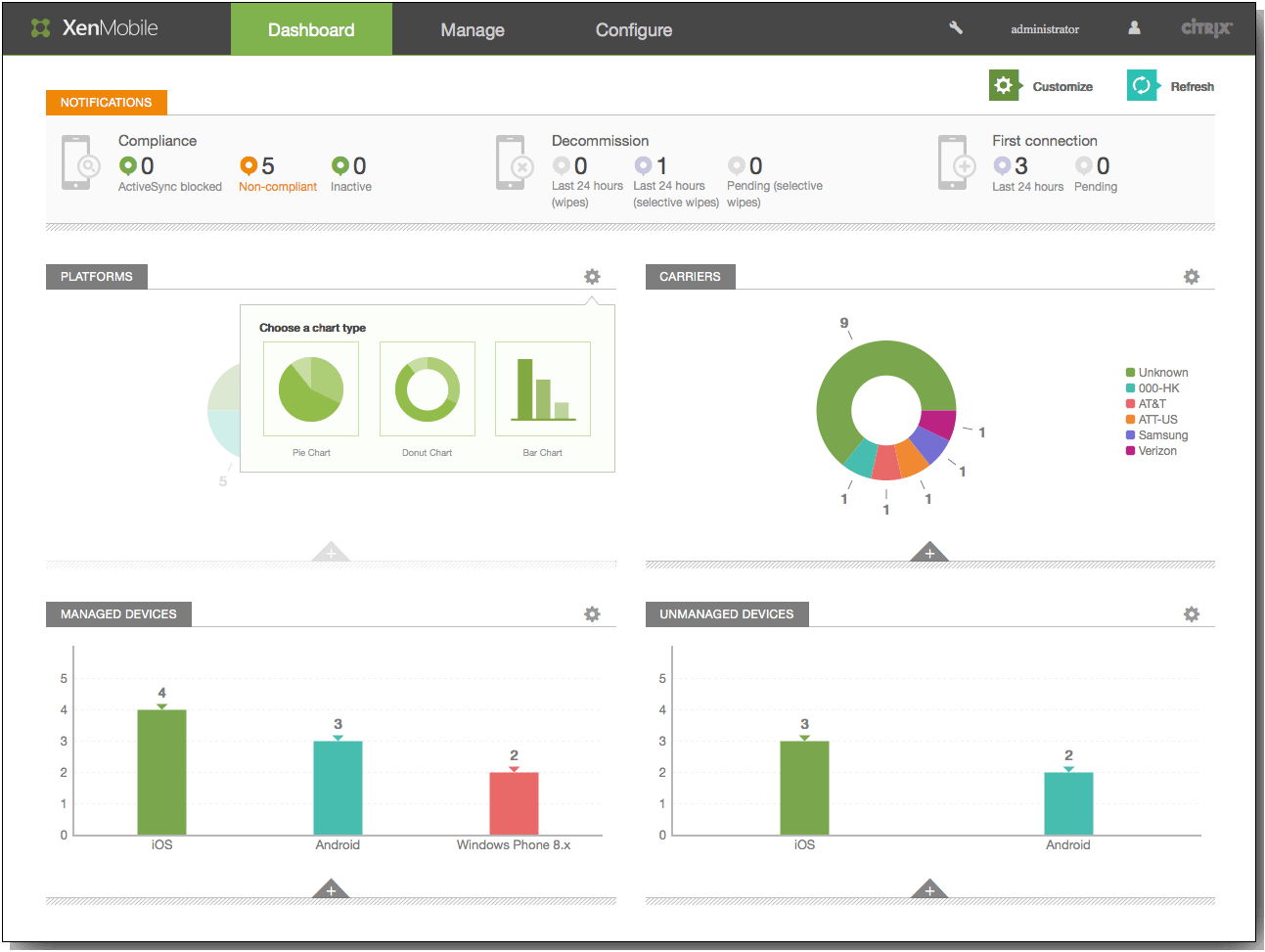 Citrix updates their popular MDM solution XenMobile Server to version 10.3. It's a complete enterprise mobility management (EMM) solution that provides both mobile device management (MDM) and mobile application management (MAM) through a single virtual Linux appliance.  This new server has a single console for management of devices, apps, and data.
The following features are new in XenMobile 10.3
New console appearance
XenMobile 10.3 has a new look. The console is updated with new colors, fonts, tabs, and improved functionality.
The Dashboard tab in previous versions of the console has been moved under the new Analyze tab, which also includes the new Reporting tab.

For details, see Reports.

The Manage tab now includes the new Users tab where you manage local users and groups.

The Configure tab now includes the new ShareFile tab where you configure settings to connect to the ShareFile account.

You access Settings, formerly under the Configure tab, by clicking the gear icon on the upper-right of the console.

The Support tab now opens in the same tab as the console instead of in a new tab.
XenMobile 10.3 now offers support for the following platforms for MDM policies:
Mac OS X
Android HTC
Android Sony
Samsung SEAMS
Windows Mobile/CE
Windows 10 Desktop/Tablet

Windows 10 Phone (MDM only functionality)
The following new MDM policies are available in XenMobile 10.3:
App lock

. Lets you define a list of apps that are allowed to run on a device, or a list of apps that are blocked from running on a device.

Available for iOS and Android.

App network usage. 

Lets you set network usage rules to specify how managed apps use networks, such as cellular data networks. The rules only apply to managed apps. Available for iOS.

Connection manager

. Configures how apps will connect to the Internet or to a private network. These settings only work on Pocket PCs (touch screen devices).

Available for Windows Mobile/CE.

Copy apps to Samsung container

. Lets you create a SEAMS or KNOX container for apps on Samsung devices.

Available for Samsung SEAMS or Samsung KNOX.

Delete files and folders

. Allows you to specify which files and folders need to be deleted.

Available for Windows Mobile/CE.

Device health attestation

. Enables Device Health Attestation, a security and data loss prevention (DLP) feature in Windows 10 that lets you determine the health of a Windows 10 device and take compliance actions when necessary. The payloads are supported only on Windows 10 and later supervised devices.

Available for Windows Phone and Windows Tablet.

Device name.

 Allows you to set the names on iOS and Mac OS X devices so that you can easily identify the devices. You can use macros, text, or a combination of both to define the device's name.

Delete registry keys and values

. Allows you to specify which registry keys and values need to be deleted. An empty value means that the entry is a registry key.

Available for Windows Mobile/CE.

Enterprise Data Protection.

 Allows you to specify apps that require Enterprise Data Protection (EDP) at the enforcement level you require.

This policy applies to Windows phones and Windows tablets.

Import iOS & Mac OS X profile

. The option to configure this policy for Mac OS X is new in XenMobile 10.3. The policy lets you import a device configuration XML file for either iOS or Mac OS X. The file contains device security policies and restrictions that you prepare with the Apple Configurator.

Registry

. The Windows Mobile/CE registry stores data about apps, drivers, user preferences, and configuration settings. You can define the registry keys and values that let you administer Windows Mobile/CE devices.

Wallpaper.

 Lets you add a .png or .jpg file to set wallpaper on an iOS device lock screen, home screen, or both. Available in iOS 7.1.2 and later. To use different wallpaper on iPads and iPhones, you need to create different wallpaper policies and deploy them to the appropriate users.  

Windows CE certificate

. Allows you to create and deliver a certificate from an External PKI to your device.