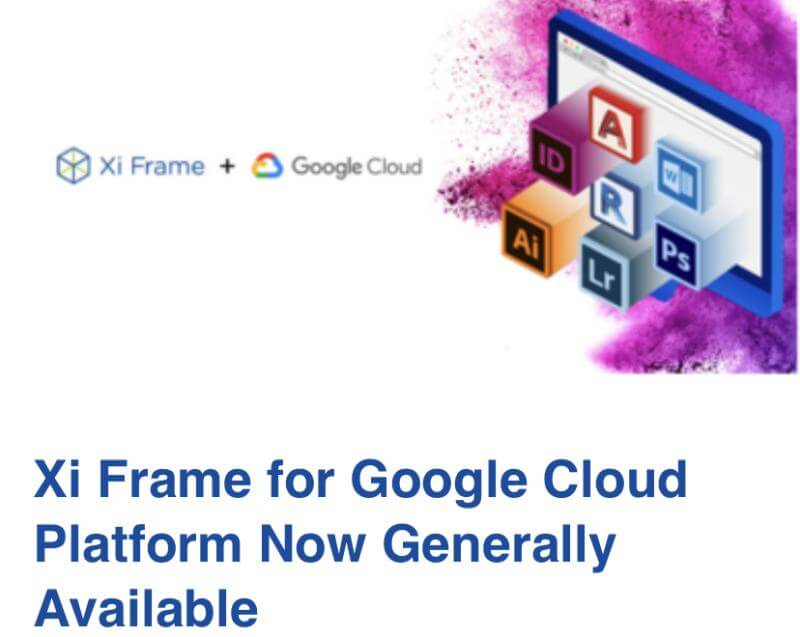 Nutanix Xi Frame, are continuing to deliver on giving customers the most choice, with the general availability of Frame support for Google Cloud Platform (GCP). This means that our customers can choose to run their Frame desktops and applications on VMs in GCP regions worldwide.
Xi Frame has always embraced an open, multi-cloud approach to delivering Desktop-as-as-Service (DaaS). Nutanix started with a choice of AWS or Azure public clouds and in May of this year support was added for Nutanix private clouds to enable hybrid environments.
"Xi Frame's support of Google Cloud Platform is a great addition to the multi-year partnership we've enjoyed with Nutanix around Frame," said Manvinder Singh, Director, IaaS/PaaS Partnerships Google Cloud. "We look forward to continued collaboration to build out the cloud-based DaaS market together."
This is not the first integration between Google and Frame. Frame has been a Google Cloud Technology Partner and Google Chrome Enterprise Technology Partner for several years due to easy-to-use integrations that our customers love, including:
Running Windows apps on any device with a Google Chrome browser delivers the best possible Frame performance (no downloads or plug-ins required)
Direct integration with Google Chromebooks and Chromeboxes let users launch Windows apps directly from the ChromeOS shelf
Integrations with Google Drive and Google Drive File Stream let users work and collaborate seamlessly with their files in Frame sessions, even with non-persistent desktops
Authentication integrations with Sign-in with Google (OAUTH) or SAML2 let users log in to Frame using Google as the identity provider
This addition of Frame support for GCP rounds out our DaaS offering so that customers who have embraced the Google ecosystem can leverage all of their investments from devices to identity to storage to infrastructure.
Why GCP?
As far as public cloud infrastructure goes, Google Cloud has made huge strides in their position as a major hyper-scale public cloud provider. They've focused on high reliability, best-in-class-security, and super fast VM and storage performance — all music to Nutanix customers' ears. And perhaps most importantly, they have differentiated themselves on their network with their own high-bandwidth links between Google Cloud points of presence (PoPs) that cut down latency between users and the data center hosting their VMs – a very important feature for DaaS workloads.
Who uses Nutanix Frame with Google?
To date, Nutanix has seen customers across a variety of segments from enterprise to education embracing Google devices and services with Frame. Chromebooks are incredibly popular in schools as they disrupt the norm by changing the economics of computing and greatly simplifying management. White Bear Lake Schools in Minnesota is a great example, where 1:1 computing with Chromebooks completely changed the digital content creation curriculum.
"I looked into options and discovered that Nutanix Frame could stream Adobe applications from the cloud directly into a browser, making it a great fit for Chromebooks. Students were able to log in using the Frame account through their school Gmail account, and work directly through their Google Drive, with access to Adobe InDesign, Illustrator and Photoshop. Students were able to work on projects at school, home or anywhere they had Wi-Fi. By giving students access to the applications they needed from their own devices, Nutanix Frame and the 1:1 program enabled me to eliminate the networked computer lab in my classroom."
In addition to Google's traction in education, Nutanix is seeing an increasing number of enterprises (large and small) adopting Google ChromeOS devices and Google Cloud services. With the incredible amount of complexity in today's enterprise IT environments, IT managers are telling us over and over again that they are looking for one-click simplicity and consumer-grade ease of use. Delivering solutions to meet these demands are goals that Nutanix and Google certainly share.
Want to try?
If you want to try out Frame with your GCP account, simply sign up for a free one-month trial by going to my.nutanix.com and clicking "Start Trial" on the Xi Frame tile. And for more on Frame with Google see: nutanix.com/products/frame/google