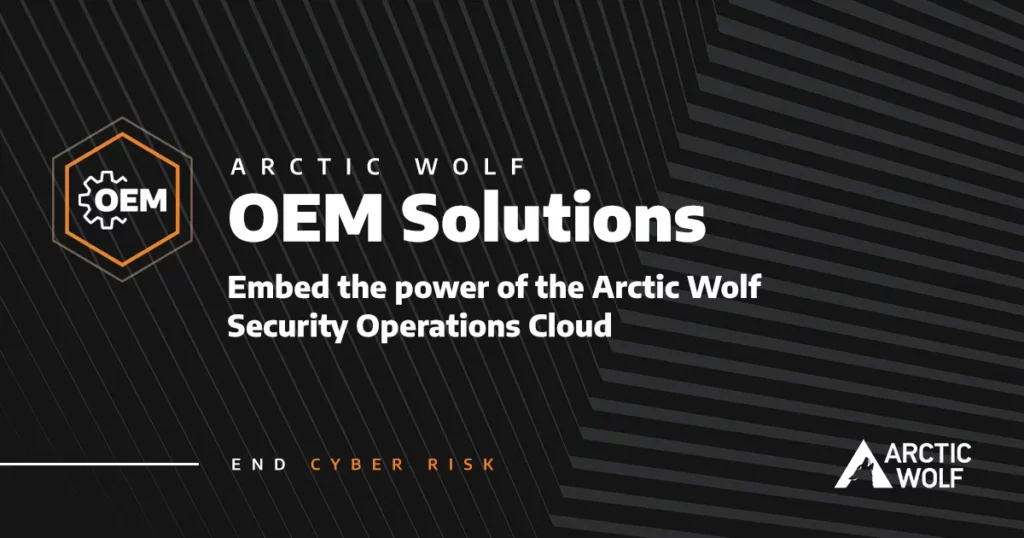 Arctic Wolf, a global leader in security operations, has announced the launch of Arctic Wolf OEM Solutions to Enable Embedded Security Operations, a suite of world-class security scanning and threat intelligence capabilities designed to meet the needs of original equipment manufacturers (OEMs), independent software vendors (ISVs), and large enterprises looking to add critical security operations capabilities to their solutions.
OEMs, ISVs, and large enterprises gain access to the power and scale of the Arctic Wolf Security Operations Cloud
Developing enterprise-grade security capabilities is a costly and time-consuming undertaking, especially for organizations where cybersecurity is not a core competency of their business or for organizations looking to expand their capabilities quickly with proven market-ready solutions. By leveraging Arctic Wolf OEM Solutions (Embedded Security Operations), OEMs, ISVs, and other similarly situated organizations can add vulnerability management, threat intelligence, and additional security operations capabilities from the Arctic Wolf Security Operations Cloud™ to their products in an easy, fast, and scalable way.
The Arctic Wolf Security Operations Cloud has established itself as one of the largest cloud-based security platforms in the world. Recognized as part of the CNBC Disruptor 50, Forbes Cloud 100, and Fast Company's Most Innovative Companies, Arctic Wolf's cloud-based security operations platform ingests and analyzes over three trillion security events a week to protect thousands of organizations globally. The insights and observations gathered by the Arctic Wolf Security Operations Cloud at such scale enables those organizations who leverage Arctic Wolf OEM Solutions(with Embedded Security Operations) to get access to the data and AI-enabled technologies that Arctic Wolf uses daily to protect its customers against advanced cyber threats.
The security operations capabilities available as part of Arctic Wolf OEM Solutions (Embedded Security Operations) include:
Arctic Wolf Risk Scan Engine: Allows organizations to add enterprise-strength compliance, vulnerability, and configuration assessment capabilities to most software or appliance-based solutions, without the need for heavyweight databases or custom infrastructure.
Arctic Wolf vxIntel: Enhances threat detection capabilities by making available one of the industry's largest malware and cyber threat intelligence (CTI) data feeds. Containing actionable intelligence on malware samples collected for over a decade, this threat intelligence feed contains samples that are 60% unique compared to the legacy market solutions and is enhanced with an additional 15 million binaries and 10 terabytes of metadata each month.
"To build secure products, stay ahead of today's advanced threat actors, and earn the trust of their customers, OEMs and ISVs need to have best-in-class security capabilities engineered into the solutions they are bringing to market; but building that security technology on their own can be costly and time consuming, especially if they do not have deep domain knowledge in cybersecurity". "With the launch of Arctic Wolf OEM Solutions, we are excited to offer the same leading technology and data that helps power the Arctic Wolf Security Operations Cloud to organizations of virtually any size so that they too can build world-class cybersecurity products and solutions that can defend their assets at the speed of data."

said Dan Schiappa, Chief Product Officer, Arctic Wolf
To learn more about Arctic Wolf OEM Solutions, visit arcticwolf.com.