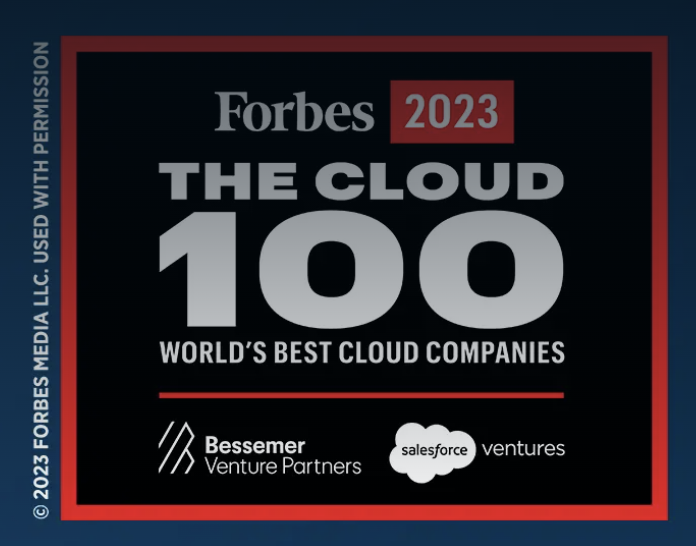 Arctic Wolf, a leader in security operations, has been named to the Forbes 2023 Cloud 100, the definitive ranking of the top 100 private cloud companies in the world, published by Forbes in partnership with Bessemer Venture Partners and Salesforce Ventures.
With the number of cyberattacks continuing to rise, global companies are struggling to keep up with the evolving threat landscape due to a lack of qualified cybersecurity talent, ongoing economic uncertainty, and a lack of unifying security platform that can help their internal teams manage the barrage of alerts produced by their disparate security tools. With the Arctic Wolf Security Operations Cloud, which ingests and analyzes more than three trillion security events a week, Arctic Wolf is helping organizations tackle digital threats through an operations-first approach which makes it fast and easy to enable 24×7 security operations for a fraction of the cost of establishing and staffing internal security operations.
By leveraging machine learning and artificial intelligence within its open XDR architecture, Arctic Wolf's proprietary technology delivers game-changing noise reduction, allowing trillions of security alerts to be filtered down to 1-2 alerts per day, unlike other solutions that generate hundreds of alerts, burdening resource-constrained security teams. As a result, Arctic Wolf aims to deliver stronger protection from cyber attacks and serves as a force multiplier for its customers' internal security teams by eliminating alert fatigue and allowing organizations to focus on more strategic cybersecurity priorities.
Being named to the Forbes 2023 Cloud 100 further underscores Arctic Wolf's reputation as a leading innovator in not only the field of cybersecurity, but the technology sector as a whole. Just this year, Arctic Wolf was named to the CNBC Disruptor 50 for the second year in a row. Additionally, in 2022 alone, Arctic Wolf was named to the Fast Company Most Innovative Companies, and Fortune and Great Place to Work®'s Best Medium Workplace lists.
"Cybersecurity is facing a critical data problem. The optimization and management of massive data volumes via a cloud-native platform is absolutely essential to cyber defense," said Nick Schneider, Arctic Wolf's president and chief executive officer. "We are driving the advantage back to the defender by leveraging the cloud to innovate rapidly and advance with ML/AI technologies as the cyber threat landscape evolves."
For the eighth consecutive year, the Forbes 2023 Cloud 100 reviews submissions from hundreds of cloud startups and private companies each year. The Cloud 100 evaluation process involved ranking companies across four factors: market leadership (35%), estimated valuation (30%), operating metrics (20%), and people & culture (15%). For market leadership, the Cloud 100 enlists the help of a judging panel of public cloud company CEOs who assist in evaluating and ranking their private company peers.
"The companies of the Forbes 2023 Cloud 100 list represent the best and brightest private companies in this crucial tech sector," said Kenrick Cai, the Forbes editor of the Cloud 100. "This year's companies had to react rapidly to AI's sweeping impact while contending with a market pullback. Their resilience puts them in elite company. Congratulations to each of the 2023 Cloud 100 honorees and the 20 Rising Stars who are showing early potential to one day join their ranks."
"Arctic Wolf surfaces the alerts that matter to us," said Bob Sullivan, VP, Technology Shared Services & CISO, Agero, enterprise white-label provider of digital driver assistance services and technology. "We rely on Arctic Wolf to analyze the data that AWS provides. Arctic Wolf protects our AWS environment so that we can effectively operate—and scale—our business in the cloud safely."
"This year's Forbes 2023 Cloud 100 list is one of the most dynamic in history. While the industry faced macro headwinds, the 2023 Cloud 100 winners displayed the innovation and resilience of the cloud economy and the combination of growth and efficiency that prove the power of the cloud business model. 95% of the honorees are forecasted to reach Centaur status — $100 million of annual recurring revenue — by the end of the year," said Mary D'Onofrio, partner at Bessemer Venture Partners. "It is further exciting to see so many honorees at the forefront of the AI revolution, which we believe will continue to transform the cloud and propel the next wave of growth for many of this year's winners."
"The past year our industry has seen a generational step forward in innovation and with AI leading the charge, we are witnessing one of the most important platform shifts in decades," said Paul Drews, managing partner, Salesforce Ventures. "The Cloud 100 list represents the best of the best and we've never been more excited about what the future holds, not only for the cloud but for the entire technology industry. We are proud of what these founders and their communities have already accomplished and look forward to seeing how they continue to transform the industry in the future."
The Forbes 2023 Cloud 100 and 20 Rising Stars lists are published online at www.forbes.com/cloud100. Highlights of the list appear in the August/September 2023 issue of Forbes magazine.
This year, the CEOs of The Forbes 2023 Cloud 100 and the 20 Rising Stars companies will be honored with a digital content launch, as well as at the exclusive Cloud 100 Celebration hosted by Bessemer Venture Partners, Salesforce Ventures, and Forbes. A special thank you to the event sponsors, including Amazon Web Services (AWS), Bank of America, Cooley, Deloitte, HSBC, J.P. Morgan, Morgan Stanley, Nasdaq, and Qatalyst Partners.