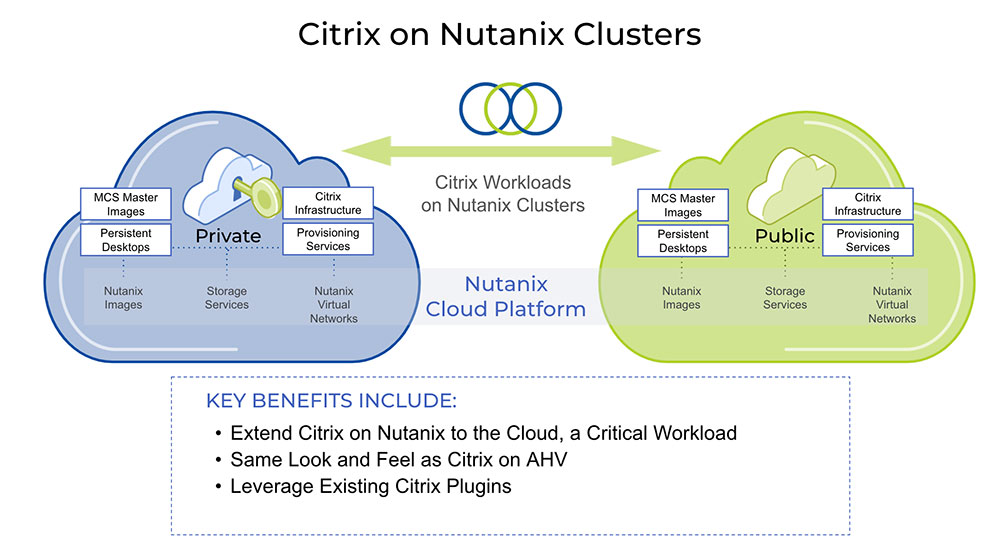 Nutanix has announced that Citrix Cloud on Nutanix Clusters has been validated by Citrix Ready for Citrix Virtual Apps and Desktops on Nutanix Clusters on AWS. This is another major milestone in the Citrix and Nutanix partnership.
Nutanix and Citrix have partnered for years to provide powerful and reliable virtual application and desktop solutions. It´s not a secret that running your Citrix WorkSpace solutions on Nutanix, boosts your efficiency, reduces TCO/ROI and eases time to market. Also, the benefits around management, and the fact that every Citrix solution I have been involved with on Nutanix AHV, has had a dramatically cut in log on times, and End User performance.
Be sure to check out my fellow Nutant and Citrix CTPs blog post and video on Bursting 2,000 Citrix Desktops to AWS in Under 2 Hours with Nutanix Clusters here
Their recent cloud offerings, Nutanix Clusters and Citrix Cloud, provide enterprises the operational flexibility they need across private or public infrastructure to support a distributed workforce, delivering secure and responsive access to applications, desktops, and data on any device, anywhere, and at any scale.
With Citrix Cloud on Nutanix, you get true multicloud flexibility to choose the environment that works for you–on prem, public cloud, or both.
Nutanix Clusters delivers the Hybrid and Multicloud platform with the flexibility, simplicity, and cost efficiency needed to run applications in private or multiple public clouds. Nutanix Clusters extends the simplicity and ease of use of Nutanix hyper-converged infrastructure (HCI) software as well as the full Nutanix stack to public clouds like AWS and more. Using the same platform on private and public clouds, Nutanix dramatically reduces the operational complexity of migrating, extending, or bursting your applications and data between clouds. Operators can use a single management plane to truly manage both their private and public cloud infrastructure managed and operated as a single cloud.
Features
Unified platform to manage private and multiple public clouds
Migrate applications to public clouds without retooling
Easily burst additional capacity to meet seasonal needs
Move applications and VMs without major migration risk
Eliminate complexity with built-in integration into public cloud networking
Manage infrastructure across multiple clouds from a single console
There are a host of advantages to running your Citrix workloads on a true hybrid and multicloud solution, such as Nutanix Clusters on the Nutanix Cloud Platform. Clusters enables organizations to not only avoid workload rearchitecting, but cloud lock-in as well. A Citrix Cloud on Nutanix Cloud Platform solution can also help enterprises meet data sovereignty and compliance obligations, while providing coverage, redundancy, and on-demand incremental capacity.
Nutanix Clusters also uses the same Nutanix AHV plugins for Citrix that are used for on-premises Nutanix deployments. These time-proven and well-tested plugins allow you to easily deploy Citrix workloads using Machine Creation Services and Provisioning, integrate with Director, and leverage Citrix Virtual Apps and Desktops Service and Citrix Cloud.
Nutanix Clusters lets customers quickly and efficiently move workloads over to AWS (and, before too long, Microsoft Azure as well) without refactoring the applications, changing security policies, or other operational procedures. In fact, you can burst 2,000 Citrix desktops to AWS in under 2 hours.
When you combine Citrix and Nutanix, all infrastructure and application delivery operations are consolidated into just two tools: Nutanix Prism and Citrix Studio. Nutanix Prism provides a unified console for administrators to search all VMs across all sites, and even across different hypervisors. Citrix Studio manages environments on top, including apps, desktops, data, and files, while Nutanix provides a single, fully integrated platform below, including on prem, AWS, and, once it's available, Azure.
All of this translates to greater choice for Citrix cloud architects: put your apps, desktops, and end user data on-prem, in the cloud, or both–whichever suits your business needs. And the solution also includes operations portability and flexibility so that you can react quickly if your needs change.
Why Citrix Cloud on Nutanix Clusters?
On-Demand Elasticity: Quickly scale Citrix workload capacity for temporary or seasonal demands or expand into different geographical regions in minutes by bursting Citrix workloads into public clouds.
Business Continuity: Leverage public clouds for high availability and disaster recovery of Citrix Cloud workloads without the complexity of managing a secondary datacenter or a stand-alone recovery solution sitting idle the majority of the time.
Accelerate Journey to Digital Transformation: Seamlessly lift and shift desirable environments to embrace cloud operations and OpEx cost models.
Location Independence: Easily migrate workloads between on-premises Nutanix infrastructure and Nutanix Clusters to suit business needs, capacity constraints, and non-disruptive upgrades of Citrix Cloud infrastructure. This flexibility also addresses challenges around data sovereignty, compliance, and regional certifications (such as GDPR, CPAA, HIPPA, and SOX)
Test/Dev in the Cloud: Reduce infrastructure costs by moving Test/Dev to an on-demand operations and OpEx model. Maximize results by performing tests at production scale instead of using costly, dedicated resources on-premises.
Lower Total Operating Costs: With Citrix Cloud on Nutanix Clusters, pay only for what you use, when you need it. Run your workload in the right cloud at the right time. No need for overprovisioning on prem or in the cloud. Get cloud elasticity when you need it, and on-prem economics for predictable use cases.
Visit the Nutanix Clusters page to read about how customers are already using Nutanix Clusters on AWS to seamlessly burst VDI workloads to address spikes in demand, with no refactoring.
Citrix Cloud on Nutanix Clusters delivers greater choice and efficiencies
Citrix Cloud on Nutanix Clusters enables true multicloud optionality and location independence. Nutanix Clusters grants per-user infrastructure pricing and license portability–these features enable the license to follow the workload into the cloud as business needs adapt, shifting to a cloud operations model over time. The Citrix on Nutanix solution allows migration to cloud at a pace that's right for your business.
Additionally, Nutanix Clusters on AWS gives customers the choice to either reuse existing on-premises hardware, or operate in the cloud using AWS credits to build out a hybrid environment. Customers can choose to bring on-premises licenses or select a pay-as-you-go model.
Nutanix coined the term "micro-waste" to describe how Clusters slashes public cloud spend (including the cost of Clusters). Public clouds offer "t-shirt" instance sizes, which prohibits customers from purchasing the exact compute, memory, and storage resources they need. The excess resources, or micro-waste, cannot be shared with other VMs, resulting in over allocation expenses. In a large environment, these costs add up significantly.
Citrix Cloud on Nutanix Clusters intelligently optimizes operations and public cloud per usage costs. You can hibernate workload instances when they're not in use, resuming again as needed, enabling a more streamlined, pay-as-you-consume model.
The combination of Citrix Cloud and Nutanix Clusters unlocks legacy cost and operations models to allow greater choice, efficiency, and simplicity, on-prem and in the cloud.