CloudGateway Enterprise is designed to offer a single point of control for enterprise delivery of iOS, Web, Saas and Windows applications, along with seamless integration into Citrix ShareFile. Users have a single point of access from the Citrix Receiver, to interact with all these applications and services, while the enterprise IT teams have a single point of control to manage the security and distribution of these applications. View the architectural diagram. Architecturally, CloudGateway is composed of the below three components:
StoreFront – The Windows component allowing the Citrix Receivers to connect to the enterprise, and present the users their set of iOS,Web,SaaS and Windows applications, along with ShareFile data, with a "follow-me" subscription experience.
AppController – A Linux based virtual machine available for both XenServer and VMware® based hosts, providing the central administrative point for configuration of all native mobile apps, Web/ SaaS apps, and ShareFile data.
Gateway services – Delivered through the Citrix Access Gateway, either standalone, or as a feature of the NetScaler MPX, VPX and SDX platforms.
App Preparation Tool – MDX technology provides encapsulated iOS and Android applications with security, encryption, and control.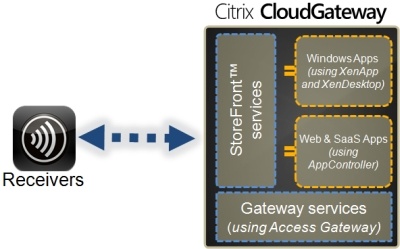 AppController 2.5 supports the following new features:
Click here to download Citrix CloudGateway Enterprise 2.5 (requires a valid mycitrix.com account! )
{loadposition content_starwind600}