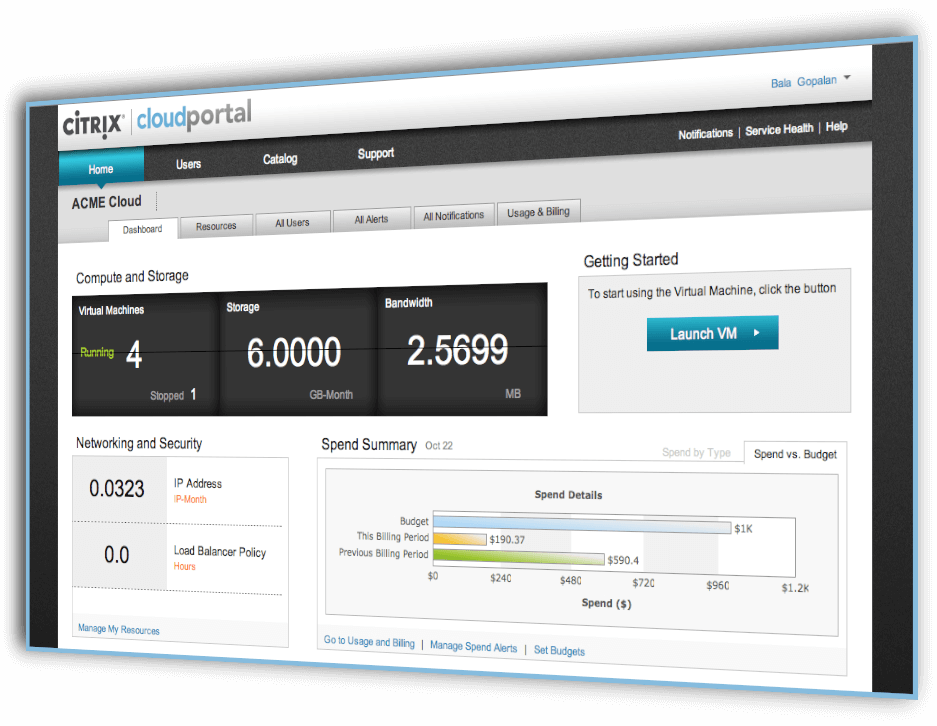 Latest Releases of Citrix CloudPlatform and Citrix CloudPortal Business Manager Increase Flexibility, Control and Automation with Unique Application-Centric Cloud Orchestration Solution
Citrix has announced the availability of Citrix CloudPlatform™ 4.2, a single, unified cloud orchestration solution powered by Apache CloudStack, and Citrix CloudPortal™ Business Manager 2.1, a web portal that manages the delivery of cloud services. The latest versions of these cloud solutions from Citrix enable organizations to future-proof their cloud services strategy by efficiently running both traditional enterprise and cloud-native workloads via an application-centric approach, while also simplifying the management aspects of offering IT-as-a-Service (ITaaS).
Today's customers are adopting the cloud to increase efficiency, agility and business growth by rapidly innovating and delivering new cloud services. To realize the full potential of the cloud, businesses realize they must expand beyond the initial cloud-native scale-out use cases such as Dev/Test or Big Data to incorporate the vast base of existing scale-up, enterprise workloads such as ERP apps and Windows workloads into a standardized cloud architecture. The challenge customers face is that most cloud architectures are optimized for one or the other workload, but not both. By focusing on optimizing for all applications versus a specific workload, Citrix CloudPlatform and Citrix CloudPortal Business Manager provide a flexible foundation for the journey toward an ITaaS delivery model.
Citrix CloudPlatform 4.2
Citrix CloudPlatform provides a single orchestration control plane with the flexibility to handle any application—it provides infrastructure resources to deliver the scale-up resiliency that enterprise applications require, and cost-efficient scale-out failover capabilities for cloud-native applications. As a result, Citrix CloudPlatform 4.2 benefits both service providers and enterprise customers, with features that support their specific business needs:
Enterprises Building Private Clouds and Deploying Traditional Scale-Up Workloads
nTier application and Virtual Private Clouds run with the enterprise-grade security, networking and availability requirements of a traditional datacenter.
Dedicated Private Cloud Isolation ensures compliance, security, performance and licensing requirements for running the most stringent enterprise workloads in the cloud.
Enterprise Grade Networking Integration supports the performance, scale and SLA requirements of the most demanding production workloads.
VMware integrations enable customers to leverage existing VMware investments, configurations and expertise.
Cisco integrations allow native provisioning and management of Cisco UCS workloads directly from CloudPlatform, while leveraging Nexus 1000v Switches and ASA 1000v Firewalls within CloudPlatform.
Service Providers Building Clouds for Scale-Out, Cloud-Native Workloads
Availability regions can be created with multiple workload-specific zones and datacenters for lower latency, increased scalability and geographic availability as well as regulatory compliance.
Object Storage can be delivered in a region or across multiple zones for increased workload availability, operations efficiency and management simplicity.
Advanced cloud networking enables cloud operators to create advanced configurations and Network-as-a-Service offerings.
Industry standard AWS APIs allow customers to leverage existing AWS development efforts in CloudPlatform environments and integrate with third-party ecosystem solutions, such as PaaS or monitoring.
Ecosystem Integrators Building Custom Extensions
New third-party plug-in framework lets organizations easily build custom extensions to Citrix CloudPlatform.
Citrix CloudPortal Business Manager 2.1
Citrix CloudPortal Business Manager accelerates the path to ITaaS with an easy-to-use web portal that helps service providers manage the commerce, user management, service provisioning and operational aspects of delivering cloud services and offerings to their customers. New product features include:
Cloud Services Catalog helps enables the creation of custom services including Infrastructure-as-a-Service (IaaS), cloud, 3rd-party, value-add and IT services that are delivered to users through a simple, self-service catalog.
Customization SDK tailors user experiences and how cloud services are packaged, delivered and metered. 
BSS/OSS APIs allow customized application and service integration with internal and external business and operations support systems such as CRM, financials and technical support platforms.
Citrix and Partner Connectors make it easier for IT to transform into a service broker with 3rd-party connectors from partners such as Appcara, ActiveState, Caringo, Cloudian, Cloudsoft, CumuLogic and others. Citrix connectors include Apache CloudStack 4.2, Citrix CloudPlatform,  OpenStack, and self-service desktop, as well as a preview connector for 

Citrix CloudPortal Services Manager. 

 
Performance and User Experience Enhancements include an improved user and management experience, increased performance for catalog, account, subscription and billing, an Active Directory import tool, enhanced notifications and logging and RHEL support.