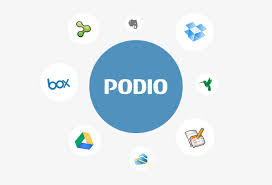 Citrix has announced an significant enhancement to their Podio product. The popular productivity and work management tool in its mobile workspace portfolio. The platform's redesigned look and feel empowers any user to dramatically reimagine the way they organize their everyday work. Improvements include a faster user interface, intuitive new drag-and-drop design and more powerful ways to automate and link tasks within Podio.
"We've been using Podio since the beginning as we've grown from three to over 20 employees and freelancers in the last few years," said Kevin Planovsky, founder of award-winning digital marketing agency Vert. "Our team has found so many ways to customize the platform, drastically cutting internal emails and unnecessary meetings. Podio makes it simple to automate and collaborate around the things we do every day; ultimately, we're saving time and able to focus on delivering to clients all the more."
A New Way to Design Work Processes
More than 500,000 organizations around the globe – from ad agencies to furniture designers – use Podio to help manage new projects and tasks, sales, CRM, content development, HR/recruiting, special events, and more. However, the Podio team recognizes a one-size-fits-all approach doesn't work for all businesses.
With its latest release, Podio puts anyone – regardless of technical expertise – in the driver's seat, to define and create the way their team will work together successfully:
·         Faster performance: Podio lets users develop the right workflow, from the ground up. The new, more intuitive drag-and-drop design lets anyone create and customize apps to organize their work in just seconds.
·         Easier navigation to relevant content: Podio apps easily unite content, conversations and tasks. Users can now more quickly navigate to related data from within apps; for example, link projects and deliverables, or clients and designs, together.
·         Added functionality to app templates:  Podio is the only platform of its kind to offer hundreds of free business app templates that can be easily searched and customized. To date, Podio users have created more than 1 million Podio apps to help manage more than 100 million projects, sales leads, marketing campaigns, and more.
"From the start, we wanted to set Podio apart from other project management and collaboration tools by making it more user-friendly and, crucially, more customizable," said Kasper Hulthin, Citrix Podio co-founder and Product & Marketing lead. "With the Creator release, we're one step closer to our vision of giving every user – whether they're a web designer, creative writer or media buyer – complete control of the way they get work done."
Focus on the Art, Not the Admin
According to a survey released from iStock by Getty Images, technology offers an opportunity to unlock creativity; nearly three quarters (71 percent) of creatives believe that new tools and technologies have enabled them to be more creative in the workplace.
Podio was designed for the user who wants to focus on their craft and simply servicing clients and customers – making it ideal for creative agencies and other consultants who manage client projects but aren't traditional project managers.
Ryan Brock, CEO of Metonymy Media, believes Podio is instrumental to helping his team do what they do best: "As writers, we want to spend our time writing – not on data entry and updating spreadsheets. Podio allows us to work better by saving time on the backend tasks so we can really focus on the creative process. As a result, we're able to maintain a high level of contact with our clients – they love our creative processes and our approach to copywriting."
See how Podio can help you work smarter and efficiently:
https://company.podio.com/creator
{loadposition content_starwind600}