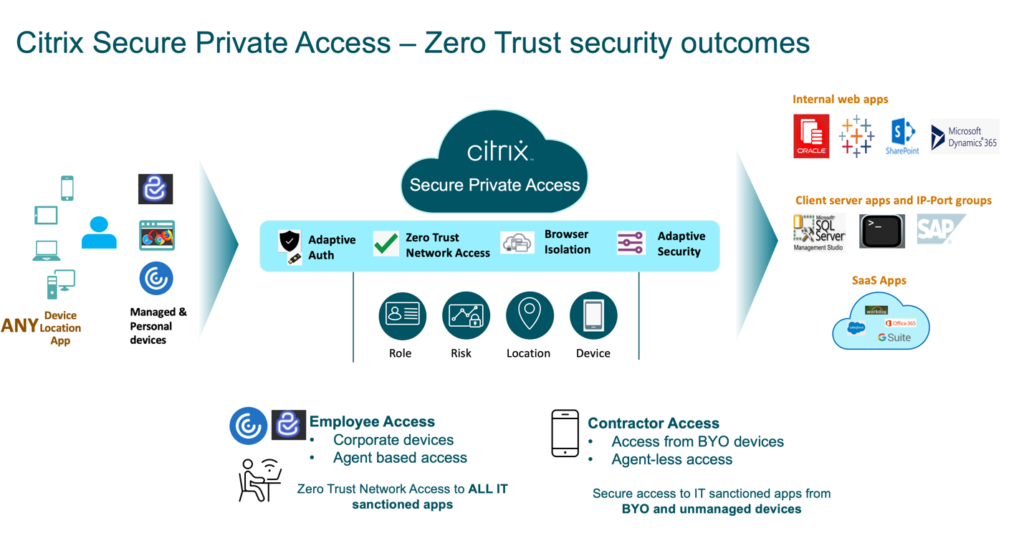 Citrix has announced a major milestone in this journey with the general availability of Citrix Secure Private Access — a cloud-based zero trust security solution that provides comprehensive zero trust network access (ZTNA) to all IT-managed applications, a curated end-user experience through Citrix Workspace Browser, adaptive authentication, app protection, and adaptive security controls including Remote Browser Isolation, to protect against data loss threats.
Never Trust, Always Verify — It is not just a tagline, it is a powerful and elegant approach to zero trust security outcomes.
At Citrix, they have been working tirelessly to empower their customers to deliver zero trust security outcomes so they can securely access applications. Citrix solutions enable zero trust security not only through desktops as a service (DaaS) and VDI solutions but also through access to other managed IT apps including internal web apps, native access to client server apps, SaaS apps, remote files shares, and myriad other applications across a wide array of platforms.
Unlike a traditional VPN, Citrix Secure Private Access is a zero trust network access (ZTNA) solution that provides adaptive authentication and SSO to IT sanctioned applications accessed from managed, unmanaged and BYO devices. Learn more at https://www.citrix.com/products/citri…
Why a Comprehensive Approach to Zero Trust Security Matters
Organizations looking to extend their DaaS / VDI solution and also looking to replace or augment their traditional virtual private network (VPN) solutions with ZTNA need to overcome key challenges:
Embrace zero trust implementation as a journey with a consistent approach to all types of applications, resources, and workloads — native and virtualized, cloud and SaaS — and avoid the pitfalls of a siloed rip-and-replace approach of the existing infrastructure.
Ensure the ZTNA solution not only provides secure access to applications but also allows security and governance over application access with adaptive security policies that dynamically adjust based on context and trust factors.
Prioritize user-experience, giving end users consistent access to all their applications in a single portal while enabling security teams with governance over application access in both managed and unmanaged access contexts.
Citrix Secure Private Access has been designed with these key challenges in mind and leverages Citrix's vast experience delivering secure access to a wide variety of work applications across thousands of organizations worldwide. Citrix Secure Private Access is a SaaS solution available through Citrix's globally distributed cloud-service points of presence (PoP). Secure Private Access includes a secure access agent along with Citrix Workspace app to provide authenticated ZTNA connectivity via the closest PoP. Access from the PoPs to internal applications is brokered via a connector appliance — a lightweight virtual machine (VM) — deployed in customer premises close to private apps.