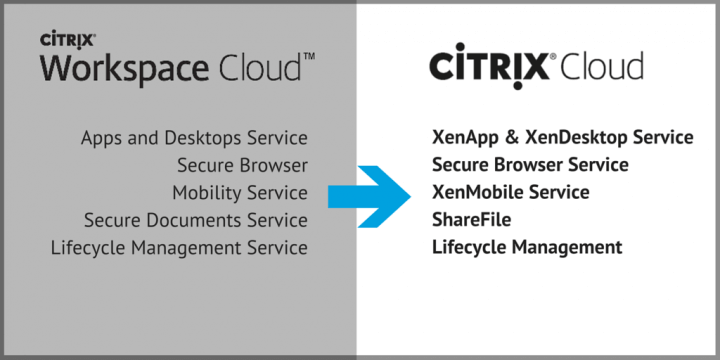 Citrix has annouced that Workspace Cloud will be simply, Citrix Cloud. Available at citrix.cloud.com.
Our strategy has been built on leveraging our leadership with our products that are used by hundreds of thousands of customers to power their businesses. The common management and administrative experience helps customers address hybrid scenarios and make the smooth transition to the cloud. With Citrix Cloud, customers can address use cases that help them extend traditional deployments, manage and optimize application delivery, and run their business using cloud-native services that represent the future of workspace as a service.
To represent this, we are also changing the service names within Citrix Cloud to reflect our industry leading products that provide their technology foundation.
When you log into citrix.cloud.com, the App and Desktop Service will be the XenApp and XenDesktop Service, Secure Documents Service will be ShareFile, and Mobility Service will be XenMobile Service. Each of these services reflect our cloud-first versions of each product. The new names of these services will also reinforce that they share the same capabilities of their traditional variants plus additional value only available from a cloud service. Chiefly, this includes the latest capabilities that customers need, in an always up-to-date, simple, easy-to-use approach.