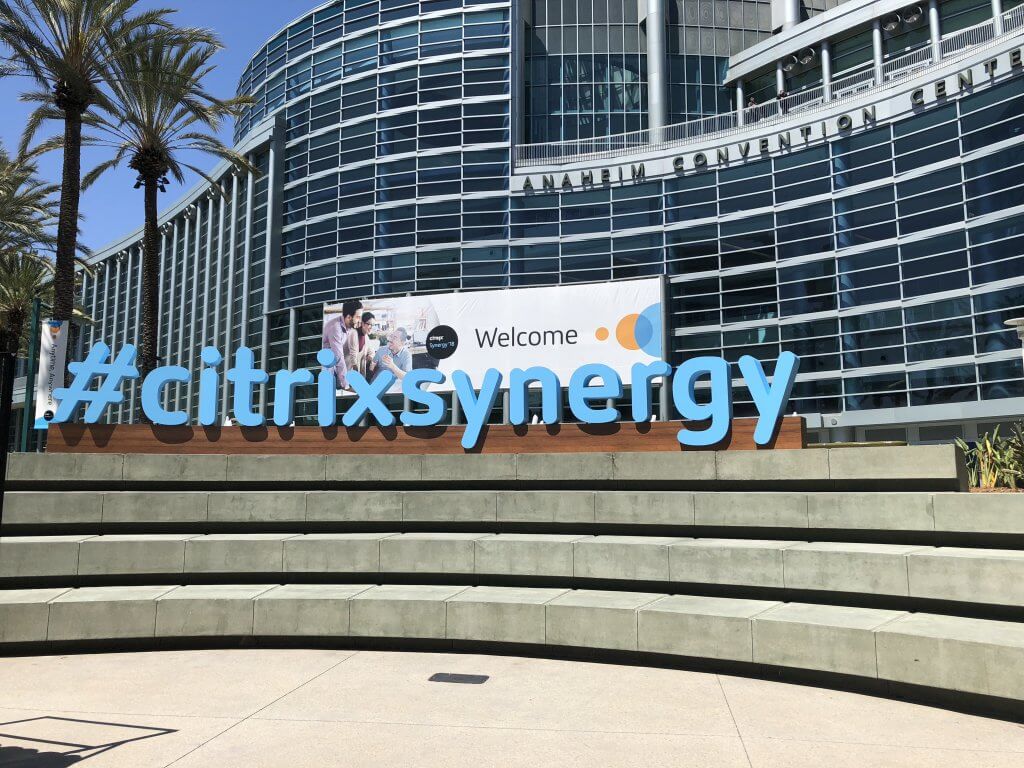 Citrix Workspace Unifies the Experience and Secures SaaS, Mobile and Virtual Apps, and Content Across all Endpoints
Digital transformation, cloud and new workstyles are forcing businesses to rethink how and where technology is deployed and secured. This week at Citrix Synergy, Citrix is unveiling new innovations that support the shift to people-centric computing, enabling organizations to deliver a superior work experience that unifies everything an employee needs in one place, while meeting the strictest compliance and security needs of the organization. To ensure employee engagement and productivity, companies must deliver a unified workspace experience that adapts to how and where work needs to get done; one that gives IT the confidence to support and manage their choice of network, cloud or device; and provides a holistic security framework that dynamically detects and applies policies everywhere from the datacenter to the most remote endpoint.
According to David Henshall, CEO, Citrix.: "At Citrix, they are committed to enabling people-centric computing within organisations. Citrix are at a place where mobile users now equal those in a traditional office environment and organisations must deliver a unified work experience. Their solutions deliver the experience, security and choice that people and organisations need to innovate, engage customers and be productive – anytime and anywhere".
Experience: Unifying the Experience with SaaS, Web, Mobile and Virtual App
Employee experience and productivity have become a top priority for CEOs. Providing reliable access to the applications, devices and content employees prefer has proven to boost employee productivity and drive improved business performance. Experience must be personalized and adaptable. Citrix is expanding its portfolio of delivering virtual apps, desktops and mobile apps to provide secure access to SaaS apps and content via Citrix Workspace app, creating the first unified digital workspace for business.
Only Citrix offers the most complete and integrated workspace to enable people to securely access their web, SaaS, Windows, Linux and mobile apps, desktops and files from anywhere and across any device. Citrix Workspace gives users secure, single sign-on (SSO) access to all the applications and content in an intuitive and digital workspace that delivers a consistent and unified experience across all devices – allowing users to start work at home on their tablet, continue to work on their smartphone during their commute, and complete work on their desktop or laptop in the office. Embedded with the company's proven networking and file-sharing capabilities, Citrix Workspace ensures reliable app performance, integrated search and workflows across apps, and market-leading content collaboration regardless of where files are stored.
Citrix continues to improve the experience of its mobile apps and has added integration between Slack and Secure Mail, allowing users to convert email messages into Slack conversations and to send Slack messages directly from Secure Mail.
Choice: Enabling Choice without Increasing Complexity
Citrix Cloud services enable cloud portability, giving customers the tools and insights to pursue their individualized cloud strategy with confidence, and the flexibility to easily move workloads between clouds as business needs evolve. Customers can now run their Citrix workloads on any cloud – AWS, Azure, Google and Oracle or private. Citrix automated image management and provisioning technologies make it easy to move these workloads from customers' datacenters to the cloud of your choice, supporting a wide range of different platforms from bare metal and virtualized infrastructure to cloud. Because Citrix has architected its entire stack on a common platform, customers can easily move workloads from their datacenter to the cloud of their choice and back again, as needed, bringing cloud portability within reach of the enterprise.
Citrix is continuing to work with Microsoft to deliver Citrix value-add capabilities on top of Remote Desktop Management Infrastructure (RDmi), the next generation RDS platform for Azure. Citrix will also provide day-one support for Windows Server 2019 to deliver virtualized apps with XenApp.
Citrix is also enabling choice of devices from a single endpoint management solution. Citrix Endpoint Management provides management for the broadest set of devices from wearables to IoT devices like Alexa for Business, and Raspberry Pi-powered workspace hubs from Citrix partners NComputing and Viewsonic. Companies need a modern way to manage this device diversity – it's not just about phones and laptops anymore. Regardless of the device used, Citrix can securely manage all endpoints across the enterprise.
Security: A Modern, Holistic Approach
New and ever-increasing threats require modern approaches to security that enhance productivity, not hamper it. Organizations need a holistic approach to security that adapts to the way people work, rather than forcing users to work within security restrictions. Citrix's expanded security approach unifies our market-leading Citrix Networking portfolio with Citrix Unified Endpoint Management and Citrix Analytics to deliver a secure digital perimeter that surrounds the user, apps and network for greater visibility and control. The Citrix secure digital perimeter allows IT and CISOs centralised security policy controls that are applied dynamically at any access point to minimize and hide attack surfaces that live beyond the datacenter, across various devices, apps and content distributed on-premises and in hybrid and multi-cloud networks.
Citrix workspace networking portfolio is underpinned by Citrix Analytics. Whether a company is securing cloud apps, files and data, mobile or desktop apps, Citrix Analytics will provide visibility into company-wide user and entity behavior, system security, performance and operations, and simplify IT infrastructure. Using machine learning and artificial intelligence to detect anomalous behavior and potential threats, Citrix Analytics can provide actionable intelligence from the information gathered via our cloud services and on premises products to help customers proactively identify and manage internal and external threats.
Citrix unifies the experience of SaaS, web, mobile and virtual apps with Citrix Workspace and has now expanded its ability to securely and centrally-manage these applications with Citrix Access Control. Unlike traditional SSO solutions, which provide no visibility, control or governance of data within SaaS and web apps, the cloud app control feature in Citrix Access Control provides SSO capabilities to all SaaS, web and Citrix virtualized apps. It provides granular policy controls like watermarking, restricted copy-paste and can prevent printing. In addition, Citrix Access Control together with Citrix Analytics provides advanced user behavior analytics, which helps to intelligently redirect risky internet browsing activity to a cloud-based virtual browser completely isolated from the corporate network with zero configuration required on the endpoint. This allows enterprises to balance business-oriented browsing with enhanced security.
Citrix Access Control provides the following benefits:
Enhanced security and visibility for SaaS and web with the enhanced cloud app control capabilities
Enterprises can protect intellectual property and prevent it from falling in the wrong hands. Actions such as copy, paste, download, and watermarking pages, can be controlled for sensitive information and files.
Monitor and control access to unsanctioned SaaS apps and the internet
IT and security admins can blacklist and whitelist URL categories to permit or deny access to websites and also monitor and take actions on usage of unsanctioned SaaS apps and internet sites.
Multi-Factor Authentication (MFA) with support for Microsoft Azure AD and on-premises
The current Citrix Gateway service supports Microsoft Azure AD for MFA, as well as on-premises Active Directory for 2-factor authentication using native one time password (OTP). For more, please refer to the Citrix Gateway service announcement.
Pre-configured application catalogs
Citrix Access Control supports well known SaaS apps (see below) in its out-of-the-box catalog. Admins can use pre-configured application templates to publish the apps and configure single sign-on policies.
How to access the Technical Preview for Citrix Access Control
If you are interested in test-driving the technical preview, please send in your request here. Citrix are accepting requests, starting today.
"Maintaining productivity in an era where new workstyles and applications are dynamically and increasingly complex requires a new approach to delivering the user's workspace, one that is focused on people, and how they use technology to get their jobs done. The Citrix Workspace is the first unified digital workspace for organizations that simplifies access to apps and data, creating a consistent experience across devices, and that is responsive and adaptive wherever a person is working," said PJ Hough, chief product officer, Citrix.