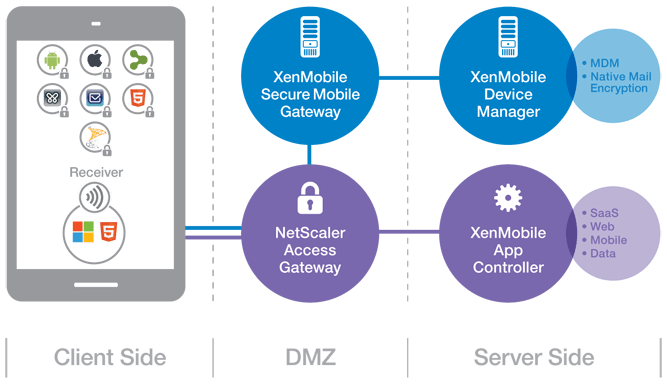 Citrix has announced that they have a upcoming new release of Citrix XenMobile™. The new version will further extend the company's leadership position in enterprise mobility management (EMM).
Maybe one of the coolest new features of this release is the integration and support for the new Amazon MDM APIs, iOS 7 MDM APIs, and Samsung KNOX platforms. XenMobile further enhances industry leading app security and management capabilities with more than 60 different app policies for iOS and Android. XenMobile offers the industry's most comprehensive mobility solution, enabling IT to manage and secure devices, apps, and data—while empowering users with the freedom to experience work and life their way.
In XenMobile 8.6 there is also a bunch of great new features – unique to Citrix – that simplify and speed up manual processes for mobile users, like eliminating the need to enter long passcodes to get into online meetings or work apps. New enhancements also provide simpler and faster deployment options for IT organizations. Businesses are empowered to mobilize geographically dispersed workers and scale to hundreds of thousands of devices easily– all while addressing security and management concerns.
Mobility is a top priority for businesses. According to a new Citrix "Mobility in Business" report, 63 percent of enterprises believe going mobile is the greatest driver of organizational competitiveness. More employees than ever before are expecting instant access to work apps and data on-the-go. Enterprise mobility deployments are becoming more complex with multiple devices and platforms, which demand varying levels of control. In order to really empower mobile users, businesses need a simple, scalable, and speedier deployment approach across platforms, apps, data and networks.
What's New in XenMobile
Mobile Users Can Do More in Less Time – New enhancements to email and calendar make every day tasks easier and faster for mobile users. With the new one touch feature, users can automatically launch and join an online meeting, using Citrix GoToMeeting® or other meeting services, directly from their calendar. Or the dial in option auto-dials the conference number and participant code – perfect for users on-the-run.

This highlights the strength of combining XenMobile with Citrix Worx Mobile Apps. By integrating GoToMeeting, Citrix ShareFile® and Citrix GoToAssist®, XenMobile uniquely delivers tightly integrated and enhanced management, access, security and support. Organizations can also select more than 100 third party Worx-enabled applications to further improve user productivity.


 

Mobile Users Can Access Work Faster – Fast authentication enables mobile users to access work applications with a simple PIN. Similar to an ATM PIN number, this eliminates the need to type cumbersome passwords for each app. These PINs are combined with user specific digital certificates to ensure high security. Security is made both invisible and seamless, enabling doctors at a hospital, or an executive at an airport, to quickly and securely access their apps and resources by entering a single PIN.

 

Businesses Can Respond Faster and Scale Up to Hundreds of Thousands of Devices – XenMobile allows IT to quickly mobilize users with single step device enrollments, auto configuration of secure email, and wizards based deployment. This easy process provides a quicker path to productivity for users while reducing support calls to the help desk.

And new multi-site support provides global load balancing capabilities. This seamlessly bridges geographically dispersed deployments. With XenMobile, businesses can quickly mobilize remote offices, or easily onboard new business units or subsidiaries of acquired companies with multi-domain support. IT can manage and support hundreds of thousands of mobile users, using multiple devices, globally.
Availability
Citrix XenMobile 8.6 will be available for download for current customers in November 2013.
{loadposition content_starwind600}