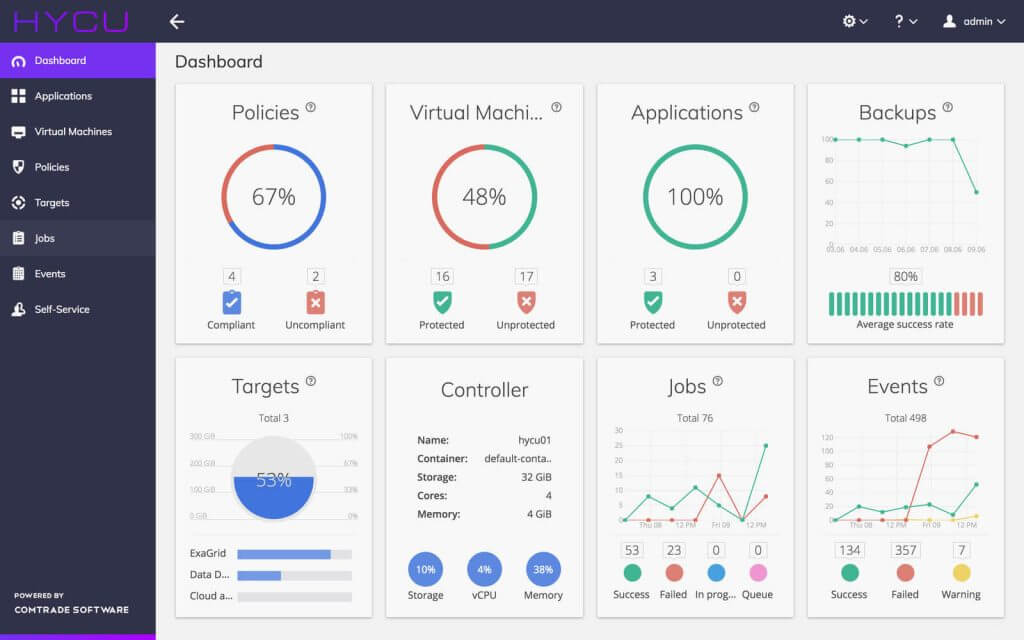 Comtrade Software, a leading provider of monitoring and data protection solutions for hyperconverged infrastructures, has unveiled HYCU, the first purpose-built data protection solution for the Nutanix Enterprise Cloud Platform. HYCU deploys in less than three minutes and provides a solution that auto-detects applications running in virtual machines (VM) and makes them transparent to the infrastructure teams. With this new level of visibility, HYCU makes sure that no critical applications are left unprotected –a key challenge for enterprises embracing cloud and HCI architectures in their modern data centers.
Application-centric solution provides newfound visibility into virtual machines (VMs), simplifying data protection in hyperconverged infrastructure (HCI) environments.
HYCU – purpose-built backup and recovery for Nutanix
ComTrade tapped into 25 years of expertise to bring you surprisingly simple, fully reliable application and data protection for Nutanix.
Our patent-pending Application-Awareness technology sees through VMs to detect the applications, and completely protects them and your mission-critical data. We empower your application administrator with our self-service portal, and give you the freedom to choose the hypervisor you want. And with native integration, even deployment is a snap.
There's no waiting, no learning and no hassle.
"Thousands of companies rely on Nutanix to deliver the agility and economics of the public cloud without sacrificing the security and control of on-premises infrastructure," said Sunil Potti, Chief Product & Development Officer at Nutanix. "With HYCU, Comtrade has developed a powerful solution that aligns with our design philosophy of consumer-grade simplicity. HYCU will give customers the flexibility and choice of converging all their data management onto the Nutanix Enterprise Cloud Platform."
"Companies have benefited tremendously from the latest hyperconverged architectures, yet have been constrained by legacy data protection solutions," said Simon Taylor, President, Comtrade Software. "In developing hyperconverged uptime, or HYCU, we are ushering in a new way of protecting in an HCI environment. Now, IT administrators using Nutanix have a simple and reliable application-focused solution that will unchain them from hypervisor lock-ins."
This new data protection solution supports all workloads on the Nutanix platform, and helps IT administrators gain deeper levels of insight and better visualize business-critical application behavior. Key benefits of HYCU include:
100% automated and focused for greater application transparency. With a patent-pending Application-Awareness technology, HYCU is the industry's only automated application discovery solution that provides newfound visibility into VMs, pinpointing where each application is running. HYCU also creates application specific recovery workflows so IT administrators are easily able to backup applications with a single click and an automated self-service portal enables business users to easily manage their own data.
Deploys and recovers in minutes for little to no disruption. With almost no learning curve for IT administrators since the usability and terminology aligns with Nutanix technology, HYCU takes four minutes of ramp-up learning, three minutes to deploy and two minutes to recover identified data. Because this API-driven solution is tightly integrated with Nutanix, HYCU provides an automated application recovery of workflows and tasks that can easily be implemented without the need for professional services.
Drives significant value from existing infrastructure investments. HYCU provides a cost-effective solution that complements the Nutanix platform with full data protection capabilities, allowing companies to leverage Nutanix AHV to eliminate the need to pay for a hypervisor and greatly improving the ROI of their investment in Nutanix.
"When looking at the maturation of the data protection market, there is still a white space between legacy backup solutions and how highly virtualized environments are deployed and need to be recovered," said Jason Buffington, Principal Analyst, ESG. "Often as production platforms evolve, it takes a fresh approach to protect and recover it; HYCU aims to be that for hyperconverged platforms. HYCU's approach, built on Comtrade's long pedigree in data protection, combines elegant ease-of-use with rich hypervisor integration in such a way that organizations looking at Nutanix should seriously consider HYCU as part of their data protection strategy."
Pricing and Availability
HYCU is currently available for purchase worldwide through Comtrade partners. Pricing starts at $999/socket.
To learn more about HYCU and how Comtrade Software continues to build industry-leading enterprise software, visit comtradesoftware.com, follow @ComtradeSoftw and connect with the company on LinkedIn.
Visit the Comtrade Software booth #S15 at the Nutanix .NEXT Conference 2017 in Washington D.C., from June 28-30.
About Comtrade Software
Hyperconverged is all about keeping IT simple. Monitoring and data protection should be too. Comtrade Software empowers IT to take back the data center without breaking a sweat. Our application-focused solutions give visibility, to see beyond VMs into business-critical applications. We break through barriers so IT can quickly eliminate problems, fully and reliably recover applications and data, and deploy our products before customer's coffee goes cold. There's no waiting, no learning and no hassle. With 25 years of expertise and insights from millions of users, we make it easy to thrive in a hyper-simple hyperconverged world. Follow us @ComtradeSoftw and LinkedIn, and visit comtradesoftware.com.
SOURCE Comtrade Software