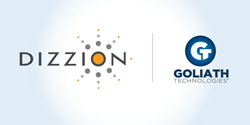 Goliath Technologies is the leading provider of proactive IT Operations solutions to anticipate, troubleshoot, resolve and prevent end user experience issues, regardless of where the IT infrastructure, applications or end users are located.
"We were looking for a way to confirm VMware Horizon Daas desktop availability using synthetic transactions," said Robert Green, Dizzion Co-Founder & CTO. He continued, "we discussed this with our current monitoring vendor but turned to Goliath Technologies and their Logon Simulator for VMware Horizon. The Goliath software can be scheduled, at whatever our desired timing and frequency, to test and confirm desktop availability for our customers."
Goliath Technologies is the only software company that offers a proactive method, in VMware Horizon and Citrix environments, to test and confirm desktop availability prior to end users attempting to do so. This industry first technology is easily deployed in minutes and is then configured to initiate the logon sequence to VMware Horizon or Citrix XenApp or XenDesktop. Generally, the software is scheduled to run either 24/7 or daily, thereby giving IT administrators the ability to troubleshoot and resolve any application access issues before end users arrive at work. Anticipating issues before end users are impacted is better than real-time.
Goliath Technologies is purpose-built to enable service providers to manage to their customer SLA's. From one console, Goliath Technologies' software correlates VDI delivery infrastructure with end user experience so that trending performance issues can be detected before end users are impacted. In addition, there is specific functionality for service providers including native multi-tenancy, role-based security, and grouping based on geography, application, infrastructure, or functional responsibility. The ability to anticipate issues before they happen is essential to lowering support tickets.
"Several years ago, we made a decision to change the way we think about traditional monitoring. Our vision was to make monitoring proactive so that our software would actively find failure points and conditions that can lead to issues that impact end users. Then, alert IT administrators before issues hit the help desk," said Thomas Charlton, Chairman and CEO of Goliath Technologies. "This decision has made us really the standard for Service Providers who offer MaaS, DaaS, IaaS and virtually any other cloud based service. The net, is that we prevent down time and support tickets from being created. By focusing on those two critical elements we help service providers meet their SLA's."