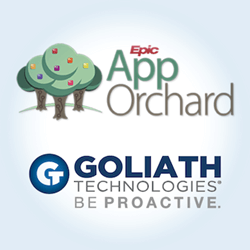 Goliath Technologies is pleased to announce that they will integrate Epic application performance data into their end user experience monitoring, management and troubleshooting solutions for health systems.
"We are very pleased that Epic has accepted Goliath Technologies into the App Orchard Program. Where most EHR vendors have some form of interoperability initiative, we are excited that Epic also includes IT ecosystem vendors in their interoperability program. A prerequisite to interoperability is ingesting patient data into the applications and that will not happen if an application isn't available in the first place," said Thomas Charlton, Chairman and CEO of Goliath Technologies. He continued, "Goliath has purpose built functionality designed to provide an early warning system so healthcare IT can become aware of issues around application availability or responsiveness before physicians or healthcare professionals are impacted. This positively impacts interoperability and more importantly patient care."
Goliath offers a proactive method to confirm health system applications, including the EHR, will be available before physicians and healthcare workers attempt to access the applications. Then, if there is an issue, Goliath has purpose-built healthcare modules which provide the performance data and analytics to troubleshoot and resolve the issue quickly. This ensures that applications are always available and drastically reduces time to remediation when performance issues do arise.
"Goliath already has an awesome product for monitoring uptime availability and the performance of a Citrix environment. It's essentially a single pane of glass to enable you to quickly identify problems and remediate, ensuring as little impact to your end users as possible", said Rory Monaghan, CTO, Americas at Algiz Technology Limited. "Previously, you could easily identify that an issue was not related to your Citrix environment and therefore it must be app related. You would then need to drill into System Pulse to discover more. Now that Goliath is an Epic App Orchard Contributor, the Epic application data will come into that single pane of glass, providing a one stop shop to quickly identify any performance issue whether it's related to your Citrix infrastructure, Epic infrastructure or the app itself. This should save time, money and alleviate stress for the healthcare professionals that require seamless access and use of clinical applications."
About Goliath Technologies 
Goliath Technologies provides proactive IT operations software to address the challenges associated with managing a hybrid IT infrastructure. Organizations of all sizes are moving to the Cloud in some form and our products are purpose built to assist in that transition because IT can manage applications, infrastructure and users regardless of where they are located. Customers use our products to monitor, analyze, troubleshoot and report so performance issues can be resolved before end users are impacted. Because, IT infrastructure is moving. IT accountability is not. Customers include Walmart, Bank of America, Facebook, UHS, the VA, ADP, Verizon Wireless, and Office Depot.