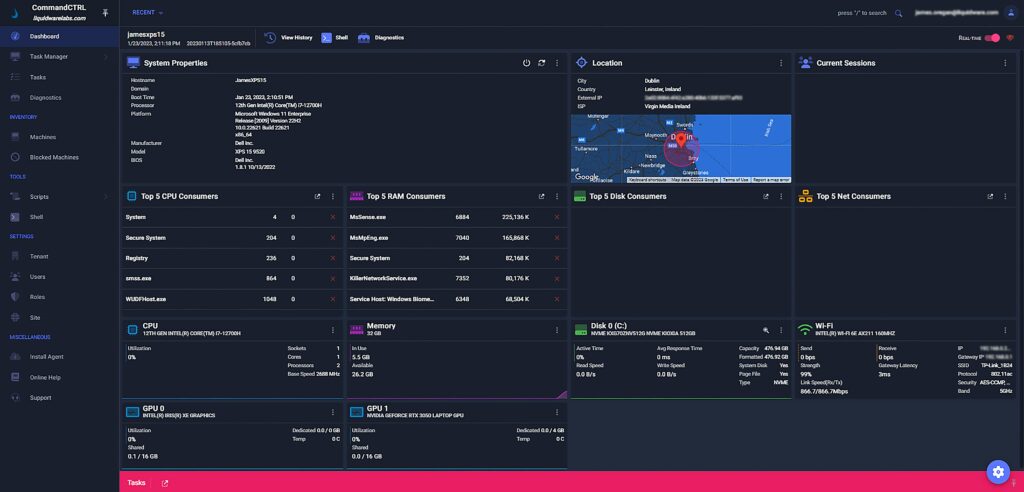 Liquidware, the leader in digital workspace management, has announced their first SaaS solution, Liquidware CommandCTRL™, is now generally available at this week's VMware Explore event.  CommandCTRL is the only SaaS real-time remediation solution that includes a DVR-like function that provides expeditious point-in-time problem solving. The many other features provide business benefits such as reduced time to resolution of incidents that increases productivity and improves user experience. CommandCTRL is a cost effective solution as there is no infrastructure required with minimal training to get up to speed. With the majority of troubleshooting being done in the background while the user is uninterrupted provides improved user sentiment.  
The demand for real-time remediation solutions has been on the rise as organizations seek to streamline their support operations. This whitepaper examines the need for real-time remediation solutions, looking at key trends, and opportunities.
CommandCTRL has four key differentiators to other solutions on the market today:
DVR-like playback functionality – Playback-mode captures 30-days history so admins can see exactly what occurred in the environment at specific dates and times
AI integration – with ChatGPT for process identification
Protocol mirroring – displays the protocol to the physical machine endpoint
Switch – seamlessly switch and navigate between two distinct environments: the local desktop and the cloud-based desktop.
"CommandCTRL fills a gap in the market for assisting organizations in expediting incident resolution, the solution is purpose-built to support interactive remediation of remote workspaces," commented Jason Mattox, CTO Liquidware. "While CommandCTRL is a standalone product, we envisage many customers buying it to accompany their Stratusphere™ UX investment."
In a recent Gartner® research report* it states, "To address the demands of digital business, IT service desks must reduce the number of simple and repeatable incidents and service requests they process manually." Gartner recommends Infrastructure and Operations leaders focused on IT operations transformation should, "Eliminate the cause of low-value, avoidable issues and requests to focus business productivity teams on high-priority work." 
CommandCTRL adds another dimension of enterprise management to Liquidware's industry-leading solutions that include ProfileUnity™ user environment management, FlexApp™ application layering and Stratusphere™ UX digital experience monitoring. Liquidware's latest Digital Workspace Management solution, CommandCTRL™ offers organizations powerful real-time metrics, diagnostics and remediation of any endpoint, any where in the world. Learn more about innovative features, such as: CommandCTRL™ Switch, DVR-like Playback Mode, Process Identification with ChatGPT and much more.
Other key features include:
Real-time remediation actions speed problem identification and resolution
Threshold violations are highlighted in real-time mode and in DVR, these highlights alert the admin to end users' problems in seconds 
Admins have two separate ways to shadow users: Quick Assist and Remote Assist
Multi-tenant membership allows partners to be a member of customers' sites to assist with remediation
Powershell and Cmd options for creating scripts to automate needed functions
Full scripting store organizes custom and external scripts for easy access and implementation.
CommandCTRL is available through Liquidware channel partners.
More information can be found here www.liquidware.com/products/command-ctrl