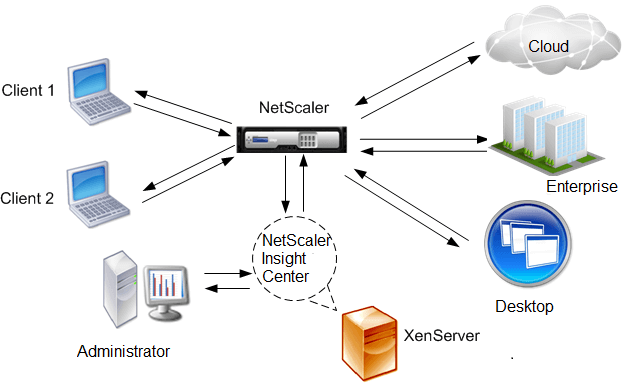 NetScaler Insight Center is a high performance collector which provides end-to-end user experience visibility.
With this release we extend the Insight visibility offering from Web traffic (Web Insight) to HDX traffic(HDX Insight) analytics.
NetScaler Insight Center is a virtual appliance that runs on a XenServer hypervisor and collects detailed information about web application and ICA (or HDX or XenApp and XenDesktop) traffic that passes through NetScaler appliances. NetScaler Insight Center has two components:
Web Insight. Provides reports of the performance of web applications.

HDX Insight. Provides reports of virtual desktop traffic.
It will now collect ICA AppFlow records generated by NetScaler ADC appliances and populate analytical graphs over Layer 3 to Layer 7 statistics. The HDX Insightwill provide in-depth analysis over real time and historical data across last 5min (real time) and last one hour, one day, one week, one month as historic data.
HDX Insight will give a bird's eye view over all the HDX Users, Applications, Desktops and will even provide a view from Gateway level information. It will also showcase the SSL VPN license usage over the time. Based on the use cases the administrator can drill down and identify the pain points from any of these dashboards giving them a perfect visibility and troubleshooting solution.
Key Features
Complete ICA User Experience Details
XenApp/XenDesktop Usage
Gateway Usage
Real time and Historical stats
Network latency and Jitter stats
ICA RTT stats
Client and Server Network Stats Segregation
SSL VPN License Usage
Virtual Channel Usage
User Agent Usage
Active and Terminated Session level stats
Detail over Session Sharing Applications
Centralized Dashboard
Layer 3 to Layer 7 stats
Debugging and troubleshooting
Few clicks setup and configuration
NITRO API support for Automation
Click here to learn more and download (requires a valid mycitrix.com account)