Citrix has announced that NetScaler, the industry's most advanced cloud networking platform, has been evaluated and positioned by Gartner, Inc. in the leaders quadrant in the 2014 Magic Quadrant for Application Delivery Controllers[1] (ADC) report authored by Gartner analysts Mark Fabbi and Andrew Lerner for the eighth consecutive year.
According to Gartner, Inc. "a Leader exhibits the ability to shape the market by introducing additional capabilities in its product offerings and by raising awareness of the importance of these features. Key capabilities for a Leader revolve around the ADC capabilities that focus on enterprise application capabilities. We expect a Leader to have strong or growing market share and to have solutions that resonate with an increasing number of enterprises. Expertise in complex data center application deployment is also necessary to be a Leader in the Magic Quadrant for ADCs."
NetScaler is the world's most advanced application delivery controller for mobile and web infrastructure. It optimizes, secures and controls the delivery of enterprise and cloud services while also maximizing the experience for all users.  NetScaler MobileStream™, which provides visibility into mobile applications, significantly improves mobile network and application performance, while tightening security for both the enterprise and the end user.
NetScaler is well established as the industry's leading internet delivery system, touching an estimated 75 percent of internet users each day. Citrix builds on this leadership to provide the world's most advanced cloud networking platform, giving customers a single, integrated solution that brings the elasticity, simplicity and expandability of the cloud to any network.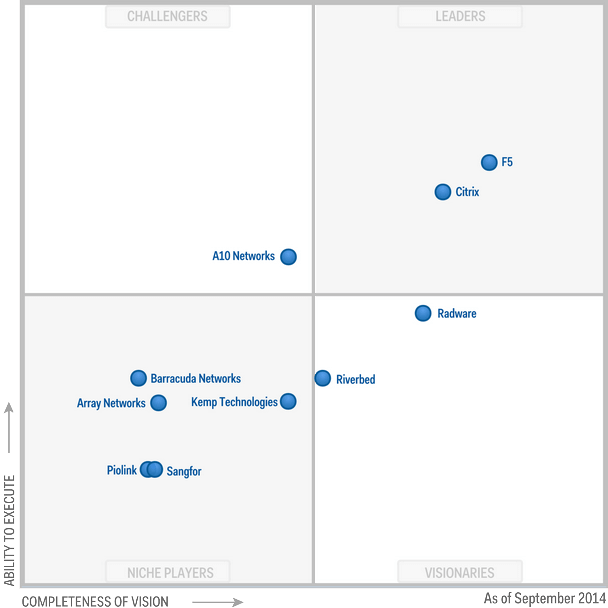 Sunil Potti, Vice President and General Manager, NetScaler Product Group at Citrix says "In today's mobile world, enterprises and service providers must adopt scalable, high performance datacenter technology that ensures optimal performance and security for mobile networks. With NetScaler, we are building on our leadership in powering the world's largest internet and cloud providers, as well as our partnerships with industry leaders in software-defined networking, to continue delivering the most advanced cloud networking platform available today. We are honored that for the eighth consecutive year, to be recognized by Gartner which we feel is evidenced by our placement in the Leaders Quadrant of the 2014 Gartner Magic Quadrant for ADCs."
Click here to View the full 2014 Gartner Application Delivery Controller Magic Quadrant report