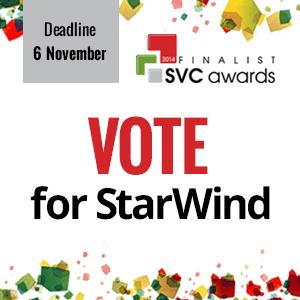 StarWind Software Inc., a leading provider of software-based, hypervisor-centric virtual machine storage, announced today that their solution, StarWind Virtual SAN, has been nominated as a finalist in the SVC Awards 2014 in three categories, including Storage Virtualization Product of the Year; Virtualization Management Product of the Year, and Storage Management Product of the Year. StarWind has been shortlisted by a judging panel of respected editors for its effective and comprehensive storage virtualization approach and special emphasis on virtualized environments.
The SVC Awards reward products, projects and services, and honor companies and teams which operate in the cloud, virtualization, and storage sectors. The awards are sponsored by DataCentre Solutions, Storage Networking Solutions, and Virtualization World –main publications that bring storage, cloud, and virtualization news to decision makers in Europe.
StarWind Virtual SAN is entirely software-based, hypervisor-centric virtual machine storage. It creates a fully fault-tolerant and high-performing storage pool that is built for the virtualization workload from scratch. StarWind Virtual SAN essentially "mirrors" inexpensive internal storage between hosts. Virtual SAN completely eliminates any need for an expensive SAN or NAS or other physical shared storage. It seamlessly integrates into the hypervisor for unbeatable performance and exceptional simplicity of use.
"We are very pleased and honored that our expertise and achievements across the storage and virtualization fields are being recognized at the highest levels", said Anton Kolomyeytsev, Chief Executive Officer of StarWind Software. "Being nominated in three categories demonstrates the tangible impact our virtual SAN has made on the industry. However, this is only the first step toward winning the award. Now it's up to you to choose the winners– which is why we need your help! We look forward to the award announcement in November and wish all the finalists the best of luck."
The award winners are determined solely based on the end user votes, and will be announced at a ceremony on November 27, 2014 at the Montcalm London Marble Arch.
Voting will be closed on November 6th – cast your vote now at https://svcawards.com/voting.php
About StarWind Software Inc.
StarWind Software, a member of VMware Ready and Citrix Ready programs, provides innovative software for creating and managing virtualized storage infrastructures. The company provides an extensive suite of advanced technologies for storage management in its leading product – StarWind Virtual SAN.
StarWind has more than 30,000 satisfied customers globally including SMBs, enterprises, governments, educational institutions, and Fortune 1000 companies.