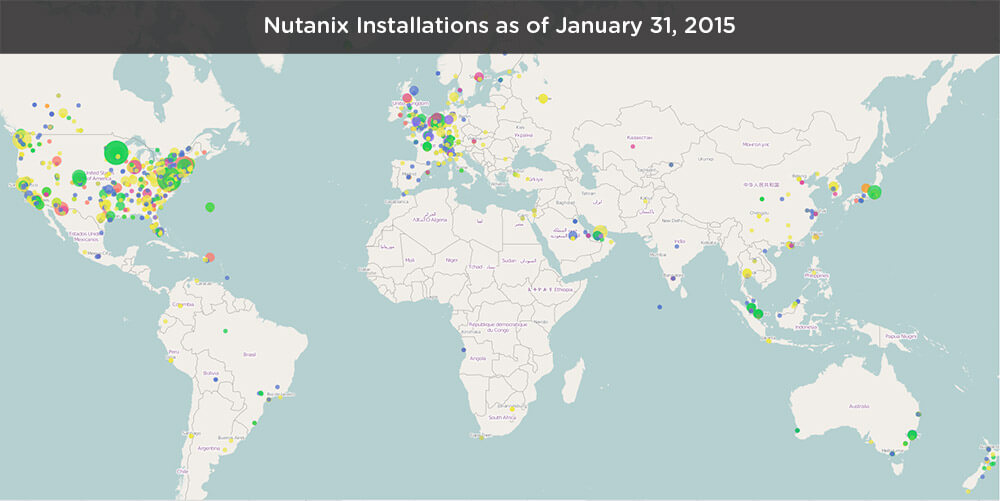 Nutanix, the web-scale converged infrastructure company, has announced that it has exceeded an annualized bookings run rate of $300 million based on the results from its second fiscal quarter ended January 31, 2015. Nutanix now has approximately 1,200 customers, including 50 customers who have purchased more than $1 million in aggregate products and services, up from 29 such customers in July 2014. Among its impressive customer roster, more than 50 companies reside in the top quarter of the Forbes Global 2000 list. International business continues to be a major strength for the company, generating over 40% of bookings in the quarter.
"Nutanix is leading a massive transformation of enterprise IT architectures and bringing the balance back between private and public clouds," said Dheeraj Pandey, co-founder and CEO. "The results of the past 6 months have exceeded our own expectations as market demand continues to grow, while the entire Nutanix ecosystem is executing our mission to propagate the value of web-scale engineering and consumer-grade design to enterprises around the world."
Nutanix democratizes technologies that Amazon, Facebook and Google use in their own datacenters and greatly simplifies enterprise IT with the Nutanix Operating System. By providing better efficiency, performance and manageability than traditional datacenter solutions, Nutanix helps transform IT into a competitive advantage.
"Many of our customers are now standardizing all of their virtualized applications on Nutanix," said Sudheesh Nair, senior vice president of sales and business development. "Our largest deals the past two quarters were from Global 2000 organizations to run their business critical applications such as databases, Oracle and SAP, Microsoft Exchange, unified communications, and line-of-business applications."
Today's announcement extends a streak of impressive growth and third-party validation for Nutanix. In October 2014, Dell began selling the Dell XC Series Web-Scale Converged Appliance, which bring the simplicity and scalability of Nutanix's web-scale software to Dell's industry-leading servers, storage and enterprise portfolio. Only three months since general availability, the XC Series is off to a strong start with significant wins in large financial services, manufacturing and media companies.
In December 2014, analyst firm IDC published the first ever market share analysis of the hyper-converged market and anointed Nutanix as the clear leader with a 52 percent market share during the first half of 2014.
Nutanix now has more than 850 employees, up from 600 in August 2014, as the company continues to rapidly scale the engineering, sales, marketing, and support teams globally.