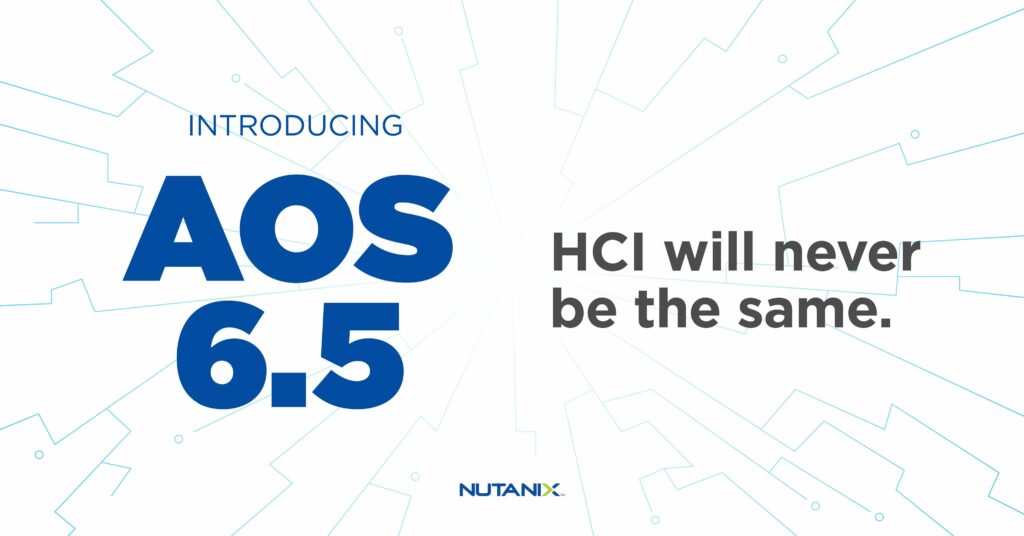 Nutanix AOS 6.5 is a long-term supported (LTS) release that builds upon a proven AOS codebase.
This release includes the new and updated features from all of the short-term supported (STS) releases since the previous LTS release as listed below. This release also contains the bug fixes (Resolved Issues) from all of the releases in the AOS 6.0 and AOS 6.1 STS branches.
Here are a quick overview of new features in AOS 6.5
Cyber-resilience Network and security upgrades

AOS 6.5 brings networking and security enhancements for encrypted DR and inter-cluster traffic, virtual networking for logical network isolation, viewable AWS subnets from the Nutanix Cloud Manager console, and IPv6 certification to comply with the DODIN APL for the US DOD.  

Integrated Storage-layer Snapshots and Replication

Optimised cross-cluster replication
Nutanix AOS 6.5 includes integrated storage-layer snapshots with policy-based low-overhead VM or datastore specific snapshots.

AHV Memory Overcommit and VM Templates
Expanded resiliency monitoring
Capacity planning for non-Nutanix VMware ESXi clusters
Storage management and visibility enhancements 
Enhanced maintenance mode support
Nutanix Database Service

Sub-millisecond Performance for Your Critical Database Workloads

Simplified packaging and licensing
For a full overview of what´s baked into AOS 6.5 check out these links!
New and Updated Features | AOS 6.0
New and Updated Features | AOS 6.0.1
New and Updated Features | AOS 6.0.2
New and Updated Features | AOS 6.1
New and Updated Features | AOS 6.1.1
Nutanix AOS 6.5 contains features shipped with:
AOS 5.20 (last LTS release) and has the Additionally features from AOS releases 6.0, 6.1 and 6.1.1
and is upgradable from AOS 5.20.4 + AOS 6.0.x and AOS 6.1.1
Please check out this article at Nutanix for all the new features!