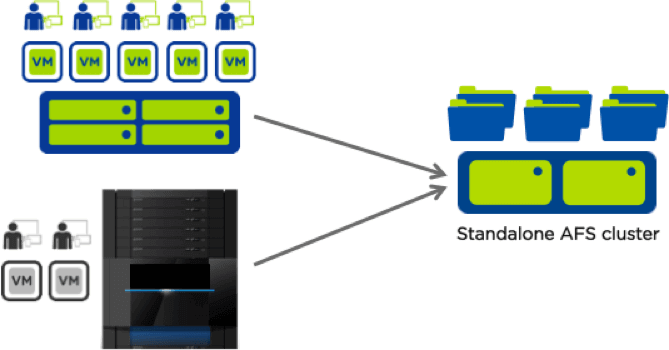 Nutanix has announced new capabilities for its Acropolis File Services (AFS) software.
In just two quarters since initial market introduction, approximately 10% of Nutanix customers are choosing Nutanix Acropolis File Services (AFS) for their file services needs. Delivered as part of the Nutanix Enterprise Cloud OS, AFS software streamlines IT operations by natively converging VM and file storage into a single scale-out platform, driving improved flexibility and lower TCO.
Today's enterprises require an infrastructure architecture that can deliver the best of both the public and private cloud without creating new data silos or increasing complexity. The Nutanix Enterprise Cloud OS leverages the company's core web-scale architecture to provide portfolio services to power critical business applications. These application building blocks include on-demand compute resources, along with elastic storage services for block and file-based data, enabling IT managers to build and operate enterprise datacenters that rival public clouds.
AFS customers will be able to exploit a rapidly expanding partner ecosystem to:
Secure sensitive company data with simple in-line antivirus scans using popular AV solutions from Symantec
Efficiently backup AFS data by leveraging partners Rubrik and Comtrade
Enable active-Active AFS deployments using Peer Software so geographically-distributed teams can collaborate on projects
Perform detailed audits of file system access with partners Varonis and STEALTHbits
In addition to simplifying IT infrastructure by removing silos created by dedicated file services offerings, AFS software gives customers a public cloud experience, but with the security and control of a private cloud deployment. AFS customers can manage file services via Prism, delivering a unified, consumer-grade management interface for their full infrastructure stack and freeing IT resources to focus on critical, business-driving activities.
"With Nutanix AFS, we have been able to integrate all VM and file systems into the same infrastructure," said David DePillis, Chief Technology Officer, Kelley Kronenberg. "Before AFS, I was faced with having to completely overhaul my filer system. Rather than spend more money on a data silo, we ripped out our legacy NetApp filer and consolidated everything on the Nutanix platform. With all our infrastructure on one platform, my team can focus on business-driving initiatives, not infrastructure management."
"Nutanix continues to demonstrate thought leadership by offering a clear and compelling vision for the future of the data center," said Eric Sheppard, IDC Research Director, Enterprise Storage & Converged Systems. "AFS represents an important part of this vision and highlights the company's commitment to providing a public cloud experience inside complex corporate data centers."
"Rapid AFS adoption shows that customers are clamoring for more ways to converge and simplify all their IT operations, and to replace legacy products with more flexible software-driven solutions," said Sunil Potti, Chief Product and Development Officer at Nutanix. "By dramatically reducing operational complexity and leveraging a common software layer, we're enabling our customers to turn IT into a profit center. We believe customers will continue their enthusiastic adoption of AFS as part of the overall consumption of the Nutanix Enterprise Cloud OS and we look forward to continuing to expand our partner ecosystem to serve their broadest needs."
Nutanix AFS with inline anti-virus scans is available now to all Nutanix customers and the Active-Active and Auditing capabilities will be available in a future release.
For more information on Nutanix Acropolis File Services, visit the Nutanix NEXT Community Blog.