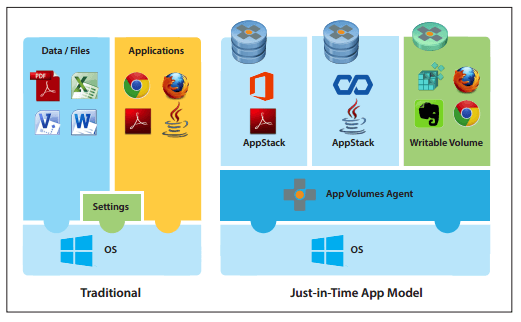 This whitepaper is intended for IT architects and administrators who want to understand the performance and scale attributes of VMware App Volumes in a virtualized desktop environment. The reader should have a solid understanding of desktop and application virtualization, familiarity with VMware Horizon, especially the View feature, and VMware vSphere products, in addition to an understanding of sizing and performance concepts.
VMware has carried out extensive testing to evaluate the performance and capacity characteristics of VMware App Volumes in a View desktop environment. App Volumes complements the VMware End-User Computing portfolio by integrating with other VMware application and desktop solutions. With App Volumes, applications become VM-independent objects that can be moved easily across data centers or to the cloud and shared with thousands of virtual machines. In a virtual desktop environment.
App Volumes provides the following benefits:
Real-Time Application Delivery
·

        

Delivers and upgrades applications at scale and in seconds
·

        

Dynamically delivers applications without interrupting users even if they are logged in
Cost-Optimized Infrastructure
·

        

Optimizes application delivery to drive down compute, network, and storage costs
·

        

Can reduce storage costs for VDI
·

        

Works with existing infrastructure with flexible delivery to users, groups, or devices
VMware App Volumes Reference Architecture
Seamless End-User Experience
·

        

Supports fully customizable desktops, with the freedom for end users to install their own applications
·

        

Creates a persistent user experience with nonpersistent economics For a detailed description of the technical and non-technical benefits that App Volumes brings to organizations, users, and administrators, see the App Volumes Deployment Guide.
Click here to download the VMware App Volumes Reference Architecture