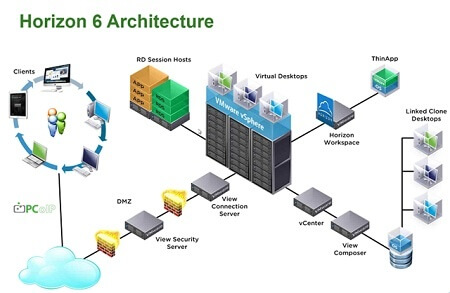 VMware Horizon 6 version 6.1.1 is out, and it now has support for GPU within Linux. VMware Horizon 6 version 6.1.1 resolves known issues in previous releases and provides a bit of new stuff as well.
Here is an overview of the new features and enhancements:
Client Drive Redirection


Users can share folders and drives on their local client systems with remote desktops and applications. Client Drive Redirection is supported on VDI desktops that run on single-user machines and on RDS desktops and applications. The feature is supported on Windows clients and, as a Tech Preview, on Mac OS X clients.
Horizon 6 for Linux Desktops
You can now deploy Horizon 6 desktops on Linux virtual machines. With the View Agent for Linux installer, you can set up parent virtual machines or templates that run on Ubuntu, RHEL, CentOS, or NeoKylin and deploy Linux-based VDI desktop pools in View Administrator. You can configure Linux virtual machines to use vDGA to support 3D graphics applications running on NVIDIA GRID GPU cards. Some features such as SSO, automated provisioning, and local device redirection are not supported in this release.
Serial Port Redirection
With serial port redirection, users can redirect locally connected serial (COM) ports such as built-in RS232 ports or USB to Serial adapters. Devices such as printers, bar code readers, and other serial devices can be connected to these ports and used in the remote desktops.
Support for Windows Media Multimedia Redirection (MMR) for RDS Desktops
Windows Media MMR is now supported for videos playing on RDS desktops. In past releases, this feature was supported only on VDI desktops that run on single-user machines.
HTML Access Support for Hosted Apps
Users can now connect to Hosted Apps from HTML Access Web clients. To take advantage of this feature, you must download and install a separate HTML Access installer from the Horizon 6 version 6.1.1 download page.