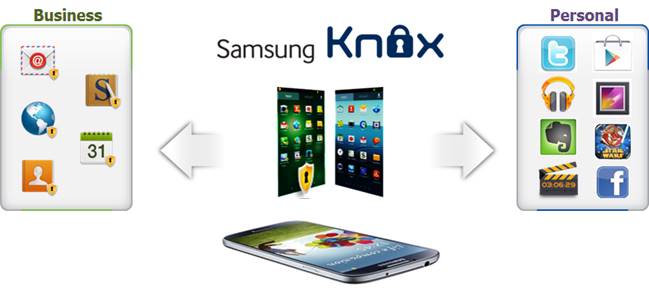 Citrix XenMobile and Samsung KNOX deliver secure enterprise mobility management. Citrix and Samsung Deliver Android Enterprise Security on Latest Samsung Galaxy Devices with the release of XenMobile Knox Edition.
The solution provides enterprise and government institutions with a high level of security controls. Citrix is also the EMM vendor with the largest number of apps verified to run on KNOX-enabled Samsung Galaxy devices.
The integration of Samsung KNOX with XenMobile and other Citrix technologies protect the device, its apps and data, and the networks employees use to access corporate resources–all while giving IT administrators full, centralized visibility and control. Additionally, with just one simple touch, Samsung Galaxy mobile device users can have secure, real time access to all the business tools, including mobile, web, Windows and SaaS apps, to be productive on the go.
Unlike other EMM vendors, the integration between Citrix and Samsung allows enterprises to deliver a true office experience by providing access to hosted virtual desktops on secured Samsung mobile devices as part of the Samsung Smart Office solution. This is made possible using the Samsung Smart Dock with large screen monitors together with Citrix XenDesktop(R), Citrix XenApp(R), and Citrix Receiver for Android. This capability allows users' desktop, apps and data to follow them wherever they go, enabling greater device portability and empowering user flexibility and choice.
Samsung KNOX is a technology and marketing initiative aimed at addressing security vulnerabilities associated with Android devices. KNOX is a combination of hardware-based device security and a password-protected, isolated workspace known as the KNOX Container. XenMobile support for KNOX APIs allows IT to manage the KNOX-enabled device and container. XenMobile KNOX Edition is best positioned for corporate-liable device deployments in highly regulated industries.
In addition, Citrix boasts a wide variety of productivity, collaboration and communication apps verified to run on the Samsung KNOX platform. KNOX users can download their favorite Citrix apps, like Citrix Receiver, Citrix ShareFile, Citrix GoToMeeting, Citrix GoToAssist, Citrix GoToMyPC and Citrix Podio easily from the Samsung KNOX Apps Store.
Citrix has partnered with Samsung to deliver a fully managed XenMobile Mobile Device Management (MDM) solution that provides the highest levels of security and control on KNOX-enabled Android devices. Citrix XenMobile KNOX Edition for MDM combines a XenMobile user license with a Samsung KNOX device license and delivers it to the customer as a single product. XenMobile KNOX Edition is available as an annual license for on-premise customer deployments.
{loadposition content_starwind600}