Acer Shared Resource Computing-Desk (SRC-Desk) Solution
Small- and medium-sized businesses need their IT infrastructure to be flexible, reliable and secure to meet their dynamic business needs—but for less than it would cost their enterprise counterparts. An exceptional virtual desktop infrastructure solution, Acer and Citrix VDI-in-a-Box optimizes Acer tower and rack servers to provide a virtual appliance environment that eliminates the need for an expensive and complex IT infrastructure. Powered by Acer server and Citrix VDI technology, this Acer SRC-Desk solution delivers an immediate return on investment thanks to its easy setup, fewer management constraints and increased freedom to work like a traditional desktop PC.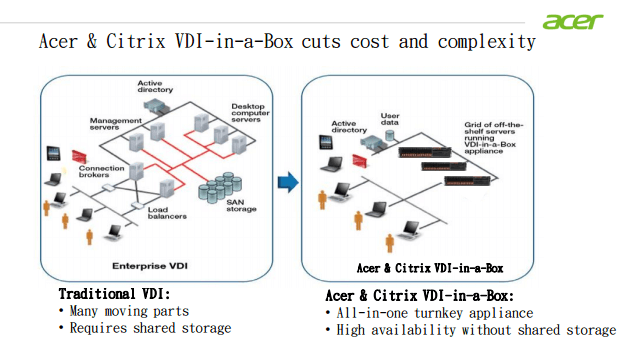 Teaming with Citrix, Acer is unleashing an effective computer-sharing resource solution for budgetconscious SMBs. As servers become more powerful, computing resources are often left unused; this all-inone shared resource virtualization solution offers a centrally managed yet friendly, secure and reliable computing environment.
Click here to read the Shared Resource Computing-Desk Acer & Citrix VDI-in-a-Box Solution Brief PDF