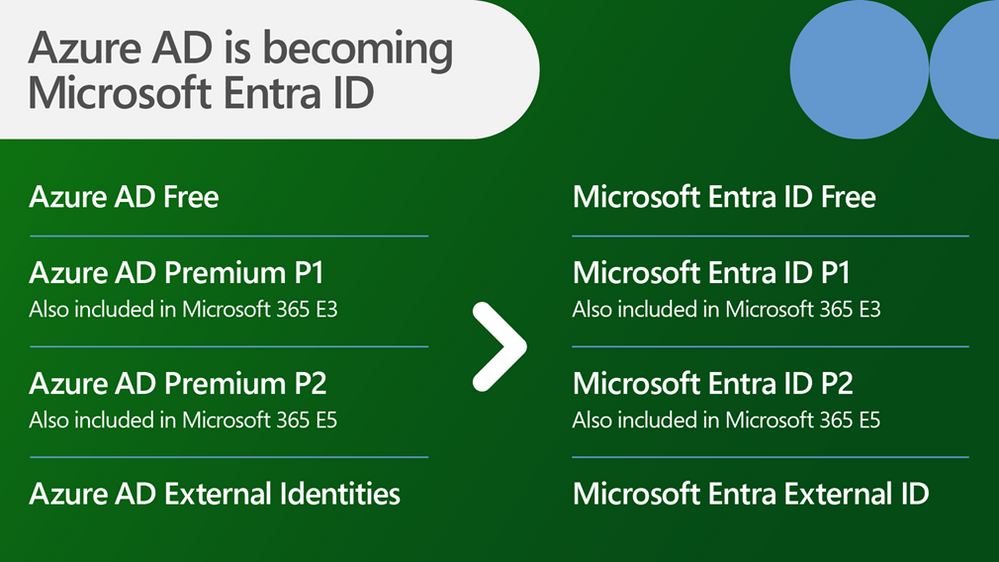 Microsoft has announced that Microsoft Azure Active Directory (Azure AD) is becoming Microsoft Entra ID.
Microsoft says that all licensing plans and pricing for Azure AD and Microsoft 365 plans that include Azure AD remain the same, with only the display names for the licensing plans changing. The summary below provides easy mapping from our current Azure AD SKU names to the new SKU names under Microsoft Entra ID. Service plan display names will change on October 1, 2023. 
Microsoft also states that Only the name is changing to make the transition seamless for you and your organization, there are no changes to any Azure AD capabilities, APIs, login URLs, PowerShell cmdlets, Microsoft authentication library (MSAL), developer experiences, or tooling.
The news from 11th of July kicks off a month of informing all Azure AD customers about the upcoming change. You'll see the news on Tech Community, Microsoft Entra, Microsoft Azure, Microsoft 365, Microsoft Learn, and other communication channels. 
If you're using Azure AD today or are currently deploying Azure AD in your organizations, you can continue to use the service without interruption. All existing deployments, configurations, and integrations will continue to function as they do today without any action from you.
You can continue to use familiar Azure AD capabilities that you can access through the Azure portal, Microsoft 365 admin center, and the Microsoft Entra admin center.
In August 2023, the Microsoft Entra ID name will start replacing the Azure AD name across Microsoft product experiences including the newly upgraded Microsoft Entra admin center, Azure portal, Microsoft 365 admin center, and other Microsoft commercial products, documentation, learning content, and websites.
Microsoft expects that the name change from Azure AD to Microsoft Entra ID to be complete across most product experiences by the end of 2023.  
Why are Microsoft changing Azure AD to Microsoft Entra ID 
It's been a year since Microsoft introduced Microsoft Entra as a new product family for all their identity and access products, bringing to life their expanded vision for secure access. At the time, the Microsoft Entra product family included Azure AD plus two new products—Microsoft Entra Permissions Management, a cloud infrastructure entitlement management product, and Microsoft Entra Verified ID, a decentralized identity solution.
Identity developer and devops experiences aren't impacted by the rename
To make the transition seamless, all existing login URLs, APIs, PowerShell cmdlets, and Microsoft Authentication Libraries (MSAL) stay the same, as do developer experiences and tooling.
Microsoft identity platform encompasses all their identity and access developer assets. It will continue to provide the resources to help you build applications that your users and customers can sign in to using their Microsoft identities or social accounts.
Naming is also not changing for these services: