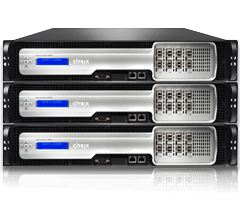 Solution passes interoperability and cybersecurity tests required to be listed as approved product for use in communication and collaboration across DOD organizations
Citrix ADC is the most comprehensive application delivery and load balancing solution for monolithic and microservices-based applications. Which means you can deliver a better user experience, on any device—anywhere.
ADCs have gained traction within the last decade, largely due to increased demand for legacy load balancing appliances to handle more advanced application delivery requirements and improve application performance.
Application delivery controllers are purpose-built networking appliances whose function is to improve the performance, security and resiliency of applications delivered over the web.
Applications have evolved significantly over the years. The term delivery is now generally accepted as the means of bringing an application to the user in this new era of mobility and cloud. In the enterprise, business applications have moved away from desktop-bound software installed on a local server accessed by users across the LAN. Modern applications need to work across all types of networks, and at locations beyond the confines of the physical workplace.
Application delivery controllers, which are widely deployed as a key fixture in the enterprise, help applications adapt to the networks and protocols that are in place today. They also ensure that applications perform optimally, are always available and don't present any security risks either to the user or business. ADCs already provide tremendous value to IT organizations ensuring the secure delivery of applications and data to the user. However, they are expected to continue advancing as applications evolve. Software-defined networking has placed increased demands on application delivery controllers to function "as a service." As network protocols become more application centric, ADCs must also adapt and become more "self-automated" to provide seamless optimization and protection for every type of application.
The purpose of the DoDIN Approved Products List is to provide a consolidated list of products that have been certified for use in communication and collaboration across the DoDIN. Citrix ADC achieved the certification by passing a rigorous set of interoperability and cybersecurity tests.
"At Citrix, the security of our products and services is paramount," said Fermin Serna, Chief Information Security Officer, Citrix. "We are deeply committed to providing a secure environment in which our customers can operate and be sure their information and assets are safe and we are pleased to be recognized by the DoDIN for our efforts."
Citrix ADC is a software-centric application delivery solution that empowers organizations to provide fast, reliable, and secure application delivery across multi-cloud environments while maintaining holistic visibility and a consistent security posture. Click here to learn more about the solution and the benefits it can provide. To learn more about the DoDIN Approved Products List and find the Citrix ADC certified listing, visit the DoDIN Website.