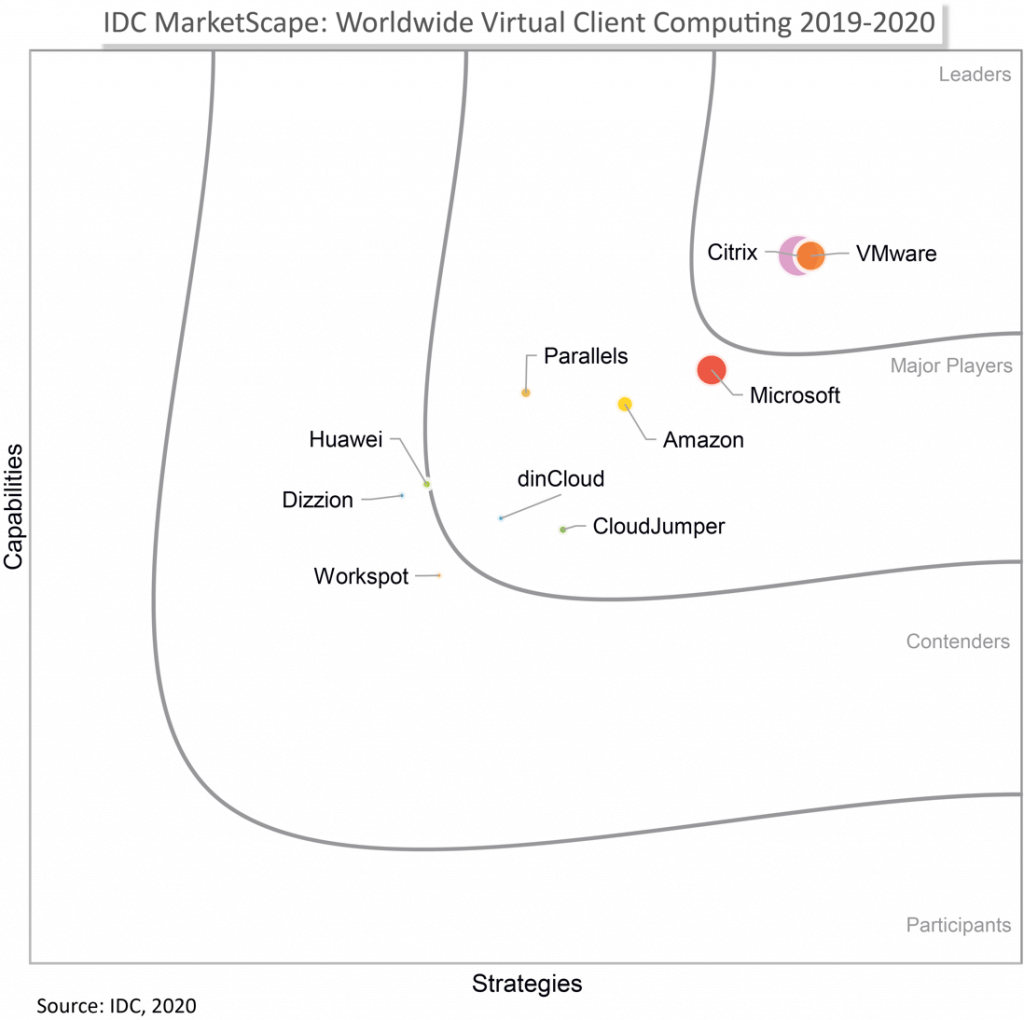 Citrix positioned as a Leader in the 2019-2020 IDC MarketScape for VVC (Virtual Client Computing). Citrix is proud of this recognition, as it highlights how they are transforming the future of work by developing a unified workspace solution that not only ensures data security but that also improves user experiences for both IT teams as well as end-users.
Citrix Systems, Inc. has announced that it has been named a leader in virtual client computing (VCC) has announced that it has been named a leader in virtual client computing (VCC) solutions in the recently published IDC MarketScape: Worldwide Virtual Client Computing 2019-2020 Vendor Assessment (Doc #US45752419, January 2020).
Designed to assess the market for VCC solutions, the report evaluated 10 vendors on two key criteria: strategy and product capabilities. Citrix was identified as a Leader for the:
Alignment of its strategy with expected market trends over the next five years and ability to adapt to unanticipated changes.
Completeness and competence of its core functionality and competence of extended functionality.
A Unified Platform for Work
Citrix positioned as a Leader in the 2019-2020 IDC MarketScape for VVC, and the company was specifically recognized for leveraging Citrix Virtual Apps and Desktops alongside its network, endpoint management and security offerings to create an integrated, user-centric digital workspace. According to IDC analyst Shannon Kalvar, "This unified platform allows for rapid innovation."
A Modern Solution Built on Flexibility and Choice
Citrix positioned as a Leader in the 2019-2020 IDC MarketScape for VCC, and the assessment also called out Citrix's investments in hybrid cloud enablement and management of virtual apps and desktops, including traditional on-premise offerings and hosted solutions, along with integrations with public cloud vendors. "Combined with recent innovations in Citrix's HDX streaming protocols, the Citrix platform can support a wide range of deployment scenarios and workload locations," Kalvar noted.
"We are pleased to be recognized by IDC as a leader in VCC solutions," said Vishal Ganeriwala, Vice President, Product Marketing, Citrix. "Flexibility and choice are the future of work and Citrix remains committed to providing a unified digital platform that companies of all sizes can use to quickly and easily deliver the applications their employees need and prefer to use to perform at their best."
A True Digital Workspace
Together with Citrix Workspace™, Citrix Virtual Apps and Desktops goes beyond traditional desktop virtualization, enabling companies to serve up personalized access to the systems, information and tools their employees need in one, unified experience and dynamically apply security policies based on a user's behavior and environment so they can work when, where and how they want with the confidence that their applications, information and devices are safe.
To learn more about Citrix solutions and the value they can deliver for your organization, click here. To download a complimentary copy of the IDC report, click here.
Source: "IDC MarketScape Worldwide Virtual Client Computing Software Vendor Assessment" by Shannon Kalvar, January 2020, IDC #US45752419
The IDC MarketScape for Virtual Client Computing
IDC evaluated the various Virtual Client Computing (VCC) vendor companies and used a uniform set of evaluation criteria to evaluate them on the completeness of their vision and their ability to execute today, as well as over the next several years.
According to Shannon Kalvar, Research Manager for IDC's IT Service Management and Client Virtualization Program, "In recent years, we've seen a significant change in the Virtual Client Computing market. For decades, the market revolved around a core set of compatibility, mobility, and security use cases and been tied to expensive/lengthy infrastructure purchase cycles. Recently, this has changed with the advent of public cloud sourcing for infrastructure resources which enabled an evolution in the capability to create integrated 'digital workspaces.' These workspaces are an emerging area in which the vendor expands the desktop workspace generally around either task aggregation or work observation, with a focus on different approaches to enhancing individual awareness about and simplification of tasks to be completed."
Why Citrix positioned as a Leader in the 2019-2020 IDC MarketScape for VCC
Citrix was recognized by their efforts in the VCC space to create a unified, cloud-based platform that encompasses the tools needed for today's and tomorrow's end-users, as well as IT teams. Citrix has made a concentrated effort to partner with their customers to fully understand their challenges and use cases. Citrix is used these learnings to improve on the most important use cases and to help drive the overall product strategy.
Experience — Citrix continue to lead the industry in providing the best user experience at the lowest cost to their customers. With technologies like Performance Analytics, Citrix are providing admins the ability to proactively analyze enterprise infrastructure and address performance concerns before it impacts end-users. Additionally, Citrix continue to improve their HDX protocol, enhancing virtual client computing delivery for users across challenging network conditions. Citrix is also proud to be first-to-market and only vendor to optimize Microsoft Teams for virtual environments.
Security — Citrix continue to make investments to ensure corporate data is protected without impacting the end-user experience. With Citrix Analytics for Security service, Citrix provide the ability to analyze user metrics for virtual workloads and pinpoint anomalies, giving IT teams the ability to proactively asses security threats in the enterprise, even providing the ability to record a user's session when that user performs an action outside of their normal behavior. Additionally, Citrix is taking security a step further with the ability to secure users from malicious software such as key loggers and screen scrapers, making sure VCC session data doesn't go beyond an organization's control.
Choice — Citrix provide flexibility to their customers to best fit their deployment needs, whether they're undergoing a private-cloud, hybrid-cloud, public-cloud or multi-cloud approach. Citrix are first and only vendor to provide Day 1 support for Microsoft WVD, being the first to allow customers to deploy Windows Virtual Desktops alongside their existing on-premises applications and desktops. Citrix is also recognized for their advanced monitoring capabilities, allowing admins to properly asses the health of their environments to properly allocated resources where needed. Customers can choose Citrix Managed Desktops, a simple and turnkey service to quickly deliver desktops and apps to any device, from anywhere.
Read more Citrix positioned as a Leader in the 2019-2020 IDC MarketScape for VCC