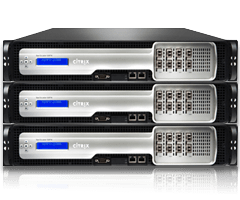 Citrix unveiled its vision of the workspace delivery controller that leverages key networking solutions from Citrix, including NetScaler – the industry's leading application delivery controller that optimizes the user experience for 75 percent of Internet users daily. The workspace delivery controller is the vision for a unified system to secure and deliver all applications by scaling and optimizing enterprise hybrid clouds. Bringing together the functions of application delivery controllers, remote access and WAN virtualization, architected on an adaptable software-driven architecture, bridge today's networks to the service networks of tomorrow.
Citrix announced significant enhancements to NetScaler with the new Unified Gateway features, which help customers consolidate security at the edge and deliver simplified, unified remote access to business applications deployed in the corporate datacenter or from the cloud on a variety of user devices. As the industry moves towards the software-defined network (SDN), Citrix helps enterprises keep their users connected to applications in a cost-effective, secure and fast manner and powers an enhanced user experience on any device in any location.
The evolution of the software-defined network is challenging enterprises to consider how to make their applications more agile within the network as they are no longer confined to a traditional datacenter but are moving to the cloud or offered as a service. With this new reality in mind, the company's vision of the workspace delivery network requires enterprises to address network automation, focus on end-user experience and reevaluate traditional operational expenses for technology that supports applications. Citrix helps support this network automation with key partnerships that enable our customers to have a powerful way to bring virtualization and software flexibility into their datacenters. Citrix technology, including NetScaler and CloudBridge, help enterprises address today's networking challenges by enabling the secure and cost-effective delivery of applications and data to any user at any time, in any location, to help them meet the demands of their business.
For example, a leading multi-national financial services corporation has deployed NetScaler to deliver a single remote access solution consolidating other previously purchased vendor solutions into a NetScaler infrastructure to address disaster recovery and improve availability and uptime. This consolidated remote access solution increased capacity, reduced operating costs and freed up scarce networking administration resources for other critical projects such as SDN. Other key customers have chosen NetScaler due to the competitive nature of its compelling security features, including end point analysis, AppFirewall and DNS attack protection. Additional customers who use Citrix networking solutions include Cornerstone Home Lending, Inc. and Royal Caribbean Cruise Lines, Ltd.
At Citrix Synergy, Citrix is unveiling the following new networking products to deliver simplified, reliable mobile workspaces worldwide.
NetScaler with Unified Gateway Drives Security at the Edge
The new release offers compelling business and user-related benefits, including an optimized user experience through a single portal to access any type of application; flexibility for users to use any device to get information from any location; and increased productivity as users have "always-available" access to their workspaces with higher performance. The new solution delivers the following key benefits:
Unified Remote Access Infrastructure

– consolidates all remote access into a single end-to-end solution for all enterprise, web, mobile, cloud and SaaS applications, as well as Citrix applications on any device. This consolidation frees up IT resources, as well as drives operational efficiency and reduces operational costs while increasing functionality.

One URL for Simplified Access for End Users

– provides a single highly-customizable GUI for end users to access all their applications.

Secure Single

–sign On – allows integration with enterprise identity stores such as Active Directory, as well as federation with other systems through SAML.

Unparalleled Visibility

–allows for deeper enterprise security and compliance oversight by real-time, end-to-end visibility and reporting of all end-user ICA, TCP and HTTP traffic.

Centralized and Simplified Security Policy

– SmartControl, one of the new features of NetScaler, provides administrators with a simpler way to set access controls for individual XenApp and XenDesktop users based on sophisticated policies set forth by compliance requirements.
NetScaler already helps organizations delivery a powerful app user experience and is the only product that seamlessly integrates with XenApp and XenDesktop providing secure remote access with real-time and historical monitoring of application traffic for the fast resolution of network and datacenter issuers.
CloudBridge Virtual WAN Reduces Costs
In addition to the NetScaler with the new Unified Gateway features, Citrix also recently announced the CloudBridge Virtual WAN Solution that powers the cost-effective delivery of applications and business-critical information to enterprise branch locations and address the challenge of scaling WAN bandwidth at a low cost. As a key piece of the workspace delivery network, CloudBridge Virtual WAN reduces the cost of delivering applications, documents and IT services to branch offices by up to 80 percent, while ensuring nearly 100 percent application availability to power "always-on" branch workspaces. CloudBridge Virtual WAN solution enables enterprises to create a virtualized WAN by bonding multiple network services such as MPLS, broadband, mobile and satellite Internet together to maximize WAN capacity and reliability. CloudBridge Virtual WAN constantly assesses the performance of paths within the virtualized WAN to instantaneously and automatically adapt to changing network conditions. This solution ensures "always-on" connectivity of mission-critical applications without human intervention or complex routing table reconfigurations.
CloudBridge Virtual WAN offers enterprises the following benefits: the ability to dramatically lower costs for expanding capacity; the delivery of a superior user experience through improved quality for all application types; a way seamlessly pool active and backup link capacity before a failure event occurs; ensured availability of high-priority applications; a method to easily manage and monitor WAN performance; and a secure way to connect cloud to branch through the use of advanced encryption between CloudBridge devices on customer premises or in the cloud when using the Internet.
Secure application delivery between the cloud, data center and branch is essential and enterprises can rely on Citrix to deliver a complete end-to-end solution powered by its key networking portfolio of products which power "always on" branch workspaces and deliver "always available" access to applications on any device in any location.