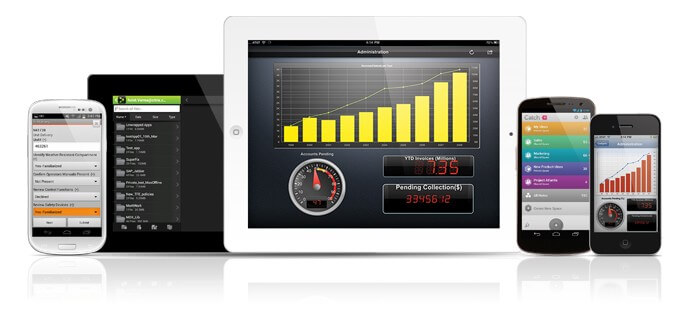 Ctrix has announced that they see strong customer traction and new technology innovations for XenMobile® enterprise mobility management (EMM) solution. Organizations are transforming their business by adopting XenMobile as a core component of their secure workspace delivery strategy. Citrix continues to differentiate its EMM solution by enriching the mobile experience for end users and IT administrators with new business-optimized mobile apps and cloud-based mobility management delivered through Citrix Workspace Cloud (CWC). Additionally, Citrix is expanding its partner app ecosystem to deliver advanced security and performance management, while ensuring a seamless experience from any mobile device.
According to the new Citrix 2020 Technology Landscape report, the workplace is undergoing another major shift from a physical workspace to a software-defined workspace where employees have the flexibility to work on any device with anyone, anywhere, anytime. The trends in this report validate the strong customer demand for comprehensive EMM needed for secure mobile workspace delivery. With XenMobile, organizations don't need to piece together solutions from multiple vendors to achieve business mobility. XenMobile offers the most comprehensive and flexible solution for managing apps, data and devices with a broad set of business optimized mobile apps. This will be provided on a single platform, while integrating seamlessly with other partner and Citrix technologies, as illustrated by Workspace Cloud and the new Citrix Receiver, which supports the Citrix mouse on iPads and iPhones.
Customers Highlight Productivity Gains and Employee Satisfaction
Citrix customers worldwide, including Aer Lingus, Cancer Research UK, Saint Francis Hospital and Wayne Homes, among others, are deploying EMM as part of their secure workspace delivery strategy. For example, Citrix Innovation Award finalist, Aer Lingus, Ireland's national flag-carrier, is working with Citrix to transform its IT operations, mobilizing the company's employees in support of its smart travel strategy. Aer Lingus has deployed NetScaler®, ShareFile®, XenDesktop® and XenMobile as key components in the organization's shift to a more agile and cost-efficient IT infrastructure. Aer Lingus pilots now use 3G/4G enabled iPads to access flight plans and other sensitive data via XenMobile, helping create a secure, compliant and paperless cockpit.
Meanwhile, Cancer Research UK, the world's largest independent cancer charity, is providing its staff with access to apps and data on any device with the deployment of XenMobile and ShareFile. This builds on Cancer Research UK's existing NetScaler and XenDesktop infrastructure. The charity is empowering workers by providing them with secure access to data, desktops and apps via any device over any network, by supporting increased and efficient collaboration on complex projects and by allowing fundraisers to store and access critical donor information quickly and easily.
What's New with XenMobile
At Citrix Synergy, XenMobile is demonstrating new technology advancements coupled with integrations and an expanded app partner ecosystem to provide stronger security, better user experience and greater flexibility for customers.
Workflows Optimized for Business with New Secure Business Apps –

XenMobile continues to pioneer a broad set of core business-optimized mobile apps with integrated workflows to enrich the mobile user experience.
o   WorxTasks – WorxTasks integrates with Microsoft Outlook tasks, enabling users to work seamlessly across desktops, laptops and mobile devices to track, manage and edit their to-do lists on any device.
o   Citrix for SalesForce – Citrix is delivering the mobile SalesForce app with a new security wrapper, allowing enterprises to apply policies and manage the app within their EMM environment.
o   SlideStream – Users can access, view and deliver presentations using SlideStream on an external monitor with no cables required, and when paired with the new Apple Watch, presentations can be controlled with just a few quick swipes.
Enterprise-grade Mobility with an Enriched Partner Ecosystem

–

Citrix is working with many technology providers to offer enterprise-grade solutions, including:  
o   Entrust and Intercede – To provide S/MIME support for WorxMail, allowing customers to sign and encrypt email securely.
o   Aternity – For application performance and real time end user experience monitoring and reporting.
o   AnyPresence– To accelerate secure mobile app development, extending XenMobile technology for app security and delivery to expose enterprise data sources to mobile users.  
o   Kony – Working with Kony, a leading Mobile Application Development Platform provider, Citrix will enable customers to accelerate development of enterprise mobile apps for customers with mobile experiences that are easily integrated, customizable, and scalable with built in reporting and analytics.
Mobility Management Service from Citrix Workspace Cloud

–Soon to be available as a test drive, the Workspace Cloud mobility management service will empower administrators to achieve fast time-to-value with the deployment of mobility services. Based on XenMobile technology, it will simplify the set-up and integration of mobility management with other Citrix services, and allow easier on-going management of a full, secure workspace environment.