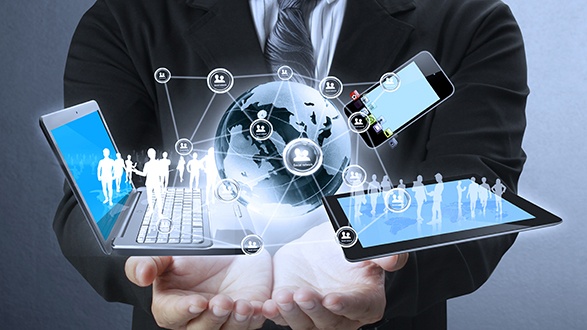 Citrix has unveiled innovations that further extend its app delivery and virtual desktop infrastructure (VDI) leadership. The advances showcased at Citrix Synergy further enhance the compelling value of the XenApp and XenDesktop technologies, which enable IT organizations to match each business use case with the ideal combination of apps and capabilities to empower people to easily do their best work on any device, in any location. During the conference, Citrix displayed integration of FrameHawk technology into HDX, along with an all-new Citrix Receiver to deliver an unmatched, intuitive mobile workspace experience. To extend its industry-leading security capabilities, Citrix announced new features and industry certifications needed by public sector, financial services and healthcare customers. Citrix also revealed a new release for XenApp 6.5 customers to extend the value of their implementations, as well as new cloud-based services to aid those customers in migrations to the latest versions. For manufacturing and engineering customers that use Linux applications, Citrix also introduced a new Linux virtual desktop feature that integrates seamlessly with Windows app delivery in the XenApp and XenDesktop solution.
Citrix innovation in app delivery and VDI innovation has established XenApp and XenDesktop as the solutions of choice for industry leaders in a wide range of markets including the top 10 global banks and the 10 largest pharmaceutical companies. Showcased through customer experience demonstrations at Citrix Synergy 2015, Citrix combines Windows app delivery, networking, mobility, cloud delivery and data solutions to help customers mobilize their businesses with a software-defined workplace, freeing their workforce to innovate and grow. 
Geir Ramleth, Chief Strategy Officer and Senior Vice President and General Manager, Workspace Services at Citrix said that "Citrix has been the leader in delivering apps, desktops and resources for more than 25 years, and we've used that experience and insight to drive these innovations that increase our market leadership position. These powerful new features, packages and products enable partners and customers enhance the value our customers count on from Citrix products, based on our ability to deliver a compelling, seamless experience that can be more easily deployed and managed than any other offering in the market."
Elevating the App Delivery and VDI Experience to New Heights
For people to do their best work, they need instant access to all the apps and data they use to get their jobs done, and they need everything to work seamlessly on any device, in any location. Business executives and frequent travelers must frequently use Wi-Fi or cellular networks that can be slow and inconsistent, which can paralyze the mobile experience. To deliver a seamless experience over any network connection, Citrix is announcing the integration of FrameHawk technologies into HDX, which provides unique acceleration technologies that overcome challenging broadband wireless network conditions to deliver a better-than-native user experience, whether using work applications, accessing web-based applications or watching videos. With the new capabilities, Citrix advances the Citrix HDX app delivery and VDI experience beyond that of any competing solution, ensuring people have a great experience, wherever they are, even when network connections are less than ideal.
The increasing variety of computing devices now used for work means each interface looks and feels different, depending on which device or operating system they use. To improve this experience, and make it easier for IT to manage, Citrix is merging the Worx Home mobile app environment into a new Citrix Receiver to simplify how people access their apps, regardless of which device they use. With the all-new Citrix Receiver, people will benefit from a single, intuitive environment that looks and works the same across every device and operating system. Citrix Receiver will make it easy for IT admins to customize the look and feel of this interface to ensure their organization's workforce gets the same familiar experience on any Windows, Mac, iOS, Android, Chrome or Linux device.
To make it easy to find and load apps, whether virtual, mobile or SaaS-based, Citrix Receiver is coupled with Citrix StoreFront 3.0, which will unite IT services delivered by XenApp, XenDesktop and XenMobile over the course of product releases throughout 2015. StoreFront provides a front-end infrastructure for Receiver, and will consolidate access to Windows, Linux, web and mobile apps for end users. StoreFront 3.0 also provides IT organizations with experience, security and flexibility features to make it easier to manage, including features for managing the app publishing needs of large enterprises. StoreFront also provides the ability to offload tasks to NetScaler Gateway to achieve higher performance and security. Partners and IT organizations can also use StoreFront 3.0 to customize the look and feel of Receiver to align with company branding.
For customers who use Microsoft Lync, Citrix highlighted Lync optimization enhancements – including Lync 2013 support for Window, Linux and Mac devices – that deliver full support for advanced Lync voice communications features, enabling people to use Lync delivered through XenApp as their primary business phone.
Providing Unmatched App Delivery and VDI Security
To trust app delivery and VDI solutions, businesses need assurance that their information and resources are secure. Citrix XenApp and XenDesktop solutions stand apart as the only end-to-end app delivery and VDI solution available that meets Common Criteria Certification and native FIPS 140-2 compliance. Common Criteria certification provides government agencies and enterprises with the assurance that they are using secure and reliable solutions that have been evaluated against the industry's highest standards. With XenApp and XenDesktop 7.6, Citrix introduced native FIPS 140-2 compliance in HDX technology to provide the highest level of data access security in virtual environments.
Citrix has also introduced SmartAuditor Session Recording for XenApp and XenDesktop, a feature that provides administrators more granular insights into user sessions to improve traceability as well as to provide proactive troubleshooting capabilities.
Adapting to Business Needs with Unmatched Flexibility
While Citrix has been delivering Windows applications to Linux devices for years, some organizations depend on Linux-based engineering and research applications and want to deliver those virtually. To meet this need, Citrix is introducing the Linux virtual desktop feature to enable employees to run Linux applications on non-Linux devices.
Many executives and employees need access to business applications in those unique cases when network access is not available. Citrix DesktopPlayer for Mac has allowed Mac users to run their virtual Windows business desktop and applications, whether they are online, offline, or experiencing a slow or intermittent network connection. Citrix is now offering a tech preview of DesktopPlayer for Windows to provide the same secure access to business applications from corporate-issued and BYO Windows laptops, while centrally managing the desktop image.
Simplifying Product Upgrades and Migrations
Citrix is providing new blueprint deployment online services that make it easier for customers to migrate earlier deployments of XenApp to the latest XenApp and XenDesktop versions. To simplify and automate this process, earlier this year Citrix launched a beta of the XenApp upgrade service, a cloud-based web tool that gathers information on their configurations and settings, then automatically generates a script for migrating those settings into the new XenApp environment. Citrix customers and partners have already used the first beta version of the XenApp upgrade service to migrate more than 36,000 applications to XenApp 7.6. With the new beta version being released this quarter, customers will be able to use Citrix Lifecycle Management to actually create a blueprint and deploy the new environment. The new beta of the upgrade service will be available as a public beta, and can be accessed directly from the XenApp upgrade website, and also from Citrix Workspace Cloud.
While many customers are making their plans to upgrade their existing XenApp 6.5 environments to XenApp 7.6 in 2015, many other customers are coordinating their migrations with other application, operating system and server upgrade projects and therefore need to stay on their current version. To help these customers gain additional value from their XenApp 6.5 environments, Citrix is releasing a new Feature Pack for XenApp 6.5 that offers many new features including StoreFront 3.0, Provisioning Server 7.6, AppDNA, new Receivers, new Microsoft Lync optimizations and more. These features enable customers to deploy XenApp 6.5 side-by-side with XenApp 7.6 and ease the transition to the new version. In addition, Citrix is extending the End of Maintenance (EOM) of XenApp 6.5 for 2008R2 through the end of 2017, providing additional time to enable those customers to refine their XenApp upgrade and migration plans. 
Customers are Innovating with Citrix XenApp and XenDesktop
The Citrix user experience sets XenApp and XenDesktop apart from other app and desktop delivery products. For example, Miami Children's Hospital uses XenApp and XenDesktop to enable doctors and clinicians to securely access electronic medical records and applications securely on any device, wherever they are. With instant access to high-definition medical images, they can focus on diagnosing and treating their young patients, and improving lives. The University of Central Florida uses XenApp so students and faculty can access the software they need anywhere, anytime, from any device − laptop, tablet, desktop or smartphone.