ICA Latency Isn't Enough: Troubleshooting End User Experience with Advanced Citrix ICA/HDX Metrics and Analysis
"Citrix is slow" is one of the most common end user complains that frustrates both the end users themselves and the support teams and administrators tasked with resolving the issue.  The challenge is finding the key metrics that identify the true root-cause of the problem so that Citrix XenApp and XenDesktop administrators can proactively monitor, troubleshoot and prevent end user experience issues quickly and confidently.
The ICA/HDX remoting protocol delivers critical applications and resources to users across geographic distances and various connection mediums on different devices.  This means the network layer is enormously responsible for delivering a good end user experience.  For this reason, many people and monitoring solutions use ICA Latency as their end-all measure for understanding end user experience issues over Citrix ICA/HDX.  It's a convenient and broadly available, but to truly understand what specific factors are contributing to the problem, you need a tool that breaks down ICA Latency into its detailed components.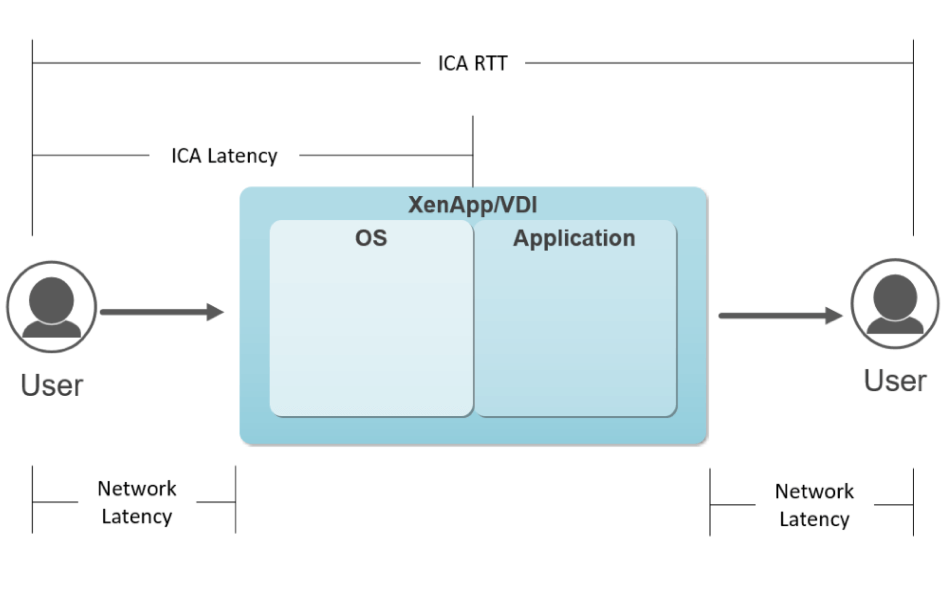 ICA Latency is the time from when a user executes a keystroke or mouse click to when it is processed on the session host.  It includes both network latency and any delay on the session host to process this request.  To best understand the cause of end user issues, administrators require an application that can break out and track these sub-components separately to identify and address the true root-cause.
ICA Round Trip Time (RTT) is the elapsed time from when the user hits a key until the response is displayed back at the end point, as calculated by the session experience monitoring service. The difference between the ICA Latency and RTT is the application processing time on the session host.
ICA Network Latency is the amount of time it takes data to reach the server.  ICA Network Latency may be higher than ICA Latency, as underlying Citrix protocols are designed to will smooth out ICA Latency spikes to improve experience for the end user.  The delta between ICA Network Latency and ICA Latency can be attributed to server performance.
By breaking ICA Latency into ICA RTT and ICA Network Latency, IT Administrators can take the general complaint 'Citrix is slow' and quickly identify specific reasons driving that issue – be that bandwidth, server performance, or application performance issues.  Using this information and more detailed metrics available from Goliath Performance Monitor, administrators can confidently take specific action to remediate problems with the network, or with resource issues at the server.
For more information on how to confidently troubleshoot end user experience issues using Citrix ICA/HDX please download our whitepaper:  The Citrix Administrator's Guide to Citrix ICA/HDX