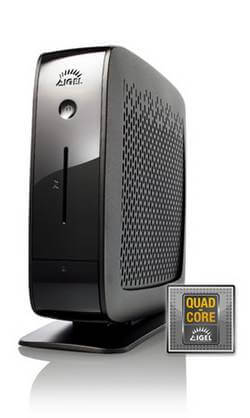 IGEL Technology unveiled its newest and most powerful thin client today. The IGEL UD6 comes with Intel Celeron quad core processors offering speeds of up to 2.42 GHz and ample memory. This hardware framework makes IGEL's new flagship model the ideal choice for delivering the most demanding graphics, 3D or multimedia applications and taking advantage of all the benefits of a secure and centralized infrastructure. On the hardware side, the UD6's performance figures allow the use of Citrix HDX 3D Pro technology which was specially developed for accessing server-based 3D applications. For this purpose, high-performance CAD workstations/servers equipped with powerful NVIDIA GRID cards are used in the computer center. On the client side, IGEL's UD6 is the ideal end device, offering the necessary performance for an optimum user experience. 
The combination of perfectly tailored hardware and an appropriate server infrastructure opens up entirely new possibilities for the use of private cloud-based IT models, particularly in the engineering sector. Thanks to Citrix HDX 3D Pro in conjunction with IGEL's Unified Management, companies using CAD, too, can now take full advantage of the benefits of central data storage, a standardized backup strategy, and security or teamwork through the online availability of all data. With the IGEL UD6, they have the perfect end device for doing this. However, the multiprotocol thin client takes full advantage of its high-performance hardware in all other application scenarios too. For example, the VMware Horizon Client 3.1 is integrated into the current version of the firmware. On the basis of PCoIP, the solution provides all VMware customers with optimum support for high-performance applications on existing backend server infrastructures. 
The UD6 premium thin client can, of course, easily cope with other computing-intensive tasks such as decoding multimedia content, unified communication and other complex applications which generate significant loads on the client side. Given the wide variety of tasks envisaged, the new power package naturally features a broad range of peripheral ports including USB 3.0 and two digital monitor connections. With a resolution of up to 2560 x 1600 pixels, IGEL's new high-performance class offers everything needed to view even centrally distributed, high-resolution X-ray images. 
At the heart of the UD6 hardware is an Intel Celeron J1900 quad core processor based on the latest Bay Trail chipset technology. CPUs with frequencies of between 1.99 GHz and 2.42 GHz (Turbo Mode) are available. The 2 GB main memory (DDR3L-RAM) offers impressive multitasking performance with all operating systems. With spare computing power available too, the new UD6 offers investment security and is designed to cope with future requirements. As standard, the IGEL UD6 offers a SATA SSD flash memory ranging from 2 GB (LX model) to 8 GB (W7+ model). Larger flash memory modules are optionally available. In spite of its high-performance hardware, the IGEL UD6 offers outstanding energy efficiency with a power consumption of just 8 watts under full load.
As a genuine Universal Desktop thin client, the new flagship supports all popular communication protocols including Citrix HDX, VMware PCoIP and Microsoft RDP, including RemoteFX. On the operating system side, there is a choice between IGEL Linux and Windows Embedded Standard 7."With the UD6, we're opening up entirely new possibilities for our customers. Thanks to its high performance, thin clients can now be used to provide workstations that previously required a particularly high-performance product," said Matthias Haas, Director of Product Management at IGEL Technology. "As a long-standing Citrix partner, the integration of the futuristic HDX 3D technology was particularly important for us. As a result, the UD6 offers maximum performance and users enjoy the benefits of a virtual, centralized and remote-managed IT infrastructure."