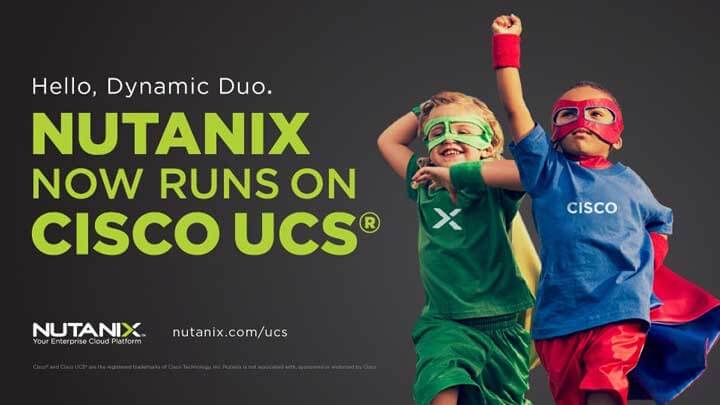 Nutanix Honored in Hyperconverged Infrastructure Category with their Cisco UCS support.
Nutanix has announced that CRN, a brand of The Channel Company, has named Nutanix Enterprise Cloud Platform for Cisco Unified Computing System (UCS) a winner in the 2016 Product of the Year Awards in the Hyperconverged Infrastructure category.
The Nutanix Enterprise Cloud Platform took first in two subcategories: Technology and Customer Demand. Recognized products represent best-in-breed technological innovation as judged by CRN editors and the solution provider community at large.
In August 2016, Nutanix independently validated Cisco UCS C-Series servers to run its Enterprise Cloud Platform software, giving Cisco customers access to the industry's most popular hyperconverged solution to provide the benefits of a public cloud while retaining the security and control of on-premises datacenter infrastructure. Nutanix on UCS gives joint customers the ability to leverage their investment in Cisco networking technologies, including Application Centric Infrastructure (ACI), to build a software-defined network and datacenter without changing their networking architecture or operations.
"Winning this award just a few months after launching this hyperconverged combination speaks to its impact in the market and the presence of strong customer demand," said Chris Morgan, vice president, global channels at Nutanix. "Only Nutanix software gives Cisco UCS C-series customers the ability to bring the simplicity and scalability of the public cloud to their datacenters, while enjoying greater control and infrastructure cost reductions."
In 2016, for the first time, the top five finalists in 17 different Products of the Year technology categories were selected by CRN editors, while solution providers themselves rated those finalists to determine the winner. The Channel Company surveyed solution provider partners working with each of the finalists, asking them to rate the products on Technology, Revenue and Profit, and Customer Demand. The survey garnered over 5,000 responses.
Solution providers considered a number of factors in determining their ratings, including product quality and reliability, technical innovation, ease of integration, potential to drive revenue, and fulfillment of market and customer demands.
"CRN's Products of the Year certainly bring laudable innovations to market, but they represent much more than technical prowess alone," said Robert Faletra, CEO of The Channel Company. "These valuable products stand at the intersection of technological excellence, outstanding profit potential and high customer demand. Solution providers will find that our 2016 Products of the Year list serves as a valuable, one-of-a-kind guide to the all-around best new products in today's IT marketplace."
Resources
The 2016 Products of the Year will be featured in the December issue of CRN and can be viewed online at www.crn.com/poty.
To learn more about the operation of the Nutanix Enterprise Cloud Platform on Cisco UCS, please visit: www.nutanix.com/ucs
To learn more about Nutanix's Enterprise Cloud Platform, see: www.nutanix.com/love/
About Nutanix
Nutanix makes infrastructure invisible, elevating IT to focus on the applications and services that power their business. The Nutanix enterprise cloud platform leverages web-scale engineering and consumer-grade design to natively converge compute, virtualization and storage into a resilient, software-defined solution with rich machine intelligence. The result is predictable performance, cloud-like infrastructure consumption, robust security, and seamless application mobility for a broad range of enterprise applications. Learn more at www.nutanix.com or follow us on Twitter @nutanix.