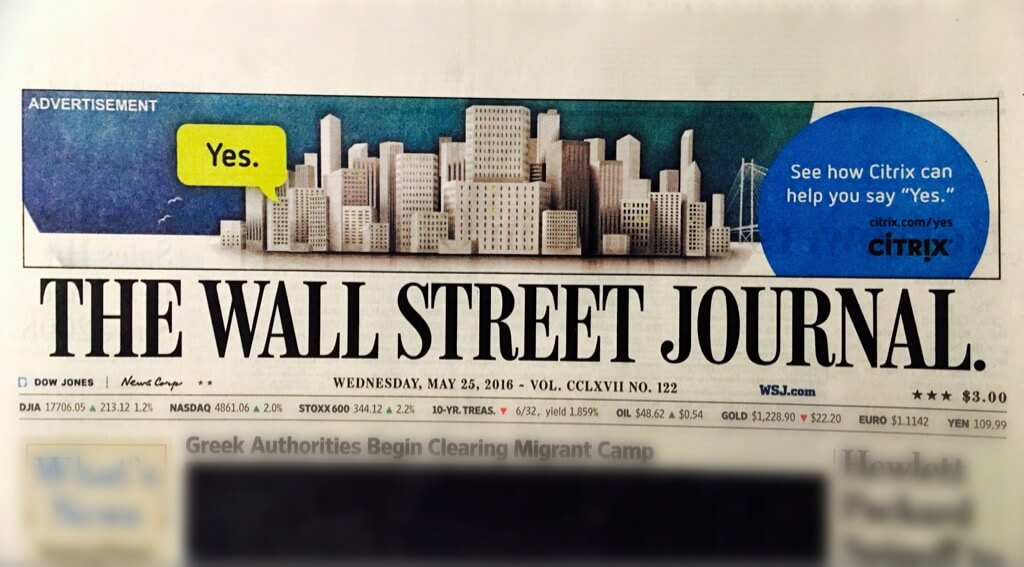 Citrix has release an new version of their very popular XenApp and XenDesktop products. The product release includes the following new and enhanced features and is now in version 7.12.
High availability using Local Host Cache
Local Host Cache (LHC) allows connection brokering operations to continue when normal operations are interrupted due to loss of connection with the Site database. LHC replaces the connection leasing feature as the recommended XenApp and XenDesktop high availability solution. During outages, LHC supports new users and existing users launching new resources, as well as users accessing pooled resources (shared desktops).
New service: The product ISO now contains the new configsync_service_x86/x64.msi for this feature.
Using tag restrictions with Application Groups and desktops
 In earlier releases, you could apply tags to items and then use those tags to tailor search displays in Studio.
Now when you publish applications in an Application Group or a desktop in a Delivery Group, you can use a tag restriction to specify that only machines in selected Delivery Groups that have a specified tag should be considered for launch.
Using a tag restriction enables you to use your existing machines for more than one publishing task, saving the costs associated with deploying and managing additional machines. Using a tag restriction can be thought of as subdividing (or partitioning) the machines in a Delivery Group. You can also use a tag restriction to help isolate and troubleshoot a subset of machines in a Delivery Group.
Multiple restart schedules for machines in Delivery Groups
In earlier releases, administrators could create one restart schedule for all the machines in a Delivery Group. Now, you can use PowerShell cmdlets to:
Create multiple restart schedules for a Delivery Group.
Configure each schedule to periodically restart only those machines in that Delivery Group that have a specified tag. For example, a daily restart schedule might be optimal for machines in one department, while a weekly restart schedule is suitable for all others.
This new functionality gives you the flexibility to manage periodic machine restarts when the various teams within your organization have different restart requirements. Using the tag restriction feature to essentially partition the machines in a Delivery Group, it's easy to restart some machines on a more or less frequent schedule than other machines in the same Delivery Group.
Citrix Insight Services
 Install and upgrade analytics: In the 7.11 version, automatic upload of install/upgrade analytics to Citrix Insight Services was enabled by default in the full-product installer's graphical interface and disabled by default in the command line interface. In this version, the graphical interface no longer contains the check box that controls automatic upload, and automatic upload is enabled by default in both the graphical and command line interfaces. You can disable the automatic upload in the registry or by using a new option in the command line interface.
Customer Experience Improvement Program: You are now automatically enrolled in the Citrix Customer Experience Improvement Program when you install a Windows VDA.
Azure Resource Manager connection enhancements
Azure environment support
When you create a connection to Azure Resource Manager, you can now select your Azure environment. The current values are: Azure Global and Azure China.
Azure Hybrid Use Benefits support
When you create a Machine Catalog in Studio, you can now enable or disable support for the Azure Hybrid Use Benefits (HUB), in which you use existing on-premises Windows Server licenses with existing on-premises Windows Server images. Using HUB can reduce the cost of running VMs in Azure to the base compute rate.
Wizard changes in Studio
In the Create Connection wizard, subscription ID and connection name fields that were previously on the Connections page have moved to a new Connection Details page.
In the Create Machine Catalog wizard, the Storage Account page is now titled Storage and License Types.
New streamlined standalone VDA for Desktop OS installer
The VDAWorkstationCoreSetup.exe standalone package is an addition to the available standalone VDA installers. This package installs a VDA for Desktop OS that is optimized for using Remote PC Access on a physical machine, or for VDI on a virtual machine that is not being used as a master image.
It is the smallest VDA for Desktop OS installation package currently available. It installs only the core services required for operation. It does not install components used for App-V, Profile management, Machine Identity Service, and Personal vDisk. It does not install a Citrix Receiver for Windows.
Automatic deletion of extracted files when using a standalone VDA installer
When using any standalone VDA installer, files are extracted to a Temp folder. In earlier versions, those files had to be manually deleted. In this version, those files are automatically deleted after the installation completes.
Director
 Director includes the following new and enhanced features:
User-friendly Connection and Machine failure descriptions. Connection and Machine failures in the Director's Filters page are supported with detailed descriptions of the possible failure causes and recommended actions. This enables administrators to efficiently troubleshoot the connection or machine related failures in the XenApp and XenDesktop Site.
Increased historical data availability in Enterprise edition. The data retention period in Director deployments with the XenApp and XenDesktop Enterprise Edition has increased from seven days to one month. This enables the XenApp and XenDesktop Enterprise users to query historical data from the Monitoring database for any period up to 31 days based on the data retention settings, and access historical trend reports for up to one month from Director's Trends tab.
Custom Reporting. A new Custom Reports user interface in the Trends tab enables you to create new reports without having to write OData queries to extract real-time and historical data available in the Monitoring database. You can export custom reports, save and share the corresponding OData queries. This feature is available in the Platinum Edition of Director deployments.
Automate Director notifications with SNMP traps. Director integrates Citrix Alert notifications with Simple Network Management Protocol (SNMP), a standard protocol for network management. You can configure a Citrix Alert with an SNMP trap. When the alert is triggered, the corresponding SNMP trap message is forwarded to the configured network listener for further processing. You can configure SNMP alerting by using PowerShell cmdlets.
Session Recording
Session Recording includes the following new features and enhancements.
IP address or IP Range based Policy Rule Criteria. You can configure a Session Recording policy to enable or disable record sessions based on a client IP address or range of addresses.
Highlight Idle Periods in Player. Highlights the idle periods of a recording in a timeline when played back with the  Session Recording Player. Idle periods of a recorded session are the portions in which no action takes place.
TLS 1.2. Full support for TLS 1.2 encryption during data transfer.
Virtual Delivery Agents (VDAs) 7.12
Version 7.12 of the VDA for Server OS and the VDA for Desktop OS include the following enhancements to HDX technologies:
8-bit color depth Thinwire support. A new value of 8 bits per pixel is available in the Preferred color depth for simple graphics policy setting. This provides an ultra-low bandwidth usage option intended for workloads that are not graphically demanding, for example, MS Office, mobile apps and custom legacy apps with simple interfaces. Once set, all connections to the VDA show in 8-bit color. The 8-bit color depth option is not supported when the Use video codec for compression policy setting is set to For the entire screen.
HTML5 video redirection for internal web sites. Provides the best balance between smooth audio and video display and server scalability for HTML5 video content in a virtualized environment. In 7.12, this feature is available for internal web sites only as it requires the addition of JavaScript customizations (HDXVideo.js and HDXVideoMin.js) to web pages hosting HTML5 video content. This feature is controlled by a new multimedia policy setting, HTML5 video redirection (disabled by default) and is available with Citrix Receiver for Windows 4.6 and Citrix Receiver for Linux 13.5. The JavaScript files are located in %Program Files%/Citrix/ICA Service/HTML5 Video Redirection in the VDA install.
Citrix Universal print driver supports stapling and paper source selection in EMF print format. XenApp and XenDesktop 7.9 introduced Citrix Universal print driver support for stapling and paper source selection in XPS print format. In this release, support of these advanced features extends to EMF print format. EMF is the default print format for the Citrix Universal print driver.
Keyboard layout synchronization. Dynamic synchronization of the keyboard layout from the client to the VDA during a XenApp and XenDesktop session enables users to switch between preferred keyboard layouts on the client device. This provides a consistent user experience when, for example, switching the touch keyboard layout between English and Spanish. When the user switches the layout, they briefly see a message while the synchronization is in progress. They can then continue working with the new keyboard layout. This feature is supported with Citrix Receiver for Windows 4.6, the VDA for Desktop OS and the VDA for Server OS.
New enlightened data transport layer (for evaluation only). IT administrators can evaluate a new HDX data transport layer designed for challenging long-haul WAN and Internet connections. This alternative to TCP delivers a superior user experience while maintaining high server scalability and efficient use of bandwidth. This new transport layer above UDP improves data throughput for all ICA virtual channels including Thinwire display remoting, file transfer (Client Drive Mapping), printing, multimedia redirection and others. In 7.12, this feature is for evaluation only and is disabled by default. It can be enabled in a non-production environment with a new policy setting, HDX Enlightened Data Transport. Set the new policy setting to Preferred to use enlightened data transport when possible, with fallback to TCP. In this release, this feature requires Citrix Receiver for Windows 4.6 or Citrix Receiver for Mac 13.5.
 VDA install and upgrade changes
The 7.12 VDAs contain several new and enhanced features, as described above. However, after upgrading your VDAs from 7.9 or 7.11, you do not need to update the Machine Catalog's functional level. The default "7.9 (or newer …)" remains the most current functional level.
As noted in the Streamlined standalone VDA for Desktop OS installation package section above, the standalone VDA for Desktop OS package has been supplemented with an even smaller package that delivers only the core services needed for VDA operations on workstations.
Deprecation forecast
 Certain platforms, Citrix products, and features are scheduled to be deprecated after the next XenApp and XenDesktop Long Term Service Release (LTSR) releases. However, those items are supported in this XenApp and XenDesktop version and will continue to be supported in subsequent versions that are released up to and including the next LTSR.
For example (using arbitrary version numbers):
In version 1.5, Citrix announces that feature X will be deprecated as of the next LTSR.
The next LTSR is 1.9 LTSR, which will be released after version 1.9 releases.
Feature X will be supported on version 1.5 and all future versions up to and including 1.9 LTSR.  From the time the deprecation is forecasted, Citrix will monitor customer use and feedback about feature X to determine whether it will be supported in Cumulative Updates to 1.9 LTSR.
Generally, platform support in XenApp and XenDesktop ends when the platform's manufacturer ends extended support. Exceptions are noted. Deprecation of browser version support is not included.
When possible, alternatives are offered for items that will be deprecated.
Announced in XenApp and XenDesktop 7.12
In-place upgrades from XenDesktop 5.6 or 5.6 FP1 will not be allowed after the next LTSR. Instead, you can migrate your XenDesktop 5.6 or 5.6 FP1 deployment to the current XenDesktop version.
The following platforms will not be supported after the next LTSR:
VDAs on  Windows 8.1 and earlier Windows desktop releases. Install desktop OS VDAs on Windows 10.
VDAs on Windows Server 2008 R2. Install server OS VDAs on supported versions such as Windows Server 2012 R2 or Windows Server 2016.
XenDesktop 5.6 used on Windows XP. No VDA installations on Windows XP will be supported. Install VDAs on a supported Windows version.
CloudPlatform connections. Use a different supported hypervisor or cloud service.
Azure Classic (also known as Azure Service Management) connections. Use Azure Resource Manager.
Installing core components (other than Studio) on 32-bit machines: Delivery Controller, Director, StoreFront, and License Server. Use 64-bit machines.
The following features will not be supported after the next LTSR:
Connection leasing. Use Local Host Cache.
Legacy Thinwire mode
Desktop Composition Redirection (DCR)
StoreFront 3.8
 StoreFront includes the following new features and enhancements.
Multiple Internet Information Services (IIS) web sites.  After creating multiple websites in IIS, the PowerShell SDK can create a StoreFront deployment in those IIS websites. You can now have a single server hosting numerous Citrix Receiver for Web sites and stores, each having its own domain name.
Firefox browser. Once Firefox stops supporting the Netscape Plugin Application Programming Interface (NPAPI) plugin in Firefox 53, StoreFront 3.8 will still support Citrix Receiver for Web client detection and launch in Firefox for Windows and Mac.