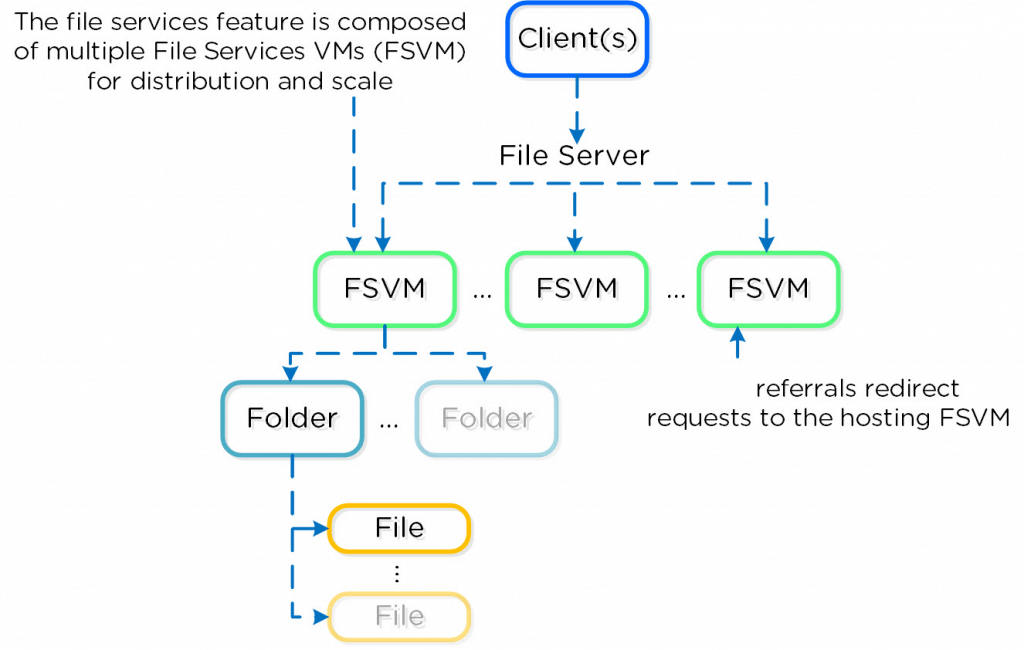 Nutanix Files 3.5 packs a great new deal of features and Tech Preview bits as well.
Nutanix Files (Files) enables you to share files across user work stations or VMs in a centralized and protected location to eliminate the requirement for a third-party file server.
Files uses a scale-out architecture that provides file services to clients through the Server Message Block (SMB) or Network File System (NFS) protocol. Files consists of three or more file server VMs (FSVMs) combined into a logical file server instance sometimes referred to as an Files cluster. Files supports creating multiple file server instances within a single Nutanix cluster.
This release includes the following new, tech preview, or updated features.
New Features
Network File System v3 (NFSv3) Support

Files now supports the NFSv3 protocol in addition to NFSv4.

Self-Service Restore (SSR) for NFS

You can now use Self-Service Restore for NFS to open, copy, and restore previous versions of files.

Change File Tracking (CFT) Backup for NFS

Files provides full and incremental backup using CFT APIs for NFS. To enable CFT backup for NFS, you must qualify a backup vendor to create and view snapshots on NFS. Nutanix integrates with HYCU and Commvault for backup and recovery services. For NFSv3, the feature is only available for standard (non-distributed) exports.

AOS Software Encryption for File Server Data

AOS Software Encryption has been extended to Files. You can now have cluster-wide and storage-container-level encryption on your file server.

Multibyte Character Support for Share Root (SMB)

You can use multibyte characters in an SMB share name. NFS does not support multibyte characters in share names, and NFS clients cannot access SMB shares with multibyte characters in the name.
Technical Preview Features
The following features are currently in technical preview. All these TP features are disabled by default.
Refer to the Support FAQs for more details on support during technical preview.
Caution: Do not use technical preview features in a production environment.
New Features
Multi-Protocol Support for Shares and Exports

Clients of different protocols (NFS or SMB) can perform read-and-write operations on shares of either protocol by enabling a secondary protocol during share creation. If both of the protocols do not use Active Directory as the directory service, User Mapping should be configured by an IT admin.
File Analytics (technical preview)

File Analytics provides dashboards and tools for monitoring file data and the activity of users on your file system. Once activated, Analytics deploys a new file server VM (FSVM) on your cluster. The File Analytics console includes an activity overview dashboard, tools for monitoring anomalies, and Audit Trails for auditing users and files.
There are also several resolved issues, please see the release notes here