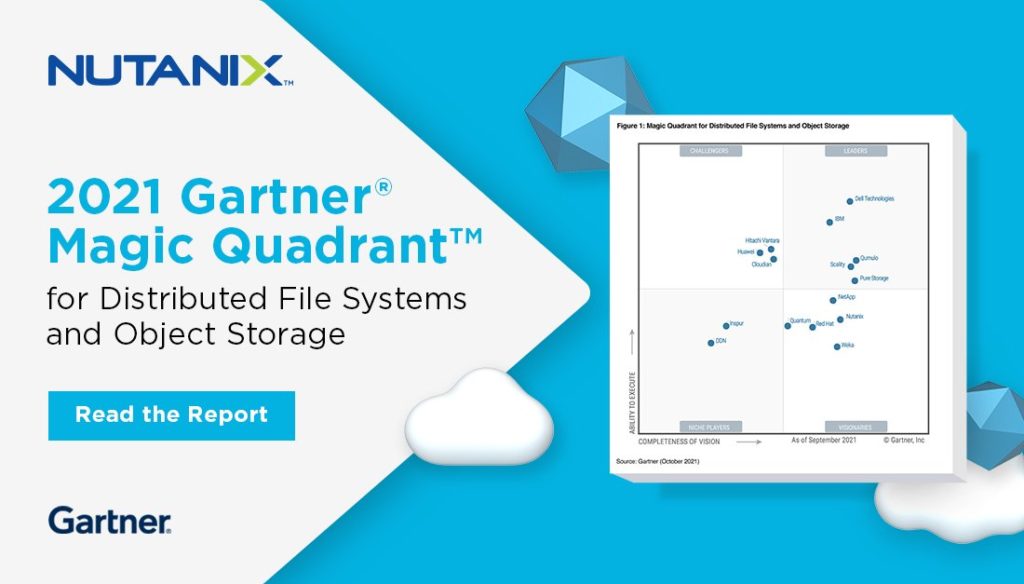 Nutanix has announced that it has been named as a Visionary in Gartner, Inc.'s October 2021 Gartner Magic Quadrant for Distributed Files and Objects Storage; this is the first time the company has been recognized in this report. Nutanix believes that the company continues to expand the use cases for its technology and the inclusion in this Gartner Magic Quadrant demonstrates how Nutanix addresses additional critical functionality for enterprises.
"We believe being named in the Gartner Magic Quadrant for Distributed Files and Objects Storage is a significant recognition of Nutanix's storage offerings, which aim to simplify and lower operating costs. Our software-defined storage provides a solution for customers looking to modernize and unify their unstructured data storage, including those not ready to move to HCI," said Rajiv Mirani, Chief Technology Officer at Nutanix. "Of course Nutanix Files and Objects also builds on the rest of the Nutanix Cloud Platform that thousands of customers rely on for their entire compute, network, and storage needs in an easy-to-operate platform that reduces the cost of management."
In March, Nutanix was also recognized as a 2021 Gartner Peer Insights Customers' Choice vendor for Distributed File Systems and Object Storage. Today, Nutanix Files and Nutanix Objects hold an overall of 4.8 out of 5 star rating as of October 4, 2021*.
Nutanix customers frequently highlight simplicity as a key benefit to enable easier day-to-day management, faster deployment, and reduced maintenance activity. Data analytics and security are also frequently mentioned, along with flexibility, including the ability to support a wide range of deployments. Finally, customers identify a robust feature set to rival any enterprise storage system, including space reduction and efficiency technologies, integrated resilience features, and data lifecycle management capabilities.
Nutanix continues to build its offerings outside of the core HCI software, including unstructured data storage. Notably, in its most recent fiscal quarter the company saw 100+% Y/Y growth in New ACV Bookings from emerging products. Additionally, last month, the company announced strengthened data services for structured and unstructured data, including accelerated performance for modern analytics applications, unstructured data tiering from on-premises to cloud and a new unstructured data governance service, Nutanix Data Lens.
More information on Nutanix and a complimentary copy of the report are available at: www.nutanix.com/go/gartner-dfs-os
Source:
Gartner, Magic Quadrant for Distributed File Systems and Object Storage,Julia Palmer, Jerry Rozeman, Chandra Mukhyala, Jeff Vogel , October 1, 2021.