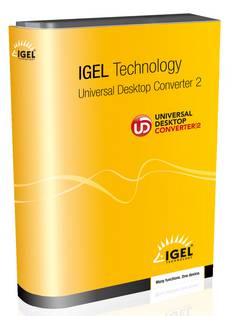 IGEL Universal Desktop Converter 2 (UDC2) is a thin client software, which IGEL is addressing the market for mobile thin clients with. The resulting software thin clients run on x86-compatible notebooks, are secure and remote-manageable, and allow customers to choose their hardware. As an added bonus, this approach is ideal for BYOD strategies too. With the increasing availability of wireless networks, thin clients are becoming more attractive for mobile use too. Nevertheless, mobile solutions with defined notebook hardware are proving unpopular on the market. IGEL Technology is therefore focusing on software thin clients as a more flexible solution. Based on the IGEL Universal Desktop Converter 2 (UDC2) thin client software, they run on any x86-compatible notebook hardware and offer the same extensive security and management functions as stationary IGEL thin clients. The IGEL UDC2 is also suitable for implementing a secure, cost-efficient BYOD (Bring Your Own Device) strategy.
For laptops with x86-compatible hardware, IGEL makes a distinction between two basic applications. With the first application, IGEL customers easily acquire a tailor-made, mobile thin client by installing the latest version of the IGEL Linux v5 thin client operating system on the local hard drive (HDD or SSD) with the help of the IGEL UDC2 software. Because the operating system previously installed is replaced by IGEL Linux, the laptop can then be used exclusively as an IGEL Universal Desktop thin client in order to access central IT infrastructures or cloud services – for example within Citrix XenDesktop, VMware Horizon View or Microsoft Remote Desktop Services (RDS). Having the freedom to choose the hardware allows users to select a thin client-notebook combination to meet their specific requirements, e.g., to provide international offices with a country-specific keyboard.
Connectivity, performance and remote management
To allow the broadest possible range of uses, the IGEL UDC2 software also supports a wide variety of drivers for network cards, WiFi modules, graphics cards and many other device classes. If the UDC2 recognizes a supported graphics card, it is automatically addressed with the native driver to provide the best-possible user experience. Remote-management of the software thin clients takes place via the IGEL Universal Management Suite (UMS) that comes supplied. The UMS also allows all IGEL zero client and thin client models to be efficiently remote-administered and centrally managed. The IGEL Universal Desktop Converter 2 (UDC2) license costs just €59.00 (net price for end customers).
A secure, cost-efficient solution for BYOD and telework
The second application requires installation of the software thin client on a USB stick. As part of a BYOD strategy, this allows private laptops to be used in the workplace without jeopardizing IT security. The USB thin client is configured by the IT department and licensed for the relevant device. If the user works with the thin client on the USB stick, the local hard drive is typically screened off from the user. As a result, malware such as viruses or Trojan horses are unable to get into the company network directly. The USB thin client from IGEL is also suitable for secure remote access from a home PC.
"The market potential for mobile thin client solutions has not yet been fully exploited. In particular, the facility to provide a dual-boot solution on the USB stick with our software and thus offer BYOD is new and unique within the market," commented Dr. Frank Lampe, Marketing Director at IGEL Technology. "With the IGEL Universal Desktop Converter 2 (UDC2), we offer a secure, flexible and low-cost alternative to mobile hardware thin clients and connect these with our sector-leading IGEL UMS remote-management software." 
{loadposition content_starwind600}