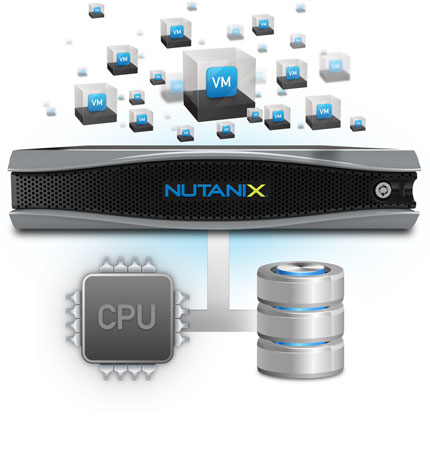 Nutanix, the leading provider of next-generation datacenter infrastructure solutions, today announced that its federal government business has expanded by 569 percent from 2012 to 2013.  In just two years, the company's innovative web-scale infrastructure approach to transforming how datacenters are designed and managed has been implemented by 57 agencies – including the Departments of Agriculture, Energy, Health and Human Services and Justice, as well as three Department of Defense service branches and several intelligence agencies.
As a company, Nutanix has exceeded $100 million in sales in only two years, driven in part by the significant growth within the government.  Agencies rely on the company's unique technology to address the challenges associated with traditional large-scale datacenter architectures such as poor scalability, lack of agility, network bottlenecks and unsustainable capital and operational costs.  "It is no secret that agencies are looking to consolidate and virtualize their IT environments," said Gary A. Barlet, Chief Information Officer, Office of Inspector General for the United States Postal Service.  "Whether it's transitioning to the cloud, eliminating datacenters, enabling continuity of operations or pursuing virtual desktops and bring your own device initiatives, any program must first take a look at the infrastructure required – that's where it gets complicated and expensive.  A major change to the traditional datacenter approach is in the air with the move towards web-scale IT."
"In this time of budget cuts, government needs to be more efficient," said Anja Manuel, a Partner at the firm RiceHadleyGates LLC, which is a strategic advisor to Nutanix.  "Government offices that must reduce spending will need technology that simplifies and converges the various IT operations.  Nutanix is one of the most innovative companies that can help them get there."   
The Nutanix web-scale infrastructure solution eliminates the need for costly and complex storage area networks by integrating high-performance storage and compute into one unified appliance.  The company's groundbreaking approach to datacenter convergence provides modular, "building block" scaling that enables agencies to start small and grow incrementally, resulting in unprecedented cost savings and efficiency and near immediate return on investment.  The platform is simple and fast to install (deploys in about 45 minutes), requires little to no operation or management intervention and its performance is dramatically faster compared to legacy infrastructures.
"Our modularly-scalable Virtual Computing Platform is fundamentally changing the way government agencies are going about simplifying their datacenter operations," said Dave Gwyn, Vice President, Federal and FSI Sales, Nutanix.  "It's a modern approach that has been widely accepted by agencies looking for new ways to accomplish datacenter consolidation, increase mobility and security and cut costs.  Today's government environment requires new thinking; agencies can no longer continue to speculate on dated, three-tier architectures that take months or years to provide ROI."
Nutanix is recognized as the fastest growing enterprise technology company of the past decade, and most recently earned IDG's prestigious InfoWorld 2014 Technology of the Year award. Nutanix has an approximate $1 billion valuation driven by this unprecedented customer traction.