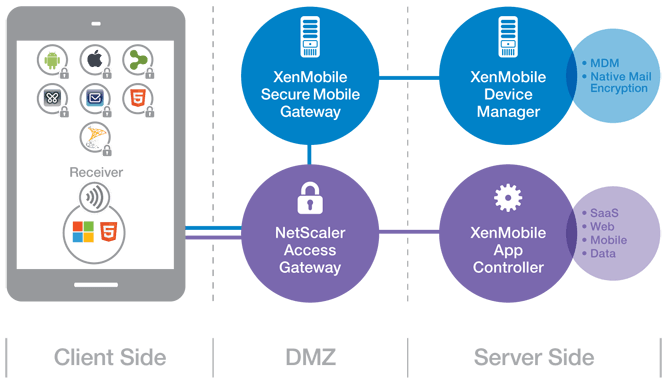 Citrix has announced that a new version of XenMobile is coming with new security and feature enhancements. The new release empowers organizations in highly regulated industries, such as government agencies, to embrace device choice, improve productivity with quick access to more apps, and provide support for Microsoft Lync online meetings and other communication environments, without sacrificing security, control and most importantly, user experience. Citrix also enables enterprises and government agencies that are planning to phase out BlackBerry devices to transition smoothly, knowing their data and existing apps are secure, integrated and supported.
Mobility is redefining the way people work and the way IT departments support them. For many organizations, the growth of mobile devices and applications is largely driven by employees' desire to be more productive. While the new era of mobile computing offers opportunities for organizations to boost worker productivity and employee satisfaction through programs, such as bring your own device (BYOD) or corporate-owned, personally enabled (COPE), governments and other highly regulated industries face the challenge of finding cost-effective enterprise mobility management (EMM) solutions that will meet their security and compliance requirements while providing a solid user experience.
XenMobile enables government agencies and other highly regulated organizations to mobilize their employees without sacrificing security or control. The security and feature enhancements to XenMobile include:
FIPS 140-2 compliant encryption for mobile apps, including secure email, browser and content collaboration. XenMobile creates a secure encrypted vault for application data on mobile devices so that government and enterprise workers can access critical documents and applications securely.
Better-than-native secure mobile email, calendar and contacts through the WorxMail™ app with FIPS compliant encryption for data at rest and data in motion. New enhancements include one-click access to leading communication and collaboration apps, such as Microsoft Lync online meetings, the FaceTime app, and SMS messaging directly from WorxMail calendar and contacts.
Support for a variety of email and collaboration solutions, such as existing systems like the IBM Lotus Notes client. Government workers also have secure mobile intranet access with single sign-on (SSO) to portals and SharePoint sites using the WorxWeb™ app, a containerized browser with full policy control.
Support for newly launched Apple iOS 7.1 and Microsoft Windows 8.1 operating systems, allowing devices with these new operating systems to be managed and controlled with XenMobile. XenMobile also adds VPN support for Amazon Kindle devices, enabling them to connect to corporate environments.
XenMobile provides a complete EMM solution for highly regulated organizations to manage mobile apps, data and devices. With XenMobile, government agencies and enterprises gain control over personal and corporate-issued mobile devices with full configuration, security, provisioning and support capabilities. This also includes visibility into currently deployed BlackBerry devices. XenMobile meets IT departments' need for mobile security, compliance and control while allowing employees new ways to work better.
Release Highlights:
Higher levels of user productivity through integration with enterprise apps

WorxMail support for Lotus Notes 

One click access to Microsoft Lync meetings from WorxMail Calendar 

FaceTime and SMS messaging integration with WorxMail Contacts 

"Better than native" business-class calendar editing 

Platform support for iOS 7.1 mobile devices 

Broader platform support – 

XenMobile 8.7 now supports Windows 8.1  and Kindle VPN for MDM 
{loadposition content_starwind600}