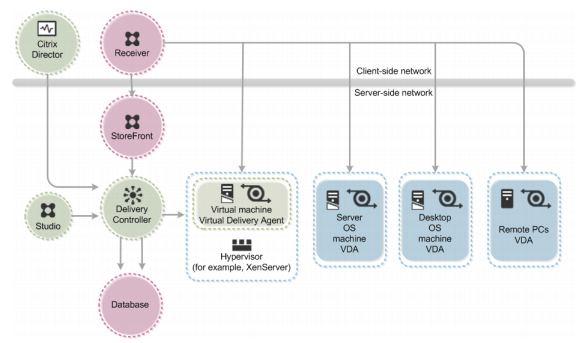 XenDesktop 7 was released back in June 2013, and with the release of XenDesktop 7.1 coming up I wanted to shed some light on what you get and what you do not get right now, and with XenDesktop 7.1. Let it be clear, if you are a XenApp 6.x user today, there are some features that will be missing. If you are not using them, then there is nothing to worry about, right? In case you missed it; XenApp is now called AppEdition, yes, XenDesktop 7 App Edition.
That being said, this information about the upcoming XenDesktop vNext or here called XenDesktop 7.1, is public information from the XenDesktop Tech preview Bruin release. Available here if you have a valid mycitrix.com or SA account 
Let us start with database support, with XenDesktop 7 SQL Server 2012 is the recommended database platform by Citrix.
The most important change for current XenApp users is that there are no more IMA service. Whereas IMA was a service and a single subsystem, FMA is a collection of services designed to work together to deliver desktops and applications.
With the merging of XenApp in XenDesktop 7 App Edition with Remote Desktop Services the benefits of XenDesktop VDI do also count for RDS, like easy deployment and a single architecture for management. However, you have to realize that with the merging of XenApp in XenDesktop 7 there are some features that are missing in the new version.
When it comes to licensing and the use of Provisioning Services there is a catch 22! PVS entitlement in the XD App edition will ONLY allow a customer to stream VM-Hosted Apps machines.
When it comes to other changes within the XenDesktop Architecture, there are several new approaches:
New Services in FMA

Delegated Admin Service providing "Roles and Scopes"

Configuration Logging

Monitor Service

Environment Tests

StoreFront Integration

Machine Creation Services has been reduced to two services

Secondary Databases for Config Logging and Monitor Service

Remote PC now fully integrated into Catalogs and Groups

Applications

Applications are associated to Delivery Groups

Application Attributes such as Colour Depth, Audio are defined with Delivery Group

Delivery Groups can offer Apps only, Desktops only or both Apps and Desktops

Automatic Application Discovery (Server VDAs)

Load Balancing is controlled via Group Policy

Full support for HDX Local App Access (aka reverse seamless)

App-V integration and discovery
XenDesktop 7 App Edition
Delivers server-hosted desktops and apps, and VM-hosted apps from FMA architecture

 

Enables use of Machine Creation Services (MCS) to rapidly provisioning, deliver apps/desktops from Windows Server 2012, leverage the latest HDX enhancements

Works along side existing XenApp-IMA deployment

Available to XenApp-Enterprise and Platinum customers:

Use your existing XenApp licenses!

Built for Cloud

Support for Windows 2012 and Windows 8 OS 
Here is a list of XenApp features that are not avilable yet for XenDesktop 7 Apps Edition
Feature

Why is it removed?

What can I do?

Local host cache

Not an enterprise best practice for HA

Use SQL Server HA configuration for now.  Alternatives are being investigated for the future.

Single global XenApp farm support

Trending away from one big farm

Stay with XenApp 6.5 or wait until Merlin release for multi-site management

SmartAuditor

Citrix does not longer have this tech available

Find another similar product, like ObserveIT -> https://blog.observeit.com/2013/05/28/the-smart-alternative-to-citrix-smartauditor/

XenApp-ICA Shadowing

Feature missing in XA6.5 Director

Use MS Remote Assistance – works well. You will have to enable this via a Microsoft policy on your virtual desktops. Configure a policy in System / Remote Assistance / Offer Remote Assistance and assign a group to it. Next, you can go to XenDesktop Director to find the session and Shadow it.

Application Streaming

Low adoption, significant cost to update

App-V is the industry leader and we provide excellent integration

Web Interface

StoreFront is the strategic direction and has improved dramatically

Transition to StoreFront, now supports multiple versions and has near-parity with WI. It is possible to change logo and background, but not via GUI yet.

Web SSO

CloudGateway functionality

Transition to CloudGateway

Oracle DB support

Customers use multiple DB HA solutions;
MS SQL is common

Use MS SQL

Anonymous users

Needs to be re-implemented in XenDesktop

Stay with XenApp 6.5 or wait until Merlin or post-Merlin

CPU/memory optimization

Citrix CPU Management is no longer available due to re-implementation in XD 7. Different design.

Stay with XenApp 6.5 or wait until Merlin or post-Merlin.

The alternative until Merlin/post Merlin release is to use Fair Share CPU management of Windows Server.

HDX seamless flags

Needs to be re-implemented in XenDesktop

Stay with XenApp 6.5 or wait until Merlin or post-Merlin

Advanced load balancing capabilities

Needs to be re-implemented in XenDesktop

Stay with XenApp 6.5 or wait until Merlin or post-Merlin

SCCM integration
(XenApp Connector)

Needs to be re-implemented in XenDesktop

Stay with XenApp 6.5 or wait until post-Merlin. Check out Project Loki from Citrix, to use SCCM with XenDesktop 7.x See https://blogs.citrix.com/2013/09/25/getting-started-with-the-xenapp-sccm-connector-youll-find-this-useful/#comment-111648 for more info

Folders for applications
and VDAs

Needs to be re-implemented in XenDesktop

Use tagging and searching functionality

Session pre-launch and lingering

Session Pre-Launch is no longer available. Needs to be re-implemented in XenDesktop

Stay with XenApp 6.5 or wait until post-Merlin

Multiple domains for controllers and workers

Needs to be implemented in XenDesktop

Stay with XenApp 6.5 or wait until post-Merlin

Virtual IP

Virtual IP addressing is not available anymore.

Stay with XenApp 6.5. Uncertin, I can't find info about if this will come back.

Health Monitoring and Recovery

Health Monitoring and Recovery in XenApp made is possible to monitor if a server was healthy. For example you can monitor if certain services are running, and if not, then remote the server from loadbalancing. The alternative is using EdgeSight, but this is only included in the Platinum Edition.

Stay with XenApp 6.5

Secure Gateway

No longer supported

Stay with XA 6.5, but you should upgrade, because the NetScaler CAG VPX solution is more reliable and less vulnerable.

Oracle DB

No Longer supported

Use SQL from Microsoft

Local Text Echo

This feature was used to accelerate the display of input text on user devices on high latency connections. It is not included in XenDesktop 7 due to improvements to the graphics subsystem and SuperCodec

Stay with XenApp 6.x
If I have missed some features, please let me know, and I will add them to the list.
So, what will be fixed in XenDesktop 7.1? 
Well, in the Tech Preview of XenDesktop 7 called Bruin. Citrix has added support for Windows 8.1 and Windows Server 2012 R2.
Windows Server 2012 R2 and Windows 8.1 support — Deliver a high-definition user experience on windows 8.1 virtual desktops and physical machines. HDX 3D Pro has also been upgraded to support Windows 8.1.
Also, with XenDesktpp 7.1 TP release System Center Virtual Machine Manager (SCVMM) 2012 R2  is not support for Generation 2 virtual machines.
System Center Configuration Manager (SCCM) 2012 R2 — Although SCCM 2012 R2 provides the same functionality as SCCM 2012 SP1, additional new features in SCCM 2012 R2 are not supported.
Another question that pops up is about vGPU and XenDesktop 7. Most frequent question I either get via this website or by customers, are Will the vGPU tech preview work with XenDesktop 7? vGPU support takes advantage of several improvements included in the XenDesktop 7.1 tech preview.  Unfortunately, Citrix are not able to create compatible patches for XenDesktop 7. vGPU is only available using XenServer (not available with other hypervisors). vGPU using Windows 8 and Windows 8.1 is not supported. 
vGPU — The Graphical Processing Unit (GPU) capabilities feature provides graphics virtualization, offering a superior experience for users who use graphic-intensive applications and often manipulate 3-D models. The GPU feature also can improve the graphics experience for a large number of users. In Studio, GPU capabilities are available through machine catalogs that are created with an MCS-provisioned master image.
To learn more about XenServer 6.2, and how to get vGPU Tech Preview into the mix, see this link https://www.citrix.com/go/private/vgpu
To sum up, the challenge for many of today's customers is that they need to deploy BOTH architectures if they want to deliver desktops and applications to their users. Citrix have defined a clear strategy to support both XenApp AND XenDesktop within a single product (BUILD) so customers need only build out a single infrastructure resulting in a lower TCO. This has the added advantage of making a deployment future proof, only need XenApp today great that is all that is delivered to users – need XenDesktop in 6 months' time – Admins can immediately provision desktops for those users. Either way, you can implement StoreFront 2.x and XenDesktop 7, as a separate environment, and add the old XenApp 6.5 farm into StoreFront, so that users get the benefit of accessing apps or desktops from the same place as usual. Hence, no need to wait for something; you can gradually.
{loadposition content_starwind600}